Entertainment
Amber Riley Is Not Married; Does That Mean She Is Dating?
The actress Amber Riley achieved the most significant break in her career from the musical series, Glee. She is a versatile artist who has already earned the fame with her unique skills and hard work.
If you are a fan of this singing sensation, then you might be wondering if she has a secret married life or is still lingering in the dating life. But worry no more, as we are here to quench the thrust of your curiosity!
Amber Riley With Husband Or Boyfriend?
The multi-talented actress Amber Riley was not observed romantically linked with anyone before the launch of her career on the FOX musical series, Glee. But, she was once rumored to have dated her Glee co-star, Kevin McHale. Despite quite a hype, neither Amber now Kevin came forth to address the rumor.
Nevertheless, Amber Riley and Kevin McHale stuck together on several occasions, one of it being the launch party of Samsung Galaxy Note II held in Los Angeles, back in October 2012.
Amber Riley and Kevin McHale at Samsung Galaxy Note II's 2012 launch party, Los Angeles (Justjaredjr.com)
After a while, their public appearance slowly declined, proving that their link up was nothing but just a rumor. 
Meanwhile, the news about her romantic involvement with Kenny Hamilton surfaced the media. But Riley took to Twitter to clear the air and ascertain her fans that it was not true.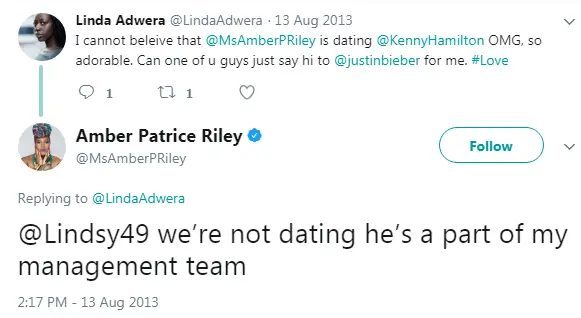 Amber clearifies rumor (Amber's Twitter)
A few years down the line, it seemed the old spark between Amber and Kevin was rekindled. Riley took to Instagram on the birthday of Kevin in 2017 to share a throwback picture of the duo sharing a romantic kiss. Her caption seemed suggestive of the love as well:
"forever bitches hahahahaha happy birthday Kevin! I love you soooo much". 
However, Amber has not confirmed regarding the link up between the two, so the fact remains tilted towards them sharing only a friendly love.
Well, she might be dating him—or anyone else for that matter—secretly or might be enjoying married life with a husband, but the odds are unlikely. But when we take a closer look, she just seems focused on her career rather than on a relationship for now.
Besides career, Amber also seems focused on a healthy lifestyle. She decided to start eating more healthy food. And the star revealed that her seven months of hard work had paid off and she has lost a considerable amount of weight. 
She was always comfortable with her size, but she just decided that it was time for her to get healthy and she actually did it. She exclaimed,
'I've dropped two dress sizes!'
Amber's weight loss has adorned her beauty further.
Amber Riley after (left) and before (right) weight loss (Liverampup)
Now, the actress is enjoying her life out of the controversies and is not indulged with any personalities of the industry. 
Short Bio of Amber Riley:
The talented actress, Amber Riley, was born on February 15, 1986, in Los Angeles, to parents Tiny and Elwin Riley and grew up with two older sisters.
As for her academics, Amber graduated from La Mirada High School in California.
Amber tried out for the second season of "American Idol" at the age of 17 but never made it out the audition round. But as of now, she is engaged in the musical band formed by the Beverley Knight.
Riley penned a track called "Leave the Light On" for the British pop group, The Saturdays, which appeared on their album, 'Living on the Weekends.'
Riley has been nominated for three Teen Choice Awards, three NAACP Image Awards, and three Grammy Awards for her tremendous work in the hit series Glee.
Not only nominated, but she has won some as well! Riley won the 'Screen Actors Guild Award for Outstanding Performance by an Ensemble in a Comedy Series' for her performance in Glee back in 2010, and 'WhatsOnStage Award for Best Actress in a Musical' and 'Laurence Olivier Award for Best Actress in a Musical' for her performance in Dreamgirls back in 2017.
She has also continued to take up acting roles, playing Addaperle in The Wiz Live and doing voice work for an episode of The Simpsons.
Well, she played the iconic role of Effie White- in Dreamgirls in 2016, and this part leads her to in the Laurence Oliver Award for Best Actress in a Musical, back in 2017.