Entertainment
Amina Buddafly Gets Divorce From Husband! What Does That Mean As Parents?
Marriage is the celebration of love. But not every marriage lasts forever. And when a marriage ends in divorce, of everyone, it is the children who get affected the most.
We are here to talk about the reality star Amina Buddafly whose marriage took an ugly turn, and she recently got divorced with her husband, well ex-husband now, Peter Gunz. She is a mother of two lovely kids, Kori and Bronx.
Some parents fight for the sole custody of the child while some reach an agreement and share the care. If you are wondering about Kori and Bronx, their recently divorced parents and their take on parenting after divorce, then dig in as we are here to talk about Amina's personal affairs including the separation and ex-husband in one single scoop.
Amina Buddafly and Her Husband's Post-Divorce Status as Parents: 
Marriage is a new beginning for a family filling the lives of the ones associated with it with love and joy. On the other hand, divorce is equally heart wrenching and a source of despair.
The effects of divorce on children run far and wide. Cori and Bronx, daughters of Amina Buddafly and her ex-husband Peter Gunz, must know the feeling. Cori was born back in 2014 and Bronx in 2016. 
Take a look at Cori kissing the baby bump of the beautiful and expectant Amina.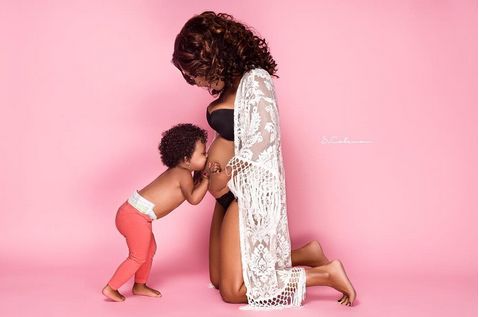 Caption: Cori kisses her mother's belly during Amina's pregnancy photo shoot
Photo Credit: vh1.com
After the former couple's adorable daughter Cori was born, Amina's husband, Peter, was caught cheating on her with his ex-wife, Tara Wallace. Peter, who already has nine kids with his former partner, Tara, was becoming the father for the tenth time.
Amina shared the news of her pregnancy with her fans by posting a picture of her rocking an amazing red dress. In the caption, she talked about her decision of keeping the baby despite knowing about her husband's infidelity.
Amina was expecting a child a few months before she was pregnant with baby Bronx, but she got an abortion which met her with some hateful comments.

In an interview, she revealed that she decided after finding out that Tara was expecting Peter's baby at the same time.
"At the time, I was upset. I definitely overreacted, especially because she's not the last person to have his baby. I'm pregnant."
After a number of ups and downs and the twisted love triangle among Tara, Peter, and Amina, Amina and Peter called their wedding off and filed for a divorce. The duo shared the news by posting the legal document of their divorce on the social media accompanying it with the caption "The End."
Her fans were pretty upset by the news and equally relieved that she broke free from a marriage formed on disloyalty. But Amina does not let her fans down. She keeps them updated by posting pictures of Kori and Bronx, two beautiful sisters, on her Instagram.
Amina, who is half German and half English by ethnicity, is a loving mother to the two beautiful girls. And by the looks of her Instagram, it seems that Amina enjoys the custody of her daughters.