Entertainment
André Leon Talley Forced To Lose Weight! Single Or Taken In 2018?
American editor, André Leon Talley is a prominent name for the readers of Vogue Magazines. Besides, he is a famed fashionista who holds a long time experience in the field of fashion and designing.
Shifting the focus to his personal life, Andre once fell in love with two women, but what about 2018?
André Leon Talley; Single or Taken?
Andre did not hold experience of a dating life according to one of his interviews. However, in the interview, André unveiled that he fell in love with two women in the past.
Talking about his personal affairs to Vanity Fair in August 2013, the 68-year-old told that he was in love with a fellow student in Province. Leon earned a Master degree located in Providence in his mid-twenties.
The other was the society woman with whom he fell in love after a night of dancing in Manhattan a long time ago.
In the interview, he denied disclosing her identity, saying she later got married and had children.
Moreover, he was close to Anna Wintour and was often seen in a dressing room with her. Anna was his former boss at the Vogue. In the same interview, André opened up about his friendly relationship with her, stating:
I wouldn't have stayed at Vogue as long as I did without Anna being there. She was my biggest ally. There could not have been another way.
They were seen together attending several events.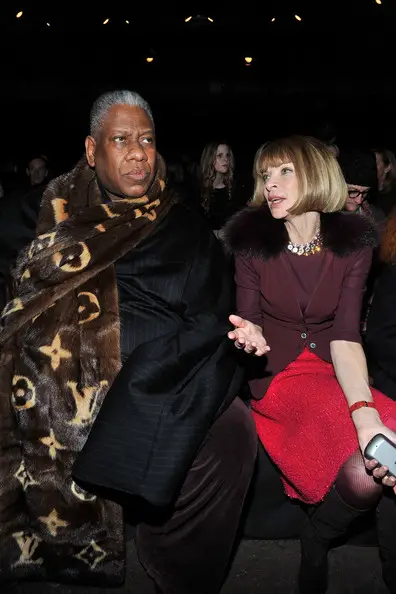 André Leon Talley and Anna Wintour attending Mercedes-Benz Fashion Week in 2011. (Photo: zimbio.com)
André is currently an unmarried single man showing high dedication to his career in fashion and designing and has not flaunted his relationship till the year 2018.
Weight Loss
André was addicted to food in the past, which caused an increment of his body weight. After the regular workout in the weight loss center since a decade, he is able to slim down his body.
Talking to People about his journey of losing his weight, he said,
It's been an emotional journey for a very long time — about a decade – I live with it every day.
He further added about giving up his favorite foods stating,
I had to cut out ice cream and desserts, pie, cakes and cookies. I don't keep those things in the house.It's very tough with my lifestyle. I have learned to avoid the temptations.
André is currently satisfied with his weight and insists that the fashion world has accepted him as he was here for his knowledge rather than the look.
André Leon's Fashion and Radio Host Career, Net Worth
André, born on 16 October 1949, was raised by his only family member, grandmother after his divorced parents left him. He worked at Andy Warhol's Factory in New York City after he got Master of Arts degree at Brown University in 1973.
Later, he worked at Women's Wear Daily and W magazine for five years from 1975. Before Vogue Magazine, he worked for the New York Times and other publications.
André joined Vogue Magazine in 1983 and worked as fashion news director until 1987. In 1988, he became a creative director and brought top designers to focus on African American models in their shows. He left Vogue in 1995 and moved to Paris where he again worked for W magazine.
In 1998, André made his return to Vogue as the long-term editor-at-large until 2013. He later served as international editor of Numéro Russia for less than a year in 2014.
In his high-end fashion career, André has advised several high-profile figures about their dress, including First Lady Michelle Obama, Mariah Carey, and Venus Williams.
Currently, he is a radio host on Radio Andy, where he focuses on fashion and pop culture. His biographic documentary, The Gospel According To André is yet to release in 2018.
For the significant work in the fashion industry, André deserves an estimated net worth of $5 Million. André is living his luxurious life in his home in White Plains, New York.
Think we're missing something? Do let us know in the comment section below!