Entertainment
Upcoming Andre Nickatina Tours And Concerts; "Jungle" Rapper Heavy On Dates
Upcoming Andre Nickatina Tours And Concerts; "Jungle" Rapper Heavy On Dates In March 2018, American rapper Andre Nickatina started his three-month-long tour entitled ANDRE NICKATINA KING OF MARCH ALBUM TOUR.Poster of Andre Nickatina's Pisces Album Tour Tha last leg of the tour will take place in his hometown at club Ace of Spades, Sacramento California, on 4 May 2018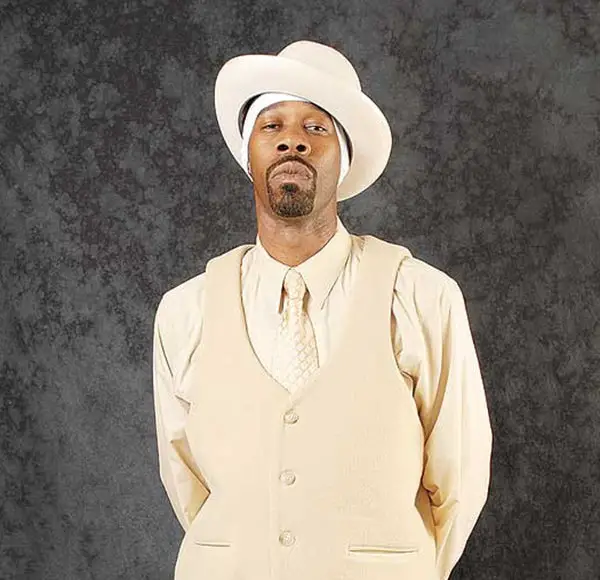 It's like a jungle sometimes
It makes me wonder how I keep from going under
When they hit me with the thunder and lightning
Its trifling, enlightening, and frightening
The excerpts from Andre Nickatina's hit Jungle seems like it is quoting out the story of Andre Nickatina's real life.
The song is about a black American rapper, who amid highs and lows of life, tries to make it big in music.
The creative art indeed reflects the real life of American rapper Andre Nickatina, as he actively struggled to mark his name on the stardom.
Today, we shed light on this veteran rapper's upcoming tours and plans. Also, we will get acquainted with his professional accomplishment after 25 years of dedication in the entertainment world.  
Andre Nickatina's King of March Album Tour
In March 2018, American rapper Andre Nickatina started his three-month-long tour entitled ANDRE NICKATINA KING OF MARCH ALBUM TOUR.
It consists a series of concerts planned for March, April, and May in various parts of California.
The tour will commemorate Andre's birth-month in May, and will also celebrate his completion of 25 years in the industry.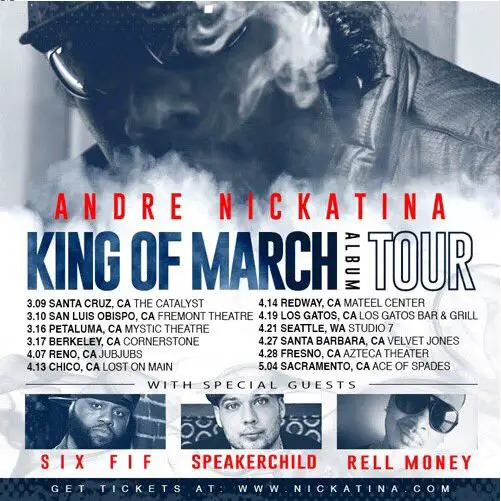 Poster of Andre Nickatina's King of March Album Tour (Photo: Andre Nickatina's Twitter)
Andre has already completed five gigs in various parts of California and has received an overwhelming response from the fans.
Tha last leg of the tour will take place in his hometown at club Ace of Spades, Sacramento California, on 4 May 2018.
For the latest, Andre has an Andre Nickatina 420 bash lined up for 20 April 2018. He also launched his new album Pisces, with 75 Girls record label back on 23rd March 2018.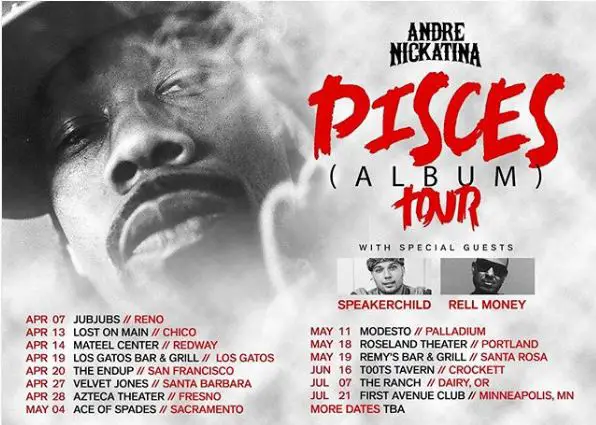 Poster of Andre Nickatina's Pisces Album Tour (Photo: Andre Nickatina's Instagram)
It seems like Andre Nickatina is enjoying the fullest in his tours, and grabbing more attention from the fans. 
Started Career, Albums, Net worth
Andre Nickatina, born on 11 May 1970 as Andre Adams, began his career with stage name Dre Dog. He, through his stage name, released two albums, the second of which, I Hate You With a Passion peaked at 79 in the billboards chart in 1997.
After the second album, he changed his stage name to Andre Nickatina and never looked back ever since.
In 2008, Andre released an album named A Tale of Two Andres containing three songs, performed with late legendary rapper Dre MAc. He released the songs as a tribute to the late rapper, Dre Mac's role in establishing the bay arena hip-hop scene.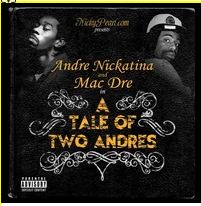 Andre Nickatina's 2008 album, A Tale Of Two Andres (Photo: Nickatina.com)
Nickatina, till date, has released 25 albums and given numerous hits. His most significant hit till date is his single Jungle, which endeared him not only to hip-hop fans but also a wider audience.
In 2018, Andre has an estimated net worth that totals $2.5 million.
The Filmoe Coleman Records record label founder has been making entirely new fan base, along with his previous followers, through his original flow, specific voice, and lyrical-rhapsodic explorations.
His singing voice and his lyrics always wow the audiences. Andre shows no sign of slowing down in mesmerizing his fans.