Entertainment
Andrea Riseborough Taking Time To Get Married, Have Family! Career Reflects
Andrea Riseborough, an English actress and the owner of the production company, Mother Sucker, seems to have a busy professional life. Most of the information available about the actress focuses on her career rather than her personal life and relationship.
So, let us read ahead to know more about Andrea Riseborough's personal life in depth!
Andrea Riseborough's Dating Status? Why Not Married?
The dynamic and hotly tipped British actress is best known for her goofy, blunt, and bubbly demeanor and the chalk-white complexion, that collectively make her win the hearts of people. While the actress is super talented and fiercely, what grabbed people's attention was her love life!
For the unaware, Andrea was off the market when she was in a committed relationship with her boyfriend, Joe Appel, a street artist. She met the artist back in 2008 at the premiere of a Woody Allen film in Los Angeles and had a heart-to-heart conversation. Love soon sparkled between them, and they started dating officially in 2009.
In an Interview, she confronted her love:
I've never seen myself as one who exists purely in terms of finding the perfect partner and living through them. But, having said that, I think I'm terribly lucky. I think I've found my prince.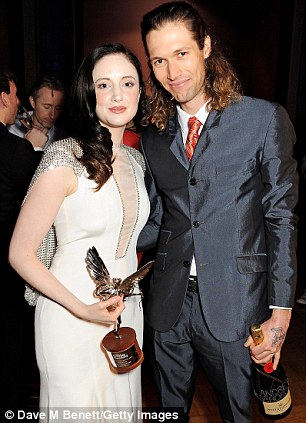 The two were for some years, and the fans were expecting the couple to tie the knot when Andrea dogged the idea by giving a reason that deserved a significant appreciation. By taking a gigantic step to reinforce gay marriage, Andrea bluntly said, in an interview with Mirror in 2013, that she would not marry until the legalization of gay marriage.
I'm really hoping that we can sort this whole marriage situation out, you know so everybody's allowed to do it. When everybody's allowed to do it I think I'll feel a lot better, Joe and I both feel very strongly about it and we look to do anything that we can to help.
She further added:
Of course, we want to get married of course we do! That's a no-brainer.
As same-sex marriage became legal later, fans of Andrea were thrilled that it was time for Andrea and Joe to be united in a wife-husband bond. However, the seven-year-old relationship between them ended in 2016.
Although Andrea has not revealed the reason behind the break-up, chances prevail that it may be because of her busy career. What do you think?
More On Andrea Riseborough: Her Supportive Family
Born as  Andrea Louise Riseborough in Newcastle, England, Andrea is 37 years old. She was raised by parents George and Isabel Riseborough and has a younger sister, Laura Riseborough, who is also an actress. Andrea's parents and sister helped her to enroll herself as a burgeoning star in the film industry.
Back in 2005, Andrea graduated from the Royal Academy of Dramatic Art and also joined the East 15 Acting School. Since then, a series of acting credits fell into her lap.
With a lovely height of 1.65m (5'5") and perfect torso measurement of 34-24-35, Andrea has an alluring body and the actress is not afraid to go through a physical transformation for her roles. For her role in the 2016 British thriller 'The Witness for the Prosecution,' Andrea went into an immense went loss.
Andrea's dedication towards her profession is unmatchable, and we hope the star shines even brighter in the future.