Entertainment
Andrew Taggart: Stopped Dating Girlfriend After Singer Stepped In! How True?
Though the success of The Chainsmoker's song, Closer, brought one half of the DJ duo, Andrew Taggart, closer with the featuring artist of the song, Halsey, it created a fissure between Andrew and his girlfriend.
But did the chemistry between Andrew and Halsey in Closer ultimately let the Don't Let Me Down DJ down in his relationship? Scroll down to find out!
2016 MTV VMA's Live Performance's Aftermath For Andrew Taggart:
In 2016, Closer took the music world by storm, which called for several live performances of the song. One such performance got more famous for the singers' display of affection on stage than for the song.
If you follow the musical journey of the famous DJ duo, you already know that we are talking about the 2016 MTV VMA's live performance of Closer. The scene was steamy, both literally and figuratively, when Halsey stepped in, and the chemistry between her and Andrew heated up.
The two shared intimate eye contact, and as Halsey sang "pull me closer...," she walked about Andrew and got closer to him after facing him. Then she held him on his neck as Andrew stooped and tried to grab her all while singing into his ear, almost like she was whispering to him.
Likewise, during Andrew's chorus, he walked up to Halsey from behind her, hugged her and glided his hand across her belly as she stood lip-syncing, her head slightly inclined towards Andrew as he, too, sang into her ear.
After they put on the show, several observations began to arise. Rumor had it that the duo had a past; some people even went to claim that the two were dating. Moreover, the scene also ruled out the past speculations of the singer being on the gay sexuality.
Though neither of the two confirmed anything regarding their history together, it was apparent that Andrew was dating the Instagram star, Haley Rowe during the time of the performance.
Andrew and the other half of the duo, Alex Pall, confirmed to Billboard in September 2016 that they were both in a live-in relationship with their respective girlfriends.
However, following Andrew's act with Halsey, Alex offered an insight into his relationship with Haley during an interview with the Australian morning show, Mike E & Emma, on 15 September 2016, less than a month after the MTV VMA's.
"Actually I still have the same girlfriend but Drew just broke up with his girlfriend like two days ago."
The interviewers were thinking the same as everyone else was thinking, so they couldn't help but ask Alex if Andrew's flourishing chemistry with Halsey had anything to do with it, to which Alex confided:
"You know, I'm sure that factored in."
Just like we guessed!
Little did Haley know what was in store when she posted a pre-VMA picture with her boyfriend claiming that she was proud of him.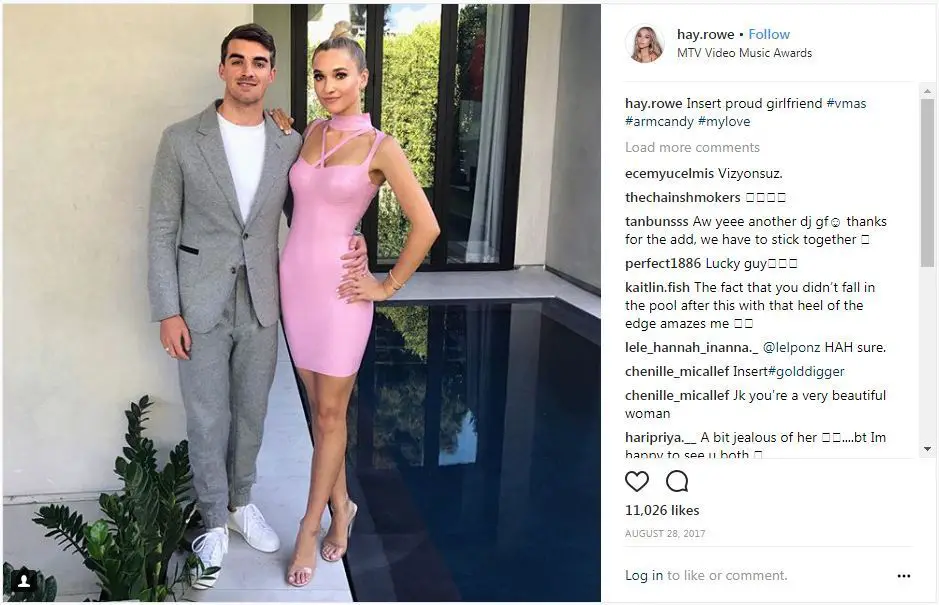 (Photo: Haley Rowe's Instagram)
Additionally, Alex also revealed that Andrew's busy schedule contributed to the break-up and added,
"I know his girlfriend, I know her really well and I know he really loves her."
However, as of now, Andrew is no short of love, as he has found love again in model Meredith Mickelson. The confirmation of them dating came forth this year in January after the two were spotted walking through NYC's East Village with their arms intertwined.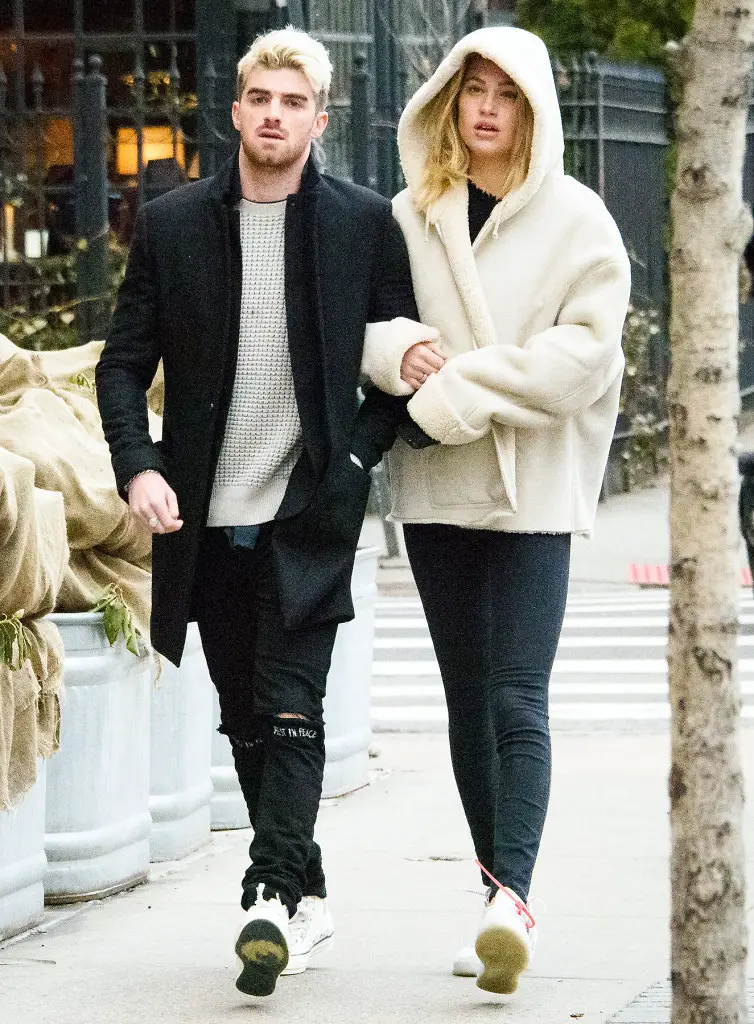 Andrew taking stroll past the NYC's street with Meredith Mickelson. (Photo: Usmagazine.com)
The timeline of their relationship remains a complete mystery, and it remains known that Meredith was single until July, last year.
Andrew Taggart's Life At Glance:
Andrew Taggart was born on 31st December 1989 in Portland, Maine. In an interview with Rolling Stone, Andrew revealed that he comes "from a really frugal family."
To further support the claim, he took Twitter in August 2017 to let his fans know that his house even had to be rented out, and that, too, to a person with a ferret.
That was in the past, and as of now, the DJ is doing well financially and enjoys a net worth of over $12 million.
Think we're missing something? Do let us know in the comment section below!