Entertainment
Chef Andrew Zimmern's Different Thoughts On "Gay" As Married Man With Wife
Andrew Zimmern is a well-known TV personality and chef who hosts the Travel Channel's famous series Bizzare Foods with Andrew Zimmern. After the success of his first show, he went on to create two more spin-offs namely Andrew Zimmern's Bizzare World and Bizzare Foods America.
But before the New York City-native became a world-renowned food personality, he went through a lot of terrible days. Back in his early adulthood days, he was a severe drug-addicted homeless man, living in an abandoned building in Manhattan. However, gone are the addiction days for he is a 26-years-old sober man, who owns a home of a wife and a child.
Want to know the full story of Andrew Zimmern? Know all about the personal life of this multiple James Beard Award-winning personality!
Wife And Son, The Perfect Recipe For A Happy Family
Andrew is blessed with a beautiful life partner and the longevity of their marriage proves that true love does exist in the world.
He got married to Rishia Haas on 26 December 2002 and has been going ever since. The pair is also the parents of a lovely son,13-year-old Noah, whom they raised together in Monterey, California.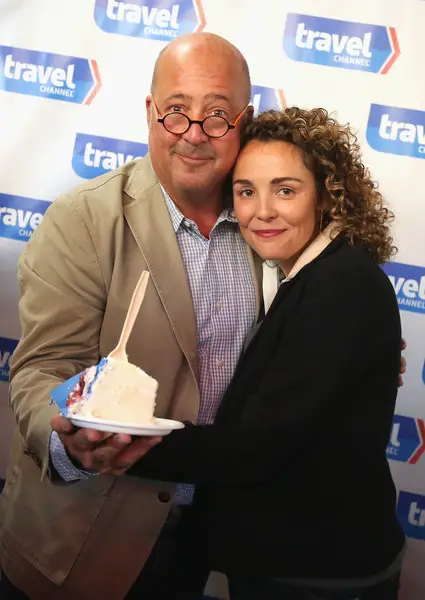 Andrew Zimmern and his wife, Rishia Haas attend the Top Dog on 17 October 2015 (Photo: Zimbio.com)
The chef shares a close bond both, with his wife and kid and spends a significant portion of his free time with them, be it visiting museums or riding trains together. The chef revealed in an interview that his life was getting better every day as he lived with his spouse and son.
The food personality also revealed in 2016 that he had a passion for collecting expensive knives, which his wife is against of. Andrew added that he had to hide all the bills of knives from his wife. But differences apart, they are a lovely couple and most probably will spend their whole life together.
As of 2018, Andrew resides in Minneapolis, Minnesota with his companion and son, Noah.
Gay Sentiments Derived From Parents
The 56-year-old weaves a beautiful reason in his heart, which allocates a tender spot for gay men. The chef was raised by a couple of gay people as his biological parents split when he was a young child. In a 2014 interview with Eater, he revealed how he grew up with his gay parents.
On 13 June 2014, Andrew shared a post on Instagram thanking his two fathers for all the love and nurturing they provided him during his childhood. Further, he also wished his dads for their 47 years of togetherness and wrote that he wanted every kid to have loving parents like his.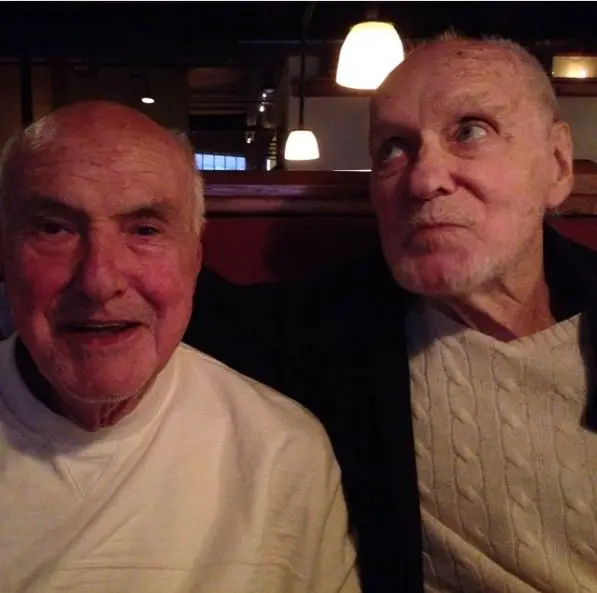 Andrew's gay fathers have been together for 47 years (Photo: Andrew Zimmern's Instagram)
Not only does Andrew adore and support a gay lifestyle despite being heterosexual, he also gets furious when people pass negative judgment towards the alternative way of life. The same thing happened in 2017 when a Kentucky judge refused to hear the adoption petition of a same-sex couple. The judge had earlier passed a verdict that being raised by homosexual was in no way in the best interests of a child.
Outraged by the incident, Andrew took the matter to Facebook to share his own story and even called the judge an "imbecile" for his opinions. He further went on to mention that gay parents were better than negligent and abusive heterosexual parents.
In another instance, Andrew shared a tweet on 28 Jan 2018, in which he slammed haters for their biased and sexist remarks towards same-sex couples.