Entertainment
Aneurin Barnard's Girlfriend: Is he Dating Someone? Or Is He Gay?
Today, we have a little saddening news for Aneurin Barnard's female and gay fanbase who want to steal his heart away. Buckle up your seat belt; we are about to go through his mysterious love life.
Who is His Girlfriend? Dating?
This young Welsh actor does not have an Instagram account. No wonder, we couldn't find enough pictures of Aneurin with his alleged girlfriend. But according to Who's dated who, Aneurin Barnard is currently in a relationship with Amy Morgan, another fellow Welsh actress.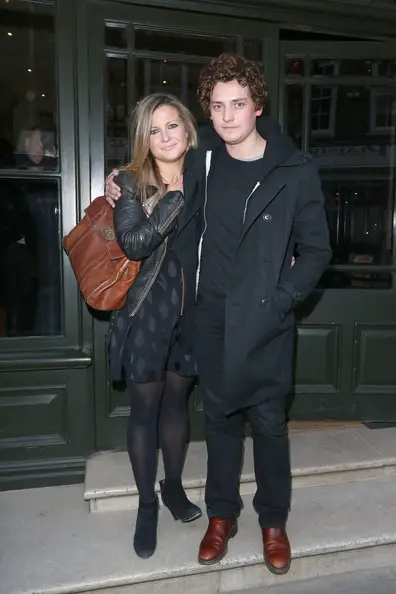 Caption: Aneurin Barnard with alleged girlfriend, Amy, attending the 'Mariah Mundi and the Midas Box' screening in London(April 5, 2013)
Source: zimbio.com
However, the exact year in which the couple started dating has not been disclosed yet. Likewise, they haven't made it official yet. But the alleged boyfriend and girlfriend have been seen together.
A tweet by Mau on July 2016, stated that she saw Aneurin Barnard, but he was with his girlfriend, so she did not dare to disturb them.
@aneurinBarnard the second time I saw you, you were with your girlfriend, you were so cute together !! We did not dare disturb you...

— Mau (@Mau_ddl) July 17, 2016
Aneurin Barnard's Professional Life:
Aneurin Barnard is a Welsh stage and screen actor. He is celebrated for his roles such as Davey in "Hunky Dory,"  Claude in "The Truth About Emanuel," Robert "Bobby" Willis Jr. in in "Cilla", and King Richard III in "The White Queen." 
 In an interview with dailymail.co.uk in Sept 2014, which was actually a question and answer segment, he talked about how he got into acting. When the interviewer asked, 'Did you always want to act?', he replied:
"All I did as a child was pretend to be James Bond or Marlon Brando. When I was about four, I put on my dad's work boots and went up and down the street with his walking stick pretending to be Charlie Chaplin."
He also mentioned that he got his first role while he was 14 years old. He said that he felt determined to pursue the career in acting after he got paid for his acting for the first time.
When the interviewer asked, 'Did you have a plan B?', he replied,
"I wanted to be a stuntman. I've done stunts since I was 11 and wanted to be able to do them whatever kind of work I ended up in. I've had a horse roll on me but luckily everything stayed intact."
Aneurin Barnard's Short Bio:
Aneurin Barnard, was born on May 8, 1987 (age-29), in Mid Glamorgan, Wales. He was born to parents June and Terry Bernard and also has a sister named Ceri. He graduated from the Royal Welsh College of Music & Drama in 2008. 
He has played many roles in his career till now but is widely known for his role in Ironclad (2011), Citadel (2012), The Truth About Emanuel (2013), and The White Queen (2013).
He recently starred in a 5 part drama by BBC called 'Thirteen' as Tim Hobson and on TV Mini-Series "War & Peace" as Boris Drubetskoy. His movies "Interlude in Prague" and "Dunkirk" are in post-production.