Entertainment
Angie Janu Was Both Frightened And Relieved By Her Husband, Jason Beghe's Decision To Leave Scientology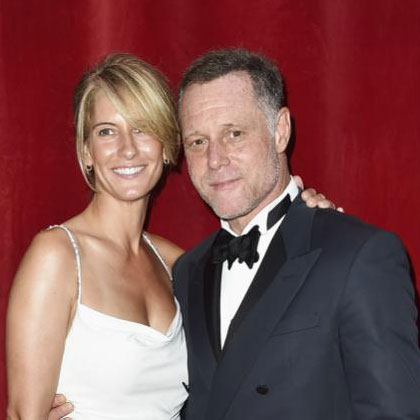 Quick Information
Can't we say that American actress Angie Janu married her Scientologist husband and his decisions, or they have part ways? It is Jason Beghe, a fine American actor whose decision to leave Scientology seems to have pushed Angie into fear and relief at the same time.
Juvenile American film and television actor Jason Beghe is known for ' Compromising Positions,' 'Jimmy Hollywood,' 'The X-Files, Monkey Shines,'' The Next Three Days, 'Downtown' and much more.
Angie Janu Married To Jason in 2000:
Having tied the wedding knot, Angie shared her life with Jason in 2000. They promised each other to be there as the motivating factor in each other's life.
Angie had always appreciated how Jason wanted to join the Church of Scientology. She was always there for her man.
After joining Scientology, Jason participated in many promotional activities like exhibitions, which are recognized as a part of the Church of Scientology.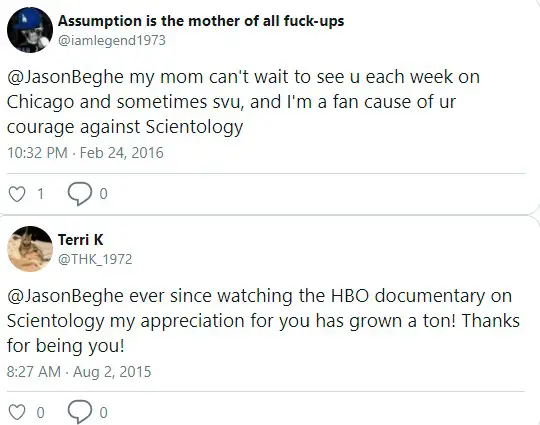 Angie's husband became a Scientology supporter for almost thirteen years before deciding to leave it in 2007. Angie was worried about what people would think and what would happen to their children because her husband began to criticize Scientology publicly.
Scientology delivers what it promises under the guise of tearing away falsity, neuroses, psychoses. It creates a brainwashed, robotic version of you. It's a 'Matrix' of you, so you're communicating with people all the time using Scientology.

- Jason Beghe
But fate had planned something else for the two. After being married for seventeen years and blessed with two kids Bix(17) and Bo Bear(13),  Jason filed for the divorce. The news of their split broke back in 2017.
When asked about the reason behind the split, Jason stated irreconcilable differences. He has also pleaded for the joint legal custody of two children. While Angie, on the other hand, has not confronted anything on this matter.
According to the E!, the P.D actor also confessed that he and his soon to be ex-wife had separated back in May 2016. He has offered to pay his wife spousal support, requesting to keep an inherited Oklahoma property, inherited mineral rights from properties there, and Texas. The Chicago actor has proceeded from the sale of another property in Washington D.C.
Moreover, he also revealed that he wants to share the costs of attorney fees with his wife.
Angie frightened by her husband's decision to leave Scientology:
The couple went through many ups and downs and harsh situations because her husband decided to leave the church. Their lives were under threat, and their kids were being followed even in school. Despite everything, Angie still supported Jason.
She might have been afraid for a while, but she found that she could relax as things settled. Because of her confidence, it became easier for her to reconcile their strong belief.
In the year 1994, Beghe first decided to take some Scientology courses. In 2005, he started to appear in Scientology promotional videos. He decided to leave Scientology in 2007 and started to criticize the Church of Scientology publicly since 2008.
In the year 1999, Beghe had an automobile accident.
Famous for her endeavors in film and on television, Angie Janu has been praised for her appearance in Too Good to Be True. Angie's net worth is huge due to her acting endeavors.
Officially Split With Husband After 20 Years
Angie Janu and her then-spouse, Jason Beghe, have finally finalized their divorce. And according to the court reports, they were free to put the single tag since 28 September this year.
The couple has negotiated over their properties, as per TMZ, where Jason will reside on a Chicago, Illinois condo while Angie will reside in Malibu, California estate.     
The estranged couple will share all the major decisions, including education, children's health, schooling, religion, and enrichment activities.
They will share physical and joint legal custody of their sons, but Jason will be on his way to work in the Windy City while Angie will be taking care of her children in Malibu.
Moreover, the judgments state that neither of the parents will be allowed to talk bad about the other in the presence of their teenage sons. Instead, they are instructed to maintain politeness in front of them.
Angie Janu Wikipedia-Like-Bio
Angie Janu was born in the mid-1960s as Angie Dawn Beghe. This puts her age somewhere around the mid-60s. However, this might not be her accurate age as her date of birth is not known.
She is an actress who has appeared in the movie, Too Good to Be True (1997).
Jason Beghe's Short Bio:
Jason Beghe was born on March 12, 1960. He graduated from Pomona College in the year 1982.  To make a career in acting, he has persuaded Duchovny. Prior being an actor, Beghe worked as a model in Europe. In the year 1985, he had his first feature film called Compromising Positions.
Beghe had a breakthrough in his career when he appeared in the film Monkey Shines: An Experiment In Fear in 1988 with the portrayal of Allan Mann.