Entertainment
Is Anna Baryshnikov Having A Dating Affair? Her Posts Suggests She Has A Boyfriend
"Manchester By The Sea" actress Anna Baryshnikov is blessed with everything in her life, be it her acting skills or the love of her parents and the rest of her family. These are the reasons for her success in the professional field.
But is she equally blessed in her dating life? Does this 24 years old actress, who is ready to be the showbiz's new leading lady, involved in a dating affair?
Well, her social media posts suggest such; but is that the end reality? Let's take a closer look at the inside truth on the matter!
Anna Baryshnikov's Social Media Posts Show She Is Dating And Has A Boyfriend; True? 
Beautiful Anna Baryshnikov is an eye-captivating personality, who has been making people awestruck with her acting skills ever since she first stepped on the stage aged just six!
She now is a grown up lady and has a lot of hearts beating for her across the world, but is there someone residing in her heart?
Well, she is certainly dating someone, and that certain someone's name is Teddy Bergman. If you look at the pictures she has on her Instagram, you will be able to see many of Teddy's photos over there, which is the reason why people assume they are an item and are involved in a dating affair.
The captions are somewhat interesting, right?
The two are yet to open up about the truth behind the nature of their connection, but it seems all but sure that they are dating one another. 
However, it remains uncertain until any confirmation from both sides!
Anna Baryshnikov's Blessed Family Life:
The support of a family is the most driving influence in a person's life, and Anna Baryshnikov is someone who has received plenty of love and support from her parents, her father Mikhail Baryshnikov, who is an actor and a ballet dancer, and her mother Lisa Rinehart, who is a former ballerina.
Being recognized as one of the best ballet dancers of his time, Mikhail has never backed down from being vocal about how much he takes pride in his daughter.
Attending the premiere of "Manchester By The Sea" back in 2016 and speaking about his daughter's career, Mikhail said,
'Anna's 24. She's had theater training. She went to Northwestern and at first we resisted but she always wanted to be onstage,'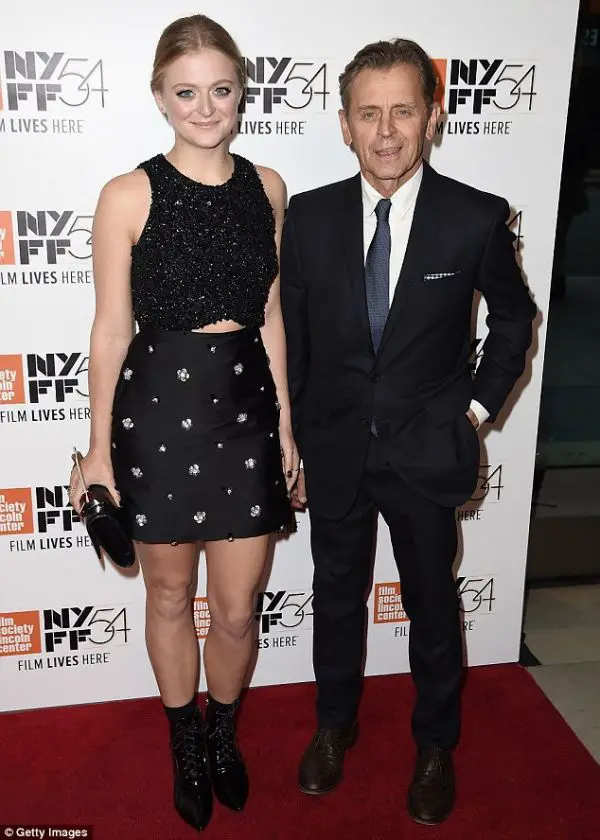 Caption: Proud father, Mikhail with his daughter, Anna.
Picture Credit: Getty Images
He then added,
'We haven't seen the movie. I am so nervous to see this. But I was always nervous, even about my own performances. Listen, I don't even go to my own openings. Some say her work could win an award. What are awards? I don't even care about my own award. She is my award,
Such is the love the father-daughter duo shares, and with this sort of support, she is going to touch further heights in her career.
For those who are wondering if she has siblings in her life to accompany her, let us tell you she has a sister, Sofia-Luisa Baryshnikova, a brother, Peter Andrew Baryshnikov and a half-sister, Shura, who is known to be a dancer and is Jessica Lange's daughter. Jessica was married to Mikhail from 1976 till 1982.
Think we're missing something? Do let us know in the comment section below!