Entertainment
Actress Anna Passey and Her Boyfriend Have Different Paths OnScreen, How will This Affect Their Dating Relationship?
The saying "opposite attracts" has a phenomenal existence in the life of most of the people. Same has been identified in the life of the actress Anna Passey who is on the surface for dating a man working opposite her character.
For now, we shall look upon the classic choice of Anna Passey and further know the opposing decisions made by her along with her boyfriend.
Opposite Character Attracts. How True Can That Be?
Despite portraying an entirely different character in the series of "Hollyoaks" actress Anna Passey and Nick Rhys hit the headlines for their hot romance in the early of July 2016.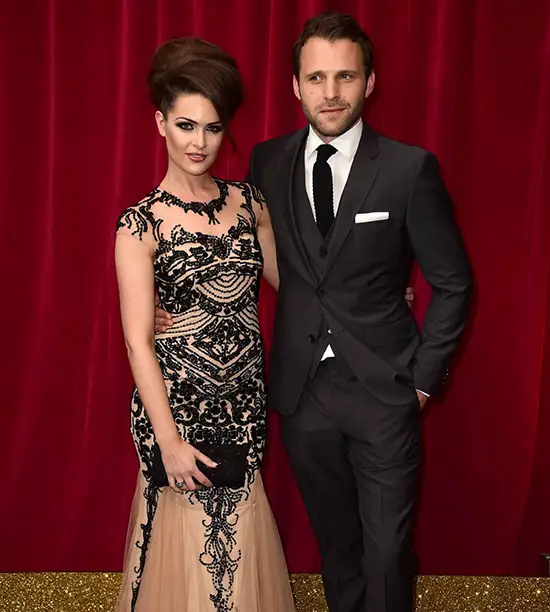 Caption: Anna Passey with her boyfriend Nick Rhys at the British Soap Awards (2014).
Photo Credit: pininterest.com
In the series of Hollyoaks Anna portrays the character of Sienna Blake who is completely unlucky in love while Nick Rhys portrays the character of a troubled personality as Lockie Campbell. In an interview shared by the Mirror.co.uk Anna reveals few details of her character as Sienna Blake.
Caption: Anna sharing few details of her character of Hollyoaks as posted by Mirror.co.uk (2016)
Though the star couple Nick Rhys and Anna met while working for Hollyoaks, it's unbelievable that not even once, they have shared their screen together. The lifestyle.one on November 24, 2016, shared the interview when Anna got asked about how she felt being on the same show with her real boyfriend. While answering, she said,
"We never actually had scenes together, but it was nice being in the same building, and now obviously he's not there, but he's kept up to date with what's going on when I come home every night. He tries to keep up with the story as much as he can."
Although Anna has revealed about her relationship affair with her co-actor, Nick, she has not once correctly disclosed the accurate details about her meeting events with her partner. But she surely has been a live example showing people that love can't be barred from different character, thoughts, and profession!
 Are The Couple Taking Another Step For Marriage? 
Although Nick had finished with his shoot for Hollyoaks in the year 2015, no changes in the relationship between Anna and Nick got identified. The beautiful couple is still dating and has been into living in relationship. In an interview published by lifestyle.com on 24th November 2016, Anna revealed about her daily chores where she has openly mentioned about going back to her home to her partner Nick. She said,
"Usually when I finish my day's filming I'm either straight to the gym for an hour or to yoga. Then I go home to my partner, Nick Rhys, who played Hollyoaks' bad boy Lockie Campbell and I'm not awful to him!"
Although she has no plan to get married till date, Anna remains with her man. Recently she has published the picture of  Nick and her dog on her Instagram account on November 27, 2016, where she has mentioned about her Sunday hangouts.
Even though Anna has no plan to get married, and is living with Nick, there are no rumors of her getting separated from him nor her getting involved in any domestic violence. 
Maybe before getting hitched, she wants to know about her partner very well and is taking her time to enjoy her dating life. Hence, giving continuation to her live-in relationship. The marriage is on hold but we being a die heart fan of Anna, are secretly waiting for her Wedding day to arrive soon.
Abused By The Fans, For What Reason?
The romance of lovey-dovey couple was taking its pace, but the fan followers were vehemently despising and made troll on the weight and appearance issue. On her Twitter account few of the followers posted tweets on 8th June 2016 as,

Photo credit:thesun.co.uk
Followingly, on 7th June 2-16, another harsh tweet was shared by her follower.

Photo credit:thesun.co.uk
Well, the trolls were replied by Anna in a very abrupt manner. Through her tweets, she shared the picture of herself carefreely eating an ice cream not giving a damn to her haters by showing a middle finger to all the cruel comments posted on her Twitter.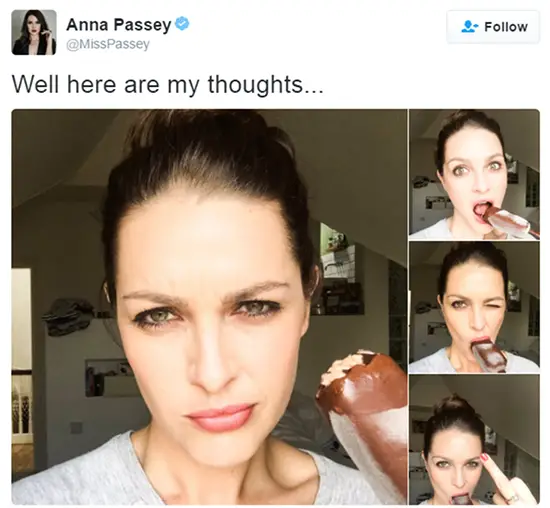 Caption: Anna reply to her haters by making care even less faces (2016)
Photo Credit: thesun.co.uk
Being a celebrity entitles you fame along with numerous burden.They have to take care of their appearance and even take care of their fitness. One slight error in keeping a check on their daily routine and there comes troll accompanied by criticism. Well, this shows it's not so easy to become a star and remain in the entertainment field as celebrities have no privacy and are always surrounded by paparazzi and critics!