Entertainment
Annamarie Tendler [John Mulaney 's Wife] Bio & Married Life
Annamarie Tendler Mulaney is an entrepreneur, author, makeup and fiber-based artist, and hairstylist. She initially rose to fame through her Tumblr, where she made photo-based makeup tutorials called The Daily Face. The new format for tutorials appealed to many, and she managed to amass 350,000 followers on the microblogging site.
She has worked as a makeup artist in shows and TV series like The CollegeHumor Show (2009), The Old Man and the Seymour (2009), and John Mulaney: The Comeback Kid (2015), among many others.
Annamarie also wrote The Daily Face: 25 Makeup Looks for Day, Night, and Everything In Between! (2014) and Pin It! 20 Fabulous Bobby Pin Hairstyles (2017).
She is also the founder and artist behind Silk Parlor, a company that makes textile arts and handmade Victorian lampshades.
Bio: Age, Birthday
Annamarie Tendler was born on 9th June 1985 in Connecticut. She studied Writing and Psychology and graduated from The New School. According to her bio in silkparlor.com, she is working towards her Master's degree in Fashion and Textile History.
She began her professional career as a makeup artist and hairstylist when she was 19. She started The Daily Face in Tumblr in December of 2007; the makeup artist has worked with MTV Styles and Glamour since then.
Annamarie Tendler Mulaney Married, Husband
The fiber-based artist is married to comedian John Mulaney. The two first met in the late 2000s during a group trip to Martha's Vineyard, an island in Massachusetts. The two grew closer and eventually started going out.
Annamarie predicted that she would marry John on 16th February 2010. She wrote a sign that said, "John is the man I am going to marry." She also added her signature below her words.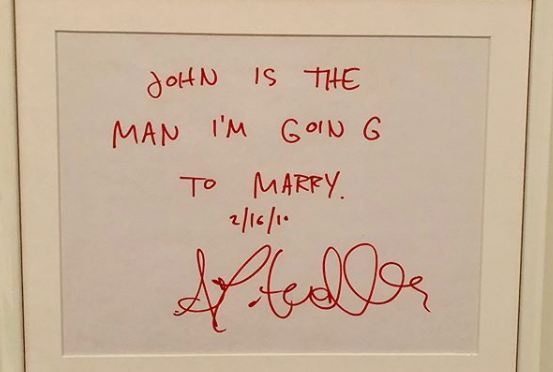 Annamari Tendler's marriage prediction (Photo: John Mulaney's Instagram)
The author's prediction did come true. The couple tied the knot on 5th July 2014 in Boiceville, New York.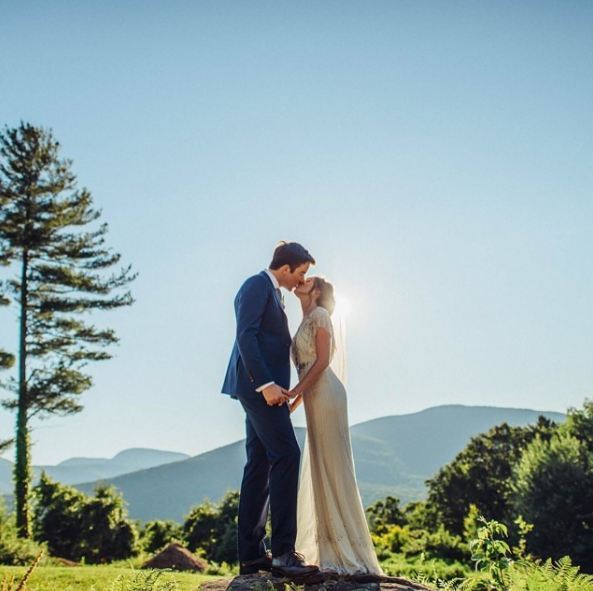 Annamarie Tendler Mulaney with husband John Mulaney during their wedding on 5th July 2014 in New York (Photo: John Mulaney's Instagram)
Their friend and comedian Dan Levy officiated the 1920s woodland-deco themed ceremony.
About John Mulaney
John Edmund Mulaney is a writer and stand-up comedian best known for his work on Saturday Night Live (2008-2012), John Mulaney: The Comeback Kid (2015), Documentary Now! (2015-2019), and John Mulaney & the Sack Lunch Bunch (2019).
More On John:- John Mulaney Married Life & Net Worth Details; 'Big Mouth' Meet Proudest Wife
He was born to Charles W. Mulaney, an attorney, and Ellen, a law professor on 26th August 1982 in Chicago, Illinois. He attended St.Clement School and later studied English Literature at Georgetown University.
Facts
Annamarie and John have a French bulldog named Petunia.

Petunia is an Instagram star with over 170K followers.

Annamarie has worked with Amy Poehler's Smart Girls as the host of the show, The Other Side.