Entertainment
Anthony Jeselnik's Hilarious Cancer Jokes: Previously Dating With Amy, Message to His Ex-Girlfriend
All of us enjoy watching comedians share their funny jokes with us and sometimes make us a part of their joke. Just take Anthony Jeselnik for an example, who has joked about a thing as serious as cancer. What about his dating life? What message has he for a previous girlfriend of his?
Stand-Up Comedy on Cancer Victims:
Anthony Jeselnik does have a lot of darkness hidden in his humorous jokes. For the first show of his show, 'The Jeselnik Show' he decided to explore the very sensitive and not commonly humorous topic of cancer. The episode included an interview with an oncologist and he later moves on to performing a stand-up for Cancer victims.
Caption: Anthony Jeselnik in his show, 'The Jeselnik Show'(2013-present)
As always Jeselnik did not appear to soften the blows on his audience. While many people, especially who have struggled with cancer or have someone close that is will not like Jeselnik's jokes, not all will be against it. Besides his audience knew what they were getting themselves into and it looked like they were having a good time anyway. 'Being mean' after all is bread and butter of a comedian.
In Anthony's defense, these dark humor are his specialty. Over the years, he has told a lot of similar jokes. Some of his best quotes are these offensive jokes like:
"I think my friend Jeff is gay. I don't know - I'm so bad with names."
"People say it's easy to make fun of retarded people, but it's not. You really have to explain it to them"
"I let a friend set me up on a blind date. It was a disaster. She ended up being a burn victim. By the end of the night"
Message To Ex-Girlfriend:
Amy and Anthony have been dating from 2009 to October 2012. It appears as if they had been together for 3 years but as Amy put it in an interview with cosmopolitan.com in 2013, they had been dating on and off for 4 years. But now they have gone their separate ways.
He is on a tour for the 'Oddball Fest' where he would be performing with a bunch of other comedians including Amy Schumer. He revealed this in an interview with Larry King. When asked if they were dating he replied  saying,"Yeah, we did" and when Larry King followed with the question "Was it fun?" Anthony replied,
"Yeah... she let me have sex with her and everything man, it was great. We had a blast."
Larry King perhaps to change the awkward concept was quick to ask another question, "What do you think of her?" to which he replied with an explanation for Amy's success., "Well, you know everything I touch turns to gold, so I think she is gonna have a great career. She should be thankful for what I have done for her" This might be the message he wanted to leave to his ex-girlfriend.
Caption: Anthony Jeselnik's message to Amy on an interview with Amy(Jul 30, 2015)
Source: ora.tv
In the same interview, the Amy also said that they didn't have a "bad breakup." When asked about if the break-up will affect their materials on stage than she replied saying,
"I wouldn't make any jokes about someone I dated for a long time" adding "But I could mask a joke, and say, 'A couple of years ago I was dating this guy...".
So, maybe she has already mentioned Anthony in her comedy with jokes like,
"I'm so in love with my boyfriend right now. Everything is perfect, but we want totally different things in bed. Like, he's always turning the lights on, you know what I'm saying? And I shut them off, and he turns them on, and the other day, he's like, 'Amy, why are you so shy? You know, you have a beautiful body.' I was like, 'Oh my God, you're so cute. You think I don't wantyou to see me?'"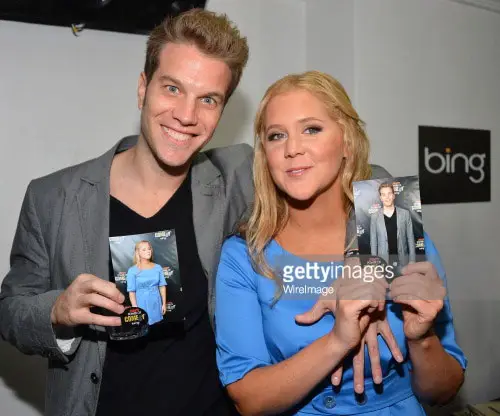 Caption: Amy Schumer and Anthony Jeselnik goof around while arriving at the 3rd Annual Variety of Comedy Awards held at Avalon on November 17, 2012, in Hollywood, California(November 17, 2012)
Source: gettyimages.com
Girlfriend and Dating?
 If not than Anthony must certainly have as dark-twisted, ex-girlfriend jokes are his basic structure like,
My girlfriend makes me want to be a better person - so I can get a better girlfriend.
Anthony Jeselnik's Short Bio:
Anthony Jeselnik was born on December 22, 1978, in Pittsburg, Pennsylvania. He was interested in making everyone laugh and often cracked jokes interrupting classes since elementary school.
On 1997, he graduated from the Upper St. Clair High School. He is a minor in Business and has a Bachelors Degree in English Literature from Tulane University. He has recently shown himself in TV series like "Jeff Ross Presents Roast Battle"  and "Not Safe with Nikki Glaser." He also played a role of Anthony in the Tv series "Not Safe with Nikki Glaser"  this year.