Entertainment
Apryl Jones: A Single Mother At 31; Became Pregnant, Had Baby But Split With Partner
The reality star Apryl Jones and her boyfriend called their relationship off just after having their second baby. The duo announced their split, claiming it to be mutual, or at least, everyone thought so.
Well, if you are curious to know what led them to end their relationship only four months after having a baby, then you've hit the right place, as we'll be unfolding the same in the article below!
Apryl Jones Splits with Boyfriend After Having a Baby: Find Out Why
The reality star, Apryl Jones was one of the celebrities in the hit reality series, Love & Hip-Hop: Hollywood, and she was in a relationship with the rapper, Omarian. Apryl shares two beautiful babies with Omarian: Mega Omari Grandberry and A'mei Kazuko Grandberry. 
The pair's first child is a boy named Mega Omari Grandberry, who was born back in 2014.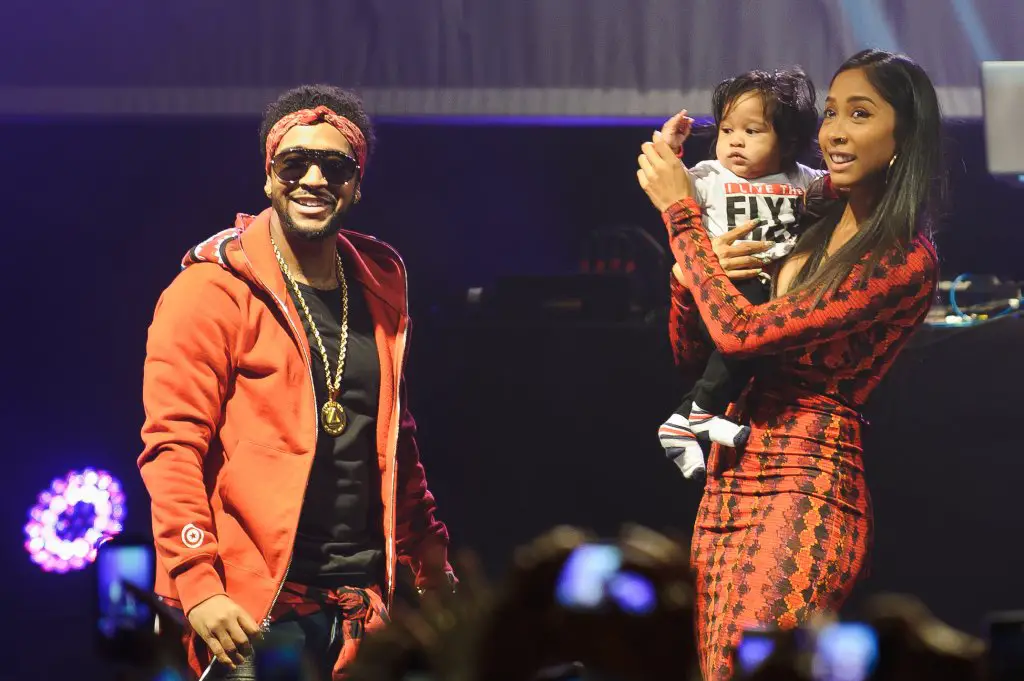 Little Omari waves on his father's concert with Apryl (hellobeautiful.com)
A year later in 2015, Apryl announced the news of her second pregnancy by giving a peek at her pregnant belly along with her son.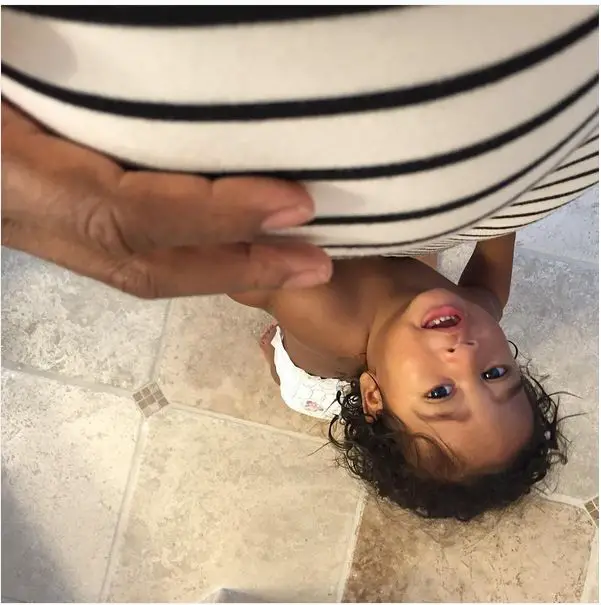 Apryl shares a picture of her belly along with her son (vh1.com)
But while their fans were eagerly waiting for the couple to disclose the news about the wedding, they called their relationship off. Her fans were curious to know the reason for the breakup and even questioned if Omarian cheated on her, to which she replied,
"No one cheated. I think that [Omarion] just needed time and space to figure things out, and I think that certain men do need that time and space."
She further added,
"I love him, I support him, he will always be a friend to me,"
Apparently, the couple decided to break up mutually and seemed to be happily co-parenting their kids together when the news of Omarian hooking up with Trash started floating in.
Following that, Apryl exposed her baby daddy on her Twitter, and after exposing him in public, she further added that she is single.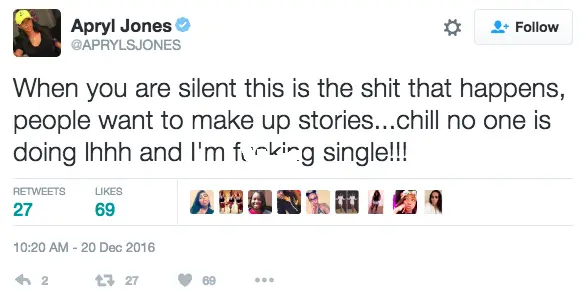 Apryl announces her relationship status on Twitter (bossip.com)
The fans of the two were devastated by the news, and one of her fans took the liberty to ask her if she was getting back with Omarian. That irked Apryl, and the displeasure could be seen her statement that said,
Why you asking me to get back with Omarion? What would make you tell me that? Did you know my relationship? 'Cause if you did, you probably would be like 'RUN!' Please, I'm just saying. I need folks to stop, we gotta stop like, if someone is not together, there's a reason why people are not together. It just doesn't happen where it's like 'oh there's no reason' or 'hey we just separated 'cause we separated.' It's like NOOO. Come on, y'all, let's use some common sense. Uh uh. If I wanted to be with somebody, I'm going to be with them and if I don't, I won't. And I'm just not in that space. As women, and as human beings, we gotta honor ourselves and I'm honoring myself. I'd rather be f—ing by myself for the rest of my life than ever be in a relationship that isn't allowing me to flourish.
Well, that chapter sure is closed forever!
More about Apryl Jones:
Apryl Jones is a reality star who rose to fame after appearing in the hit reality series, Love & Hip-Hop: Hollywood. She was born in Chicago and celebrates her birthday on December 15 every year. She is American by nationality and is.
Apryl, who holds mixed ethnicity, has a bachelor's degree in Radiation Science. She was a brilliant student in school with a passion for music. Growing up, she even became a singer at the girl group called Cellareign. 
In order to develop a career in music, she ended up in Los Angeles and even appeared on the hit reality show, American Idol. But she did not get any luck in the show. Later, while appearing in the series Love & Hip-Hop: Hollywood, she met the musician Omarian and fell in love with him, and the rest is history.
Keep visiting for the emerging updates on the life of Apryl Jones!