Entertainment
Archie Panjabi On Wedding She Didn't Ask For Husband She Loves; Family Details
British-Indian actress Archie Panjabi rose to fame from her Emmy-winning performance as Kalinda Sharma on the show The Good Wife. She has also performed in several critically acclaimed movies such as A Mighty Heart, San Andreas and Bend It Like Beckham. 
Named as One of the Eight Master Performers Who Turn Television into Art, Archie has always been praised for her prolific acting skills. However, she had to struggle hard to gain this reputation and was also thrown into a marriage which she didn't approve. But, those days have passed, and now she leads a comfortable life with her husband.
Married Not By Choice, But Husband's Honesty Wins Heart
Archie married tailor Rajesh Nihalani in 1998. Their wedding was arranged by family.
Although Archie was hesitant to marry her parents' choice, she agreed to meet Raj as she was promised that she would not be forced to marry him. But, after meeting Raj, she agreed to marry him. Archie had earlier mentioned that she loved her husband's honesty.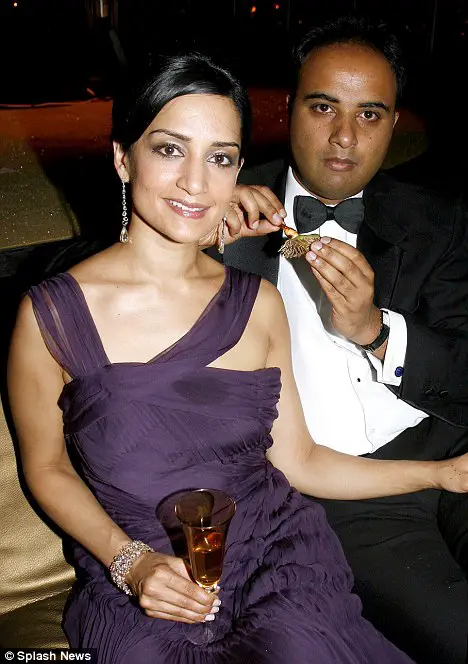 Archie Panjabi and husband Rajesh Nihalani attend an event (Photo: Splash News)
She told in an interview,
He's my best friend and he's very honest. He's always been very supportive. You can have all the agents and publicists in the world but no one's ever going to give you 110 per cent like someone who loves you
Archie and Rajesh maintained a long-distance relationship for a couple of years when she moved to New York for shooting The Good Wife. However, their marriage remained intact despite their separation.
Archie's husband, who runs 'Imperial Tailoring,' was also arrested and charged with stealing a camera, a digital camera memory card, and an Apple Mac laptop from the department store John Lewis's Brent Cross branch in 2010. He was set to stand trial at Wood Green Crown Court in North London commencing from 11 October 2010. However, the verdict of the court has not been made public.
Archie and her husband have no children from their marriage. Still, they are happy in each other's company and could be planning to have kids shortly. Apart from Rajesh, the East Is East actress has also dated a couple of men, due to professional commitment.
Onscreen Relationships
Archie, who played Kalinda Sharma, in The Good Wife; shared a passionate kiss with co-actor Gillian Anderson in the show. The two were dating onscreen when the intimate scene happened, however, after shooting the kiss the 46-year-old felt that her character was affecting her personal life. She announced her exit from the show in October 2014. To convincingly write off Kalinda from the series, she was sent to prison for the murder of her ex-husband Nick Savarese. 
In her upcoming show Next of Kin, Archie is set to be cast as the wife of Jack Davenport. Archie will play Mona Harcourt, a doctor with her husband Guy in London.
Supportive Parents
Archie's family had originated from Pakistan but moved to India after the 1947 partition of the two countries. The family moved to Hendon, northwest London in the 1970s, where Archie grew up. Archie's father Govind opened up a restaurant while her mother, Padma became a teacher to children with special needs.
Although she was initially discouraged by her parents' friends to take up acting, Archie's parents have always been supportive of her choices and encouraged her to pursue a career in acting. Her mother is proud of Archie's achievements in acting, and so is her father. Her parents' support resulted in Archie becoming a successful actress, and she has earned a massive net worth of $3 Million from her acting career. Archie is very close to her parents and often visits them on occasion.