Entertainment
Aron Ralston Lost His Arm And Also Suffered A Rocky Relationship; Dispute With Girlfriend Got Him Arrested
We deal with the whole bunch of different people on a day to day basis, and it's difficult to maintain the smooth rapport with each one of them. The alteration of emotions and the hormones that trigger your nerves while you are angry leads you in making decisions you later regret.
Something similar happened with Aron Ralston, the guy who inspired the movie '127 Hours.' He got himself arrested for being in dispute with his girlfriend. But what really happened behind the scenes? Let's find out!
Caught up in a domestic violence charge!
Aron Ralston, famously known after the release of the movie "127 hours," that is based on his horrid real-life incident, where he had to amputate his part of an arm stuck between a boulder that got him trapped.
However, back in 2013, Aron reportedly got arrested along with his girlfriend, Vita Shannon after being charged with domestic violence. The documents professed; Shannon punched Aron in the back of his head twice while on the other hand, Aron shoved her in the back.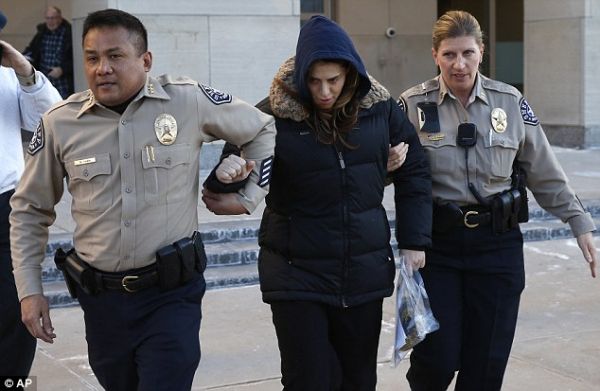 Caption: Vita Shannon, Aron's Girlfriend seen returning from the court after all charges were dropped.
Photo Credit: Dailymail
Aron's father, Larry Ralston said,
They were in a 'heated Argument'
The argument was apparently about Aron's son Leo, which he had from his ex-wife Jessica Trusty. Aron was married to Jessica in 2009 till 2012.
Furthermore, Vita and Aron both share a daughter together, who was just eight months old while this incident took place back in 8th December 2013. Aron started dating her around 2012 after meeting her on a plane.
An exciting hike journey; that turned Horrid!
Aron, who now is a motivational speaker met a canyoneering accident, that had him amputate his arm to get himself released from in between the boulder and the wall.
He went hiking in Southeastern Utah back in 2003; he usually used to go on a hike all by himself. However, during that hiking journey; he was climbing down a narrow slot in Blue John Canyon while a boulder became dislodged crushing his right forearm, pinning it against the wall.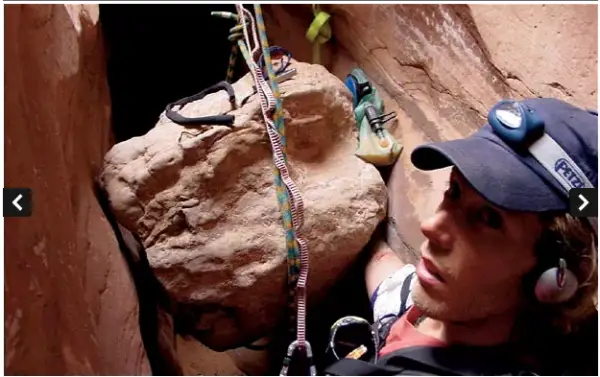 Caption: Aron took photograph of the situation as he was 48 hours into his ordeal
Photo credit: Telegraph.co.uk
Aron struggled for 5 and a half days to get himself free from the trap until he was forced to do the unimaginable. Using the blunt knife from his multi-tool, he slit his forearm apart from his arm. Covered fully in blood he marched out of the canyon, luckily for him, a family out hiking saw him and called the emergency service.
Caption: Aron, talking about the struggle and how he thought he would die in an interview.
After making it back from the horrendous experience, he became the motivational character for many people, since he did something unimaginable and got past it. He started giving a motivational speech, and people loved listening to him.
The movie '127 hours' got six Oscar nominations in 2011.
However, Aron has been doing good in his career since the incident, that helped him accumulate a staggering net worth amounting $4 million.
We thank him for being an inspiration for many people out there and giving everyone a lesson for not giving up, by sharing his story.