Entertainment
Asa Soltan Rahmati, Proud Baby Mama At Age 42! With Boyfriend Amid Drama
American reality star Asa Soltan Rahmati, who flaunts her gold jewelry most of the time, rose to fame after starring in Bravo's reality series Shahs of Sunset.
Well, Asa's pride for her gold made accessories is no news to her fans but what about her pride she holds for her son from her long-time boyfriend. She is a mother of a one-year-old who hits headlines time and again for the issues regarding her relationship with her boyfriend.
Sounds surprising enough?
Keep on browsing if you want to get further acquainted with Asa Soltan's personal life!
Son; Bundle Of Joy
Asa Soltan, who ages 42 currently, makes a lovely family of three with her boyfriend, Jermaine Jackson Jr, and a son.
She first announced her pregnancy via an Instagram photo where she flaunted her baby pot on 18 January 2017. In the caption, she revealed that the due date was following week and stated that she was physically and mentally prepared to welcome her "super special soul" in the world.
After two days of her pregnancy announcement, Asa gave birth to her baby boy, Soltan Jackson. She took the happy news on her Instagram and announced the birth of her son on 24 January 2017 while uploading a picture of herself and her baby father.
In the photo's caption, Asa quoted her baby as her and Jermaine's "precious son" and wrote that they are "completely in love with him."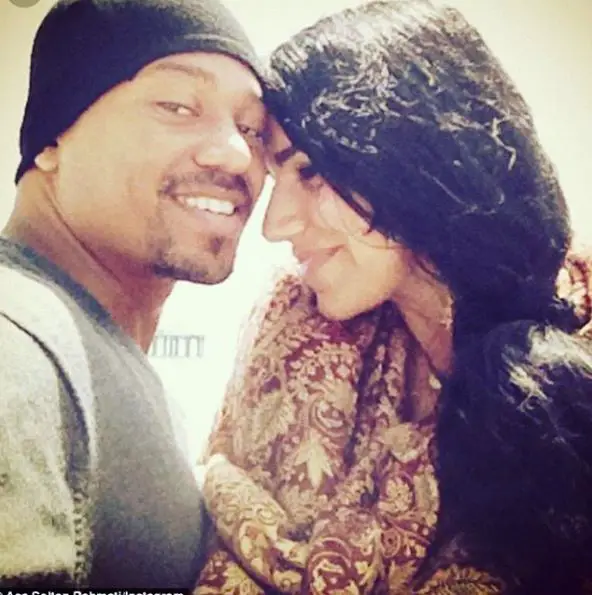 Asa Soltan Rahmati with her boyfriend Jermaine Jackson Jr. (Photo: Asa Soltan's Instagram)
Moreover, Asa also shared her feeling as a mother during an interview with the E! News on 23rd January. She stated that her first three days with her son turned into the most magical days of her and her boyfriend's lives. She further added that they couldn't stop staring at their son's beautiful face.
The past three days since his birth have been the most magical days of both our lives. Jermaine and I can't stop staring at Soltan's beautiful face, feeling eternally grateful.
Asa, who openly talks about Soltan's beauty, is yet to publicize his picture and share it with her followers.
Nevertheless, Asa updated her fans about her son via a Twitter post on 19th February 2018. She wrote that her 11-months-old son has learned to walk and speak 30 words that included English and Farsi.
It's understandable that Asa is busy teaching her son, and spending time with her husband-like-boyfriend while balancing her life as a celebrity and an entrepreneur, who owns an adequate amount of net worth of $250 K from her profession.
Shields Boyfriend In Issues
Asa met her boyfriend Jermaine Jackson Jr. in high school in 2010. Soon after the meeting, the pair fell in love and started dating. But both the pair kept their relationship low-key and maintained a low profile to be away from the drama.
However, the privacy caused more issues as Asa's co-star's from the Shahs of Sunset argued with Asa for her relationship with Jermaine.
During a Sunday episode of Shahs of Sunset in July 2017, when Asa attended the confrontational dinner party of Reza Farahan and Adam Neely, she got quizzed about her boyfriend who never appeared on the TV with her.
Mercedes Javid, also known as 'MJ,' asked Asa if she and her boyfriend, Jermaine planned on living together to which Asa replied,
'We practically live together. We'll live together at some time.
MJ again questioned Asa on why she wasn't engaged or married to her boyfriend even after being in a relationship for years. Asa boldly defended her personal decision and stated,
'I'm pregnant. It's my baby and it's my life.
Adding the rage on the conversation, another queer observant, Mike, brought the question regarding Jemaine's ethnicity. He stated that Jermaine being 'black and not Persian' brings 'a big deal in our culture.'
Asa quickly responded saying that she and her boyfriend is well known of the consequences and are already working toward it.
'We know the future we want and we're working toward it,'
Just when Asa finished her say, MJ scolded Asa. She even recommended Asa to talk with her if things are not perfect and stated that the low-keyness she has in her life as "bulls***."
'Don't dance around! 'If things aren't perfect, why can't we talk about it? That protective shell is bulls***.
MJ not only questioned the relationship status of Asa but she also allegedly accused Asa of cheating on her ex-husband. During a Watch What Happens Live episode in October 2017, MJ claimed that Asa was found with another man in bed during her marriage.
Moreover, she also accused Asa that the house she lives now was extorted from the man she cheated with.
But Asa responded to MJ's accusation stating that the allegations were a lie and just made up stuff. She also quoted MJ as a"sad and unhappy person" while stating that MJ is drowning in jealousy and is obsessed with her life.
Despite facing enormous hindrances and allegations in regards to her relationship with Jermaine, Asa looks to be going strong with her boyfriend. Moreover, the pair seems to have a trust-filled relationship while replenishing their parenthood and looking after their child.