Entertainment
Ashley Cole Amid Of Becoming A Father With Model Girlfriend Had To Face Salary Issues; Turned Girlfriend Into Wife?
When you are about to get into parenthood then undoubtedly added responsibility will be on shoulders. And those added responsibilities if fulfilled well enough then only we can say that you have done parenting in right manner.
When you become a parent then compromising the needs and desires of children is not an option. Here when we say this today, we would like to address the current scenario with one of the best English defender Ashley Cole who recently became a father once faced issues with his salary.
When baby bliss was on the way; Cole faces problems with salary:
In the due period, when 36 years old Ashley Cole was all set to say hello to his baby no. 1, faced some issues with salary. In 2016, when his girlfriend Sharon Canu was six months pregnant, the footballer had to take a massive pay cut to join the Galaxy with the LA Times reporting that he will be paid with salary sterling pound 3,966 a week.
Roma will be continuing to pay the majority of Cole's salary over the next five months. But only after agreeing to a considerable pay cut he will be getting a payment.Ashley Cole in 2006, told that Arsenal had offered him a £55,000-a-week deal for which he infamously once claimed he left 'trembling with anger.' In his prime, the player was earning around £200,000 a week at Chelsea but took a cut to £35,000 a week to join Roma in 2014.
The former England defender and his Italian girlfriend Sharon Canu has welcomed their son last year. In February this year, they celebrated their son's first birthday and which was put into words by the player in a heart touching manner.
He has been sharing his moments with his son. Sometimes he takes his son to dinner and sometimes just a day out with baby and baby's mama.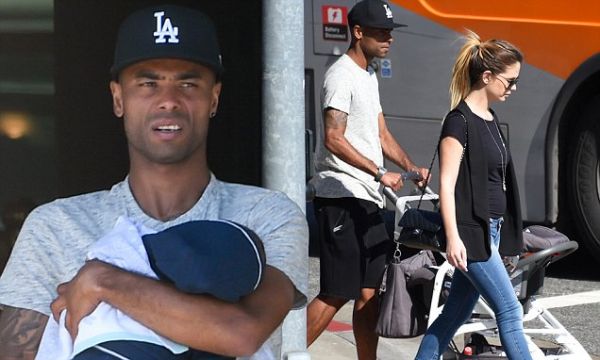 Caption: Ashley Cole with his girlfriend and newborn; went out for dinner (2016).
Photo Credit: newslockers.com
Ashley and girlfriend Sharon started dating from summer of 2015.Back in 2014, Ashley was speculated to be gay, but that was made clear with his tweet.
???????????????? come on people, sorry to disappoint u but I'm strictly #chicks only ????????

— Ashley Cole (@TheRealAC3) March 7, 2014
Previous Married Life to Cole:
Ashley was previously married to former Girls Aloud Cheryl in 2006. Their marriage was doing well until Ashley Cole was amid by the scandal news and affairs with multiple.
Shattered heart Cheryl, stood by her then husband when Ashley was exposed for cheating with hairdresser Aimee Walton in 2008. Following the marriage of three and half years, the duo split in 2010 after allegations emerged claiming he slept with a third woman and fourth woman.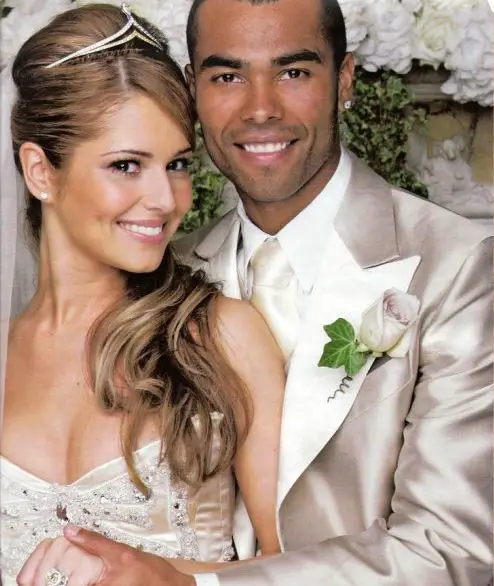 Caption: Ashley Cole and her now ex-wife got married in fairytale wedding venue (2006).
Photo Credit: coolspotters.com
The ex-wife of Ashley then tied the knot with entrepreneur Jean-Bernard in 2014 and was married until they divorced in 2016.As of now, Cheryl is all set to welcome her first baby with her boyfriend, Liam Payne. In a nutshell, everyone is set to start a new family with their partner, and for that, we would like to wish them blissful life ahead.