Entertainment
Ashley Mitchel, 28, Has Boyfriend? Dating Status of The Challenge Winner
The ravishing model Ashley Mitchell turned out to be a familiar face in the glamour world after winning the second season of the MTV's reality TV Show The Challenge. Through her reality TV appearance, Ashley has garnered a lot of fans and followers.
If you belong to be one of the fanatics of Ashley then, you must know a lot about her regarding her personality but what about her personal life? Well, if you want to know about her life that exists behind the camera and get acquainted with her dating life, keep reading the following context!
Ashley Mitchell's Relationship Update
American reality star Ashley Mitchell's appearance on the show makes more buzz on the media than her love related life. Not much about her dating and personal life details has surfaced out in the open. However, her social media accounts hints that she is in a relationship with Shane Landrum, a frequent competitor of the MTV's challenge series.
Previously on 16th February 2018 Ashley Instagrammed a picture where she can be seen keeping her arms around Shane while Shane passionately keeps his hands on her waist. Ashley captioned the image,
Bring that shade over here baby, I never liked the sun anyway
Moreover, Shane also uploaded the same picture on his Instagram account and via the caption quoted Ashley to be his valentine. He simply wrote,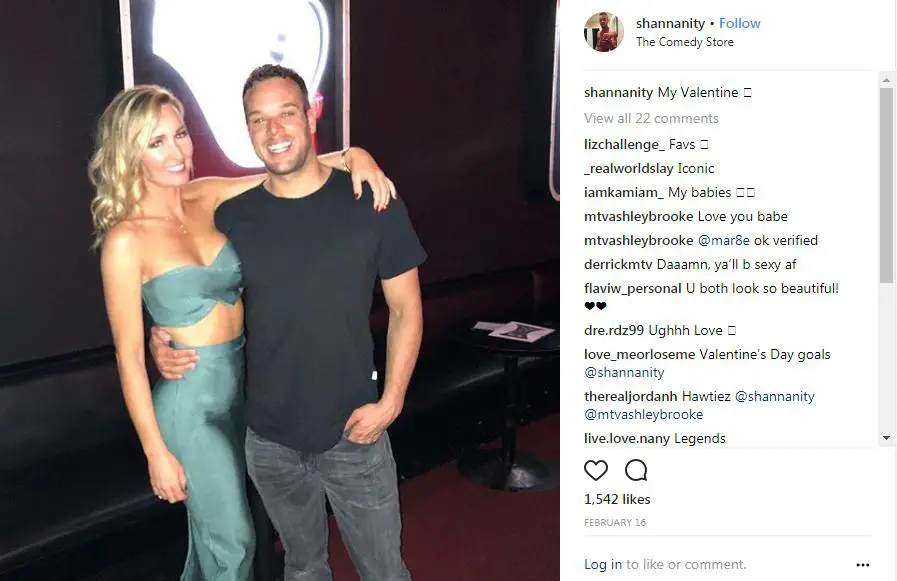 (Photo: Shane Landrum's Instagram)
Moreover, on 23rd February Ashley uploaded a picture of herself kissing Shane on his cheeks and in the caption hinted Shane to be her soulmate and also a best friend. She scripted the caption as,
Maybe our soul mates are our best friends ❤️??
Though the pictures suggest on their affair leading people in believing Shane to be Ashley's boyfriend, neither of them has talked openly about their relationship. It will be perfect for Ashley's fans and followers if Ashley herself clarifies her relationship with Shane publicly.
Get To Know Ashley Mitchell More
Ashley was born on 7th August 1989 as Ashley Brooke Mitchell in West Virginia, USA and currently ages 28 years old. Ashley who belongs to the Caucasian ethnicity timely mentions her parents in her social media accounts.
Not much is known about her parents, any possible siblings. Nevertheless, it has come to light that her father died in the year 2017 and her mother's name is Tina Mitchell.
Moreover, Ashley who got her education from the West Virginia University in her hometown, before fame, worked as a broadcast journalism major, gymnast, and national championship-winning cheerleader. Later she worked as a Print and runway model. Till date, she has modeled for famous brands like Adidas, Nokia, Skechers, Vogue, Banana Republic, BEBE and few others.
Additionally, Ashley was also a competitor for the MTV reality series Real World Explosion in 2014. Since then, she has participated in the spin-off show The Challenge including its numerous series. Ashley rose to fame after she won the second season of the show "Invasion of the Champion" in 2017.
Well, by competing in series of the MTV's reality shows regularly, Ashley has garnered a lot of attention, and her fame is likely to be amassing with the passing days due to her hard work.