Entertainment
Does Ashley Rickards Have A Boyfriend? She Did Reportedly Get Engaged
Does Ashley Rickards Have A Boyfriend? She Did Reportedly Get Engaged. The MTV series Awkward has introduced many talented actors to us and the main lead Ashley Nicole Rickards is one of them who has a large number of fan following. Well, what is the first thing that comes to your mind when you see Ashley on the screen?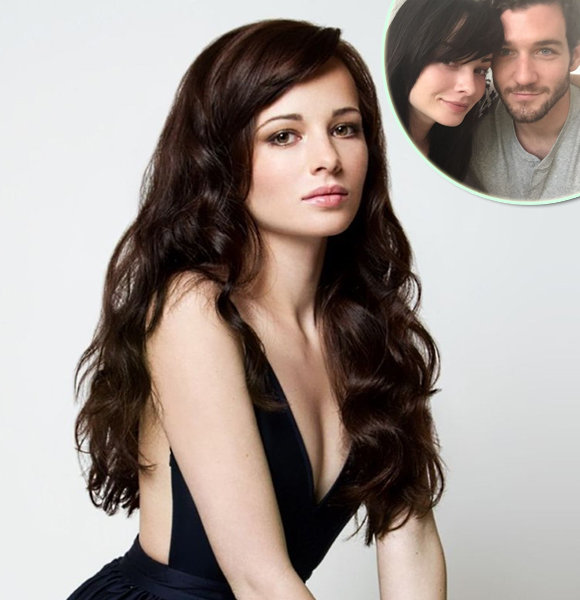 The MTV series, "Awkward" has introduced many talented actors to us, and the main lead Ashley Nicole Rickards is one of them, who has a large number of fan following. 
With the fame she has achieved in her life, it's natural for the viewers to have curiosity regarding her love life. 
The twenty-five-year-old American actress, Ashley is miles away when it comes to flaunting her love life. 
Regardless of the possibility that she doesn't favor sharing the details regarding her love life and boyfriend, she has been bemusing her fans by cryptic social media posts.
Ashley Rickards' Bemusing Love Life:
Ashley Rickards has been rumored and linked with different celebrities due to her very private love life. 
As she shared a fantastic chemistry with Beau Mirchoff on the sets of "Awkward," she is often misunderstood to be dating him secretly. 
And Ashley's Instagram post with Beau fuel the fire; nevertheless, she hasn't mentioned or hinted him as her real-life love interest until now.
Similarly, Ashley was reportedly dating Casey King back in 2015. The pair attended different events together including MTV Movie Awards. However, they didn't confirm their affair publicly.  
Ashley even shared pictures with Casey on Instagram and in one of the posts, she thanked Casy King for saving her from choking while eating a chicken sandwich.
Ashley was reportedly engaged back in 2014. The reports of her engagement surfaced as she shared a picture with a mysterious guy stating that she is engaged.  
Although Ashley has already removed the image, some of her followers have shared it on Twitter.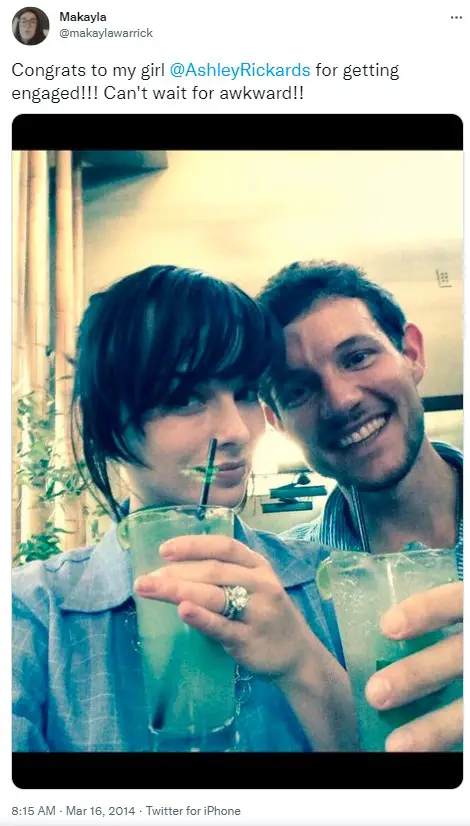 Moreover, there is another tweet by Ashely back on March 2014, which hints that she was once engaged in the past. 

Three years have already passed since Ashley revealed about her engagement and there is no further revelation about the nature of their relationship. 
Likewise, she has neither announced her plans of getting married.
As per reports, she was dating a musician named, Tom Cole, who was not happy to watch her make out with her 'Awkward' costars Beau Mirchoff and Brett Davern.

As Ashley loves to keep secrets, the key details of the relationship of Ashley and Tom remain unknown to her fans too.
Ashley, who was pregnant in the MTV series Awkward, opened her long struggle with eating disorders in her book "A Real Guide to Getting It Together Once and For All." 
Ashley, who suffered from the disorder since the age of seven revealed that she was affected by the way how people around her commented on her weight gain. 
"I was chubby, and a neighbor of mine said, 'We don t need to go to Krispy Kreme, you've got a jelly roll right there! This sort of dysmorphic idea of myself is still in my head. I'm still that girl. I still feel like that in a swimsuit."
Ashley is recovering from the disorder and manages to stay fit and healthy by eating healthy and finding suitable exercise. Well, she loves kickboxing and Bikram yoga. 
Ashley has managed to look stunning with a balanced diet and regular exercise along with makeup which could be mistaken for plastic surgery. But the lady is yet to comment on the stories of plastic surgery.