Entertainment
Ashton Irwin, 23, Has Girlfriend? Dating Status Now
Australian drummer and singer, Ashton Irwin from the pop rock band 5 Seconds of Summer, has a lot of fan followings who are crazy about his looks and his drumming skills. With his expanding success and recognition in the entertainment world, his fans are curious to know if he is anywhere near being single.
So, if you are one of the admirers of this artist, and want to know about his relationship status you are welcome for the treat. 
Ashton Irwin Taken Or Single?
Well, the handsome Ashton, who is 23 of age, has maintained a tight lip over his love life and least information regarding his love life has surfaced the media. And on one rare occasion, earlier in August 2017, Ashton was spotted walking the streets with a beautiful yet unknown person in Los Angeles.
Ashton looked comfortable with the brunette beauty while sipping an iced tea and the duo aroused speculations regarding their relationship in the media. However, no further reports regarding their romantic involvement have ever surfaced out. So, it wouldn't be fruitful to comment on their relationship in the absence of either of their statement.
Ashton was also speculated to be dating the YouTube star and actress Alexa Losey in February 2017 after he posted pictures with her on his Instagram account. The two were together during a boat party for YouTuber Remi Cruz's 22nd birthday.
The picture caused quite a stir among Ashton's fans as they were not excepting the two to be a couple. Further, Alexa's caption from the photo she posted in January soothed the buzz. Alexa in her caption had expressed her joy in having a friend like Ashton in her life.
Furthermore, Ashton was thought to be dating the pop singer, Halsey as he was spotted partying together with her in November 2016. Halsey even shared selfies with Ashton on her Instagram account where she and Ashton can be seen wearing matching Halloween costume. The pictures flamed their dating rumors. However, the stories swayed away when both of them clarified that they are just friends. 
But besides just dating rumors, Ashton was once famously dating, and his girlfriend was none other than the ravishing bikini model, Bryana Holly. Moreover, the two were spotted hand in hand in May 2015 in the Coachella music festival of America and later were seen on the streets of London together.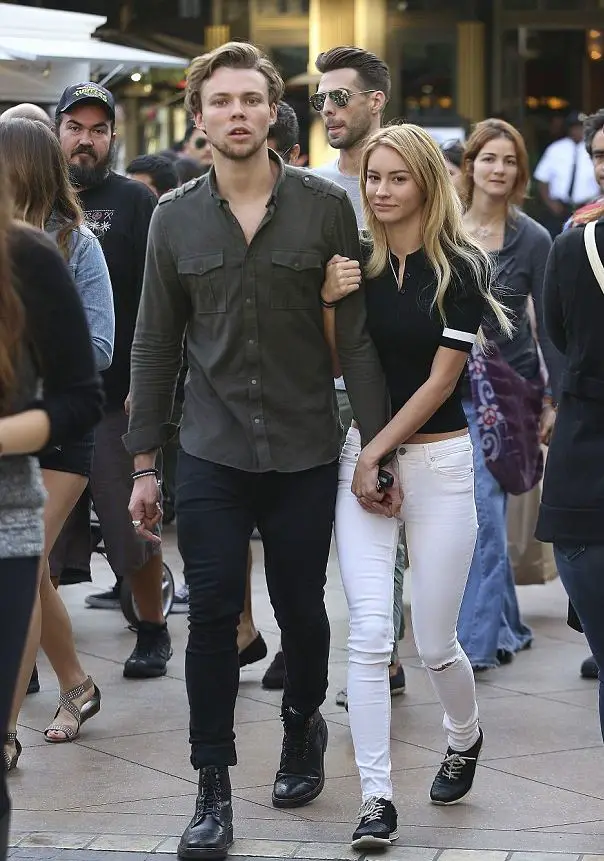 Ashton Irwin with Bryana Holly in Los Angeles back on 5 December 2015 (Photo: dailymail.com)
Ashton first confirmed his relationship with Bryana during an interview with the RollingStone after being publically spotted a number of times. However, on 2nd November 2015, Ashton revealed that hectic work schedule has resulted in his breakup during an interview with Howard Stern.
 "I actually tried to have a relationship, and it just didn't work out. I've been away for six months. I was kind of seeing someone for about a year…I'd actually been with them for about two months out of that year."
Despite the confirmation on their split, Bryana even celebrated Christmas 2015 in Australia with Ashton's family and went to Bali for holiday celebration with all the band members. Ashton and Bryana were in an on-again-off-again relationship since they started dating.
Moments after Ashton uploaded the picture of the pair while holidaying in Bali, Bryana confirmed the breakup through one of her Twitter post which she deleted afterward. In the post, she wrote,
'I am NOT in a relationship with anyone,
Further, Bryana on 2016's Mothers Day sent a bunch of flowers to Ashton's mother, Ann Marie. Her sweet gesture was enough to fuel the speculation regarding the couple rekindling the romance. Talking about the facts related to his family, he has two other siblings named, Harry and Lauren Irwin. Also, Ashton's mother separated from his father; thus, he was raised by his mother. 
But the buzz soon calmed when Ashton confirmed the breakup via the Rove & Sam for breakfast on Hit 104.1 2DayFM in June 2016.
 'I don't have a girlfriend anymore. I'm a lone wolf, I know. I'm on my own. '
Well, Ashton, who is a heartthrob of many, seems to enjoy his fans' ambiguity regarding his romantic association, which would only be served when he would acknowledge a lady as his girlfriend. Also, the fans remain hopeful that he would address the curiosity soon!