Entertainment
Aubrey O'Day Almost Got Married to Boyfriend! She Wanted a Husband - What Went Wrong?
Aubrey O'Day Almost Got Married to Boyfriend! She Wanted a Husband - What Went Wrong? The singer and songwriter, Aubrey O'Day almost turned her boyfriend into her husband but due to some circumstances that could not be possible. What might have gone wrong?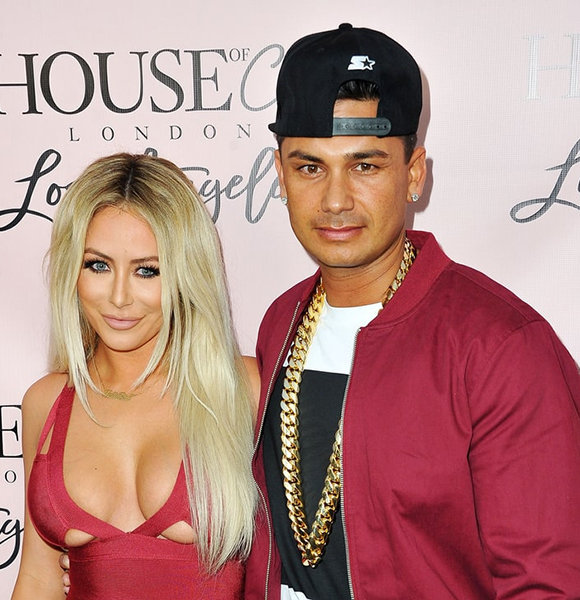 The singer and songwriter, Aubrey O'Day almost turned her boyfriend into her husband but could not do so due to some circumstances.
Curious to know what went wrong? Take a look below and find that out!
Aubrey O'Day Wanted A Husband?
It had been almost three years that Aubrey and the 'Jerry Shore' star Pauly D had been dating. The former 'Danity Kane' singer exclusively confirmed that she and D had been dating from the end of 2015 after meeting in E! network's reality television series 'Famously Single.'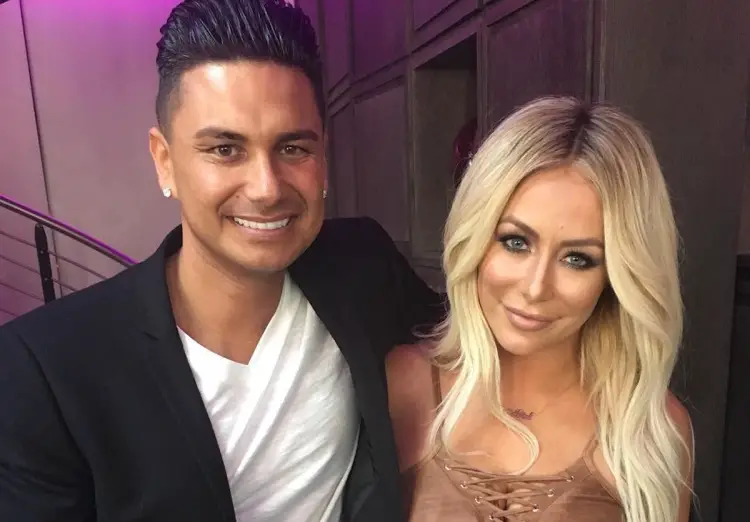 Aubrey O'Day with Pauly D (wetpaint.com) 
In an interview with E! Online, O'Day said that they connected in an interesting way. She also added that her DJ beau is a special guy who is incredibly funny, smart and talented.
Furthermore, she said that D was different than other guys she dated in the past and subsequently added that D made her stay at the moment and get out of her head. Likewise, she explained that she is analytical and had to assess risk everywhere she went, and D taught her how to lighten up and enjoy life.
Well, the blonde beauty didn't use the words 'boyfriend' and 'girlfriend' even after having a strong bond because she felt that enjoying the moment was comfortable. Regardless, she wanted a ring as soon as possible because she was looking for something serious and she was ready to move to the next chapter in her life.
Well, O'Day did tease her followers by showcasing a huge diamond ring on her engagement finger back on April 2016, which, actually, was just a prank. 
Despite the blissful relationship, they parted ways back in May 2016 only to get back shortly after. In an interview with the Pop Crush, O'Day said that falling out was necessary to get to the next step. At the end of the day, she was committed, and they lived together, and D was also loving the new sense of Commitment.
Likewise, the pair never officially announced that they were engaged but it looked like D and O'Day were getting married. Both D and O'Day previously uploaded pictures on social media of themselves filming and, according to TMZ, the couple was set to star in a reality show where the end of the game was marriage.
But according to E-online, the pair called it quits back on 25 July 2017.
Aubrey O'Day's Weight Loss and Plastic Surgery:  
O'Day has changed a lot over the course of time that speculators questioned how she managed to transform so drastically. Back on 1 August 2013, she posted a pair of bikini-clad selfies to her Instagram and captioned,
'I have Late Night Swim written all over my body!'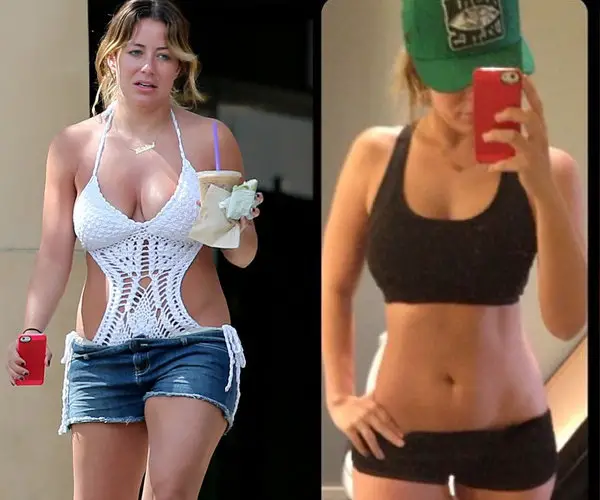 O'Day's weight loss over the years.
It seems O'Day is clearly proud of her weight loss. Well, she did post a set of photos dressed in a black sports bra and spandex short shorts and captioned the photo,
"Sprouting my first ab.. so f**kin excited ;)!"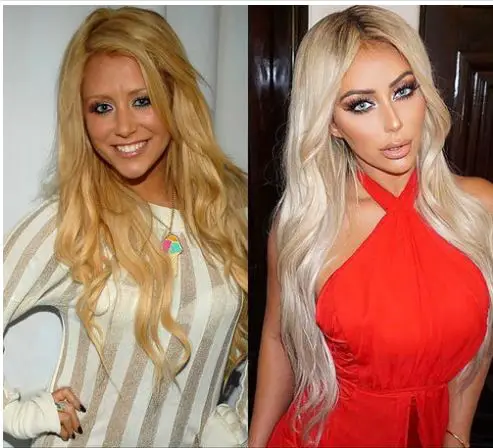 O'Day's transformation over the years (Intouchweekly)
It's no surprise that O'Day has changed a lot over the years. She was only 21 when she first appeared as a member of Diddy's new girl group, 'Danity Kane' in 2005. But 12 years later, at age 33, O'Day doesn't just look like she's grown up, she looks like an entirely new person.
The changes that we can see is probably because of her makeup, and the way dresses up. However, it seems like it could be plastic surgery as well. In 2011, she talked with Celebuzz, to state that her make up continuously affected the way people see her, as everybody thought that she had plastic surgery.  
Think we're missing something? Do let us know in the comment section below!