Entertainment
"No Love" Singer August Alsina Princess Daughter, Not From Girlfriend Or Dating Affairs
American singer August Alsina, with RnB and hip-hop recordings, is a father figure to his princess daughter. August has gained a name for himself in the world of entertainment and also handles the responsibility of growing child apart from fame.  
Well, it comes with the twist that August's child, daughter is not from any of his girlfriends or dating affairs.
Curious to know how he suddenly ended up with a fatherly duty? 
Tag along while we take you on a tour of August's dating history along with insights on the father-daughter relationship. 
Addresses Dating Rumors; Says "Gonna Get Married" 
August Alsina, aged 25, has his name tagged along with some high-profile singers and actresses along his journey in the world of entertainment.
While August was claiming new stardom height, he also got linked romantically with Nicki Minaj, the American rapper at the release of his first album, Testimony back in 2014. Testimony also features the American-Trinidadian rapper, where one single named "No Love" (remix) was the beautiful collab of both the artists. 
Soon, the news of them seeing each other romantically was swirling all around the media. Their followers even confronted the two regarding the matter on Twitter during their one of Q&A sessions, where both August and Nicki personally replied to the fan's outrageous questions.  
However, nothing much yield out of it as the rumors faded away from the media.
Apart from Nicki,  August was also frequently seen on Keke Palmer's Instagram. The duo often appeared together and seemed very close to each other back in 2015. As most fans were assuming the duo to be dating, their thoughts were shattered when KeKe released a statement denying it. 
While talking with Hello Beautiful at Essence Feast in July 2015, Keke denied being August's girlfriend. She clearly explained the duo shared the friendship and were nothing more than friends. She said,
 "Everybody always thinks I'm dating August just because of the photo we took together on my Instagram page, but no I am not dating August Alsina, we're just friends."
A year later, in 2016, August was linked romantically with the model Miracle Watts. Even though the couple insisted on them not being in a relationship, the pictures on that surfaced the media were seemingly telling a different story.
It was found that the pair visited a zoo together and later, shared pictures on Instagram. Both August and Miracle was clever enough to not mention each other on their social media post. However, the duo never a statement regarding their dating rumor, which has still kept the actual scenario in dark.  
After series of dating rumors, August finally came with his dating life as he seemed to have found a person he dearly adores. Back in July 2016, August quoted the famed actress, Regina Hall as "the love of his life."
He even made his love evident to social media world after he posted a video on his Instagram, where he came face to face with his love, Regina. In the video, Regina was heard giggling and blushing in the back, prior to appearing on the screen. 
Adding to it, August was quite serious in dating with Regina as he was looking forward to making her his wife. He clearly said, "gonna get married too."
Well, before the time could take its course, August was rumored to dating Jada Smith's mom, Adrienne Banfield-Jones in April 2017. August seemed fairly close to the family of Smiths and event went on a date with Adrienne. 
 He later posted a picture captioning "Date Night" and a heart emoji.
Parent Of A Daughter; Attends Father-Daughter Dance
August Alsina may have numerous romantic relationships and dating rumors under his bag, for a child, he only has a daughter.
August has a daughter named Amaiya, whom he calls her princess. However, August is not her biological father in real. Amaiya is actually August's niece, daughter of his brother Melvin LaBranch III, who was shot dead in 2010. Before the death of his brother, Melvin was blessed with three daughters, among which Amaiya is one. 
August has been around looking after his brother's children. He even attended the father-daughter dance with Amaiya back in 2013.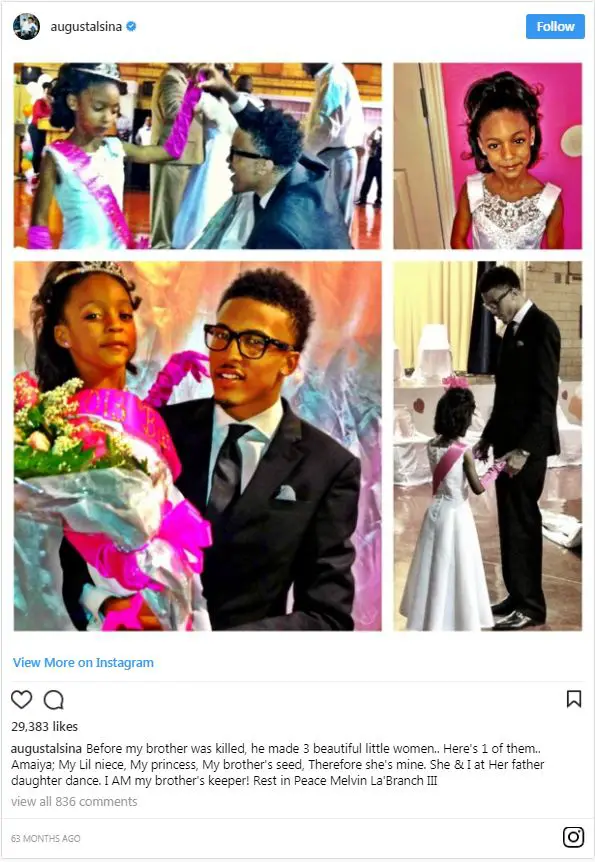 August Alsina with daughter Amaiya at a father-daughter dance (Photo: August Alsina's Instagram)
Well, August surely is trying his best to be the father figure for his brother's daughter, which he might have learned from his mother after reuniting with his mom.