Entertainment
Is Austen Kroll Still Dating His Girlfriend From Southern Charm? Lost a Sister at A Very Young Age!
Austen Kroll, who grabbed the immediate attention after being brought to the Bravo TV's hit reality series, Southern Charm, is raising curiosity amidst his followers regarding his dating affair.
As he is reaching for further heights in his careers, his followers indeed want to know more about him. And trust us, it is not just his love life that is worth having a look at, as Austen losing one of his family members at a very young age has impacted him a lot too.
So, today, let us take a closer look at his life and unravel everything there is to know about this lad!
Austen Kroll: Single Or Dating Someone? Has A Girlfriend In His Life?
Austen Kroll (age 30) is a TV actor who gained significant recognition as the Season 4 addition to the cast of BravoTV show "Southern Charm." He is known for his charming looks in an equal fashion, but have the looks done him any good and has he attracted any lady love in his life?
We all know about his romance with Chelsea Meissner in the reality series 'Southern Charm,' where they formed a formidable pair.
The way they demonstrated their connection on social media was adorable too,
However, the romance is no more up for the two, as Austen confirmed about his relationship talking to The Daily Dish. Austen revealed that the romance is long gone, but the two are still good friends,
"I talk to her all the time, great friends and the one thing that she said was, you know, we're at different aspects of our life. She kind of lives her life more like Cam does [like a homebody] and I like to go out. I like to go get a beer at 3 o'clock in the afternoon if I can, It's a part of my job. It's not really her MO."
Going back in time, Austen recalled how their relationship being featured in the cameras was crazy.
"Chelsea and I are phenomenal friends. I love that girl to death, I really do. We became so so close during this whole thing. We were both the new guys on the block. And, so we definitely bonded over that. And the number one and two questions that I get are, "'Where's Chelsea?' and, "Is it real?'. And I'm like, look -- I don't know how to act. I'm as real as possibly can be. And that time when I met Chelsea and they showed it on camera and we're play flirting -- I mean that was like the first time that her and I had ever met. I literally cultivated a relationship in front of all the fans, I mean it's tough cause you start thinking and you're like I'm so cheesy and then like your first kiss is on camera. And I mean, it's nerve-wracking."
The partying ways of the then-pair indeed broke many fan's hearts. But, it is how it is! However, his romantic union with Chelsea does help to fend the gay rumors that he was often surrounded with.
Did you know, the relationship between Kroll and Chelsea on the show somewhat damaged the bromance between Kroll and his castmate, good friend Shep Rose, as Chelsea was Rose's crush on the show? Kroll elaborated,
"That was not Chelsea's intention whatsoever. It kind of broke her a little bit that she felt like she got in between Shep and [my] friendship,"
Austen added,
"And, I mean, I know Shep, and I know how he operates. He was like, 'Hey, look, that's fine. Go and do your thing.' And I thought that that was that."
Kroll further elaborated,
"For him to come back and for us to get to the point where we had our down, I thought that was, I had never really seen that side of him before. It was all very real for me. It was all very, very real for me. And it hurt me a lot to know that we weren't friends because of a girl. You know, but I didn't think that she did anything wrong — and I didn't think I did anything wrong. And Shep might not think he did anything wrong. But, it was interesting."
He then concluded,
"But we're great. The bromance is back and it's not going anywhere — I don't think."
Moreover, amidst Chelsea and Austen's break up, Shep Rose is all set to get married!
Austen Kroll's Family LIfe:
Born on June 16, 1987, in Washington, DC, Austen Kroll is 30 years of age. He was raised by his parents, Wendy and Tom in Charlotte, North Carolina. Austen has a sister named Katie Kroll. His other sister, late Kyle Kroll sadly passed away when she was 9 during a family hike after she fell 200 ft off a cliff in 1994 at Chimney Rock Park in North Carolina.
Back in an interview held earlier this year, he opened up about the tragic incident where he said,
'It was all pretty surreal,'

'I didn't understand death at that time in my life' I was like, "Oh, we're going to the hospital, she scrapped her knee and we're gonna pick her back up."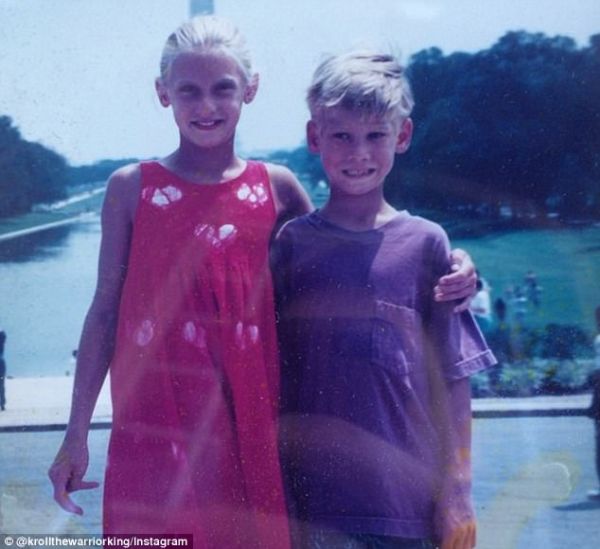 Caption: Austen Kroll and his deceased sister Kyle Krool.
Photo Credit: dailymail.com.uk
He expressed it pretty much was the worst day of his life when he lost his sister forever at a very young age,
'And it wasn't so, and it took me a while to realize that, and it was the worst day of my life.'
This is the sort of tragic incident that wrenches everyone's heart and the same can be said about the family of Austen as well. However, the incident then brought them even closer to one another as family members.