Entertainment
Austin Dillion Turns Girlfriend Into Wife! Hits Career Best, Gets Married
Austin Dillion Turns Girlfriend Into Wife! Hits Career Best, Gets Married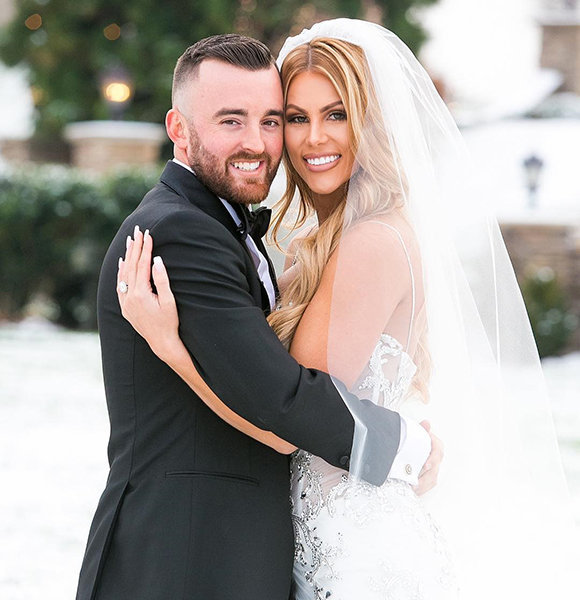 Austin Dillion, an American professional stock race car driver, has recently achieved the best both in his professional and personal life. While he has his career on the rise, he has not missed out on his long-term relationship with his girlfriend, who recently turned into his wife. 
And if you are one of the admirers of the star, then you probably must be interested in knowing more about the romantic life of Austin away from the wheels.
Well, here are few insides on his love life! Keep reading to know more about this race car driver.  
Austin Dillion's Newly-Wed Wife
Austin Dillion, also known as the grandson of Richard Childress, the former Sprint Cup driver, has a perfectly balanced professional and personal life. The man who has won NASCAR Rookie of the Year in the Truck Series in 2010 is off the market for his female admirers.  
Austin has been bond through the vows of marriage with his girlfriend Whitney Ward, who is a former NFL cheerleader. The couple has been seeing each other for a long time but has not yet revealed the dates of their first meeting and how the couple fell in love.
However, it has been known that Austin got down on one knee and popped the question to his girlfriend back on August of 2016. And since then, the couple had been officially engaged.
Nevertheless, after more than a year from their engagement, Austin tied the nuptial knot with his fiancee in December 2017. The holy wedding ceremony took place at Childress Vineyards in Lexington, North Carolina. The wedding was accompanied by violinist Josh Vietti who performed at the ceremony.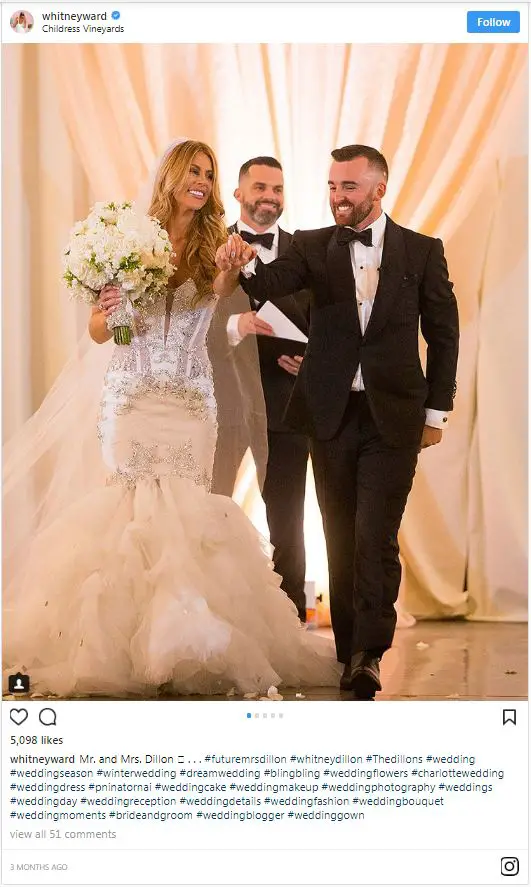 Austin with his girlfriend turned wife Whitney (Photo: Witney Ward's Instagram Account)
During the wedding, the couple exchanged the rings while sharing their vows along with the promise to hold each other in the time of despair. Whitney had picked a peculiar black diamond-studded ring by Henri Daussi for Austin. 
Talking about the ring, Austin joked at NASCAR Media Tour expressing his ring as being "Bling" and how his wife would want everybody to know that her husband is married. Austin stated,
"I think my wife just likes bling, so she must want everybody to know I'm married. You can see it from a long way away."
However, soon after their marriage ceremony in North Carolina, the duo headed to the Bahamas for their honeymoon. While the pair was having a memorable moment on the beach, Austin tweeted how happy he was to get married and spend his time with his wife. He wrote,
"Man this honeymoon thing is nice. So happy to be married oh and go @panthers"  
Well, it does seem like the man is surely hitting off his marriage along with his straight second playoff appearance in the Monster Energy Series. Adding to it, while hitting off in his career, the Richard Childress driver also notched his first premier series win in May at Charlotte Motor Speedway in the Coca-Cola 600.