Entertainment
Aviva Drescher, Once Divorced, Family Life With Investment Banker Husband and 4 Children
Aviva Drescher has a really peaceful family life of the present. However previously it was filled with 2 seasons of 'Real Housewife' drama. Her first marriage had also ended in a divorce. Learn more about her previous marriage in detail. How is her life going on after 'Real Housewives' with her husband and children?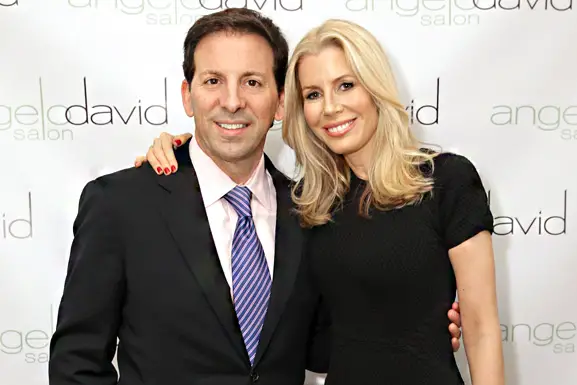 Caption: Reid and Aviva Drescher(2014)
Source: bravotv.com
Her Family of 5: Married Life, Husband, and Children?
When it comes to Aviva Drescher's family, she has hit the jackpot. She has a family of 5 with four children with her husband, Reid Drescher. Her husband is an investment banker. He is also the President and CEO of Spencer Clarke LLC since June 1997 and the Managing General Partners for Cape One Advisors. They met in 2004 and were married by 2006.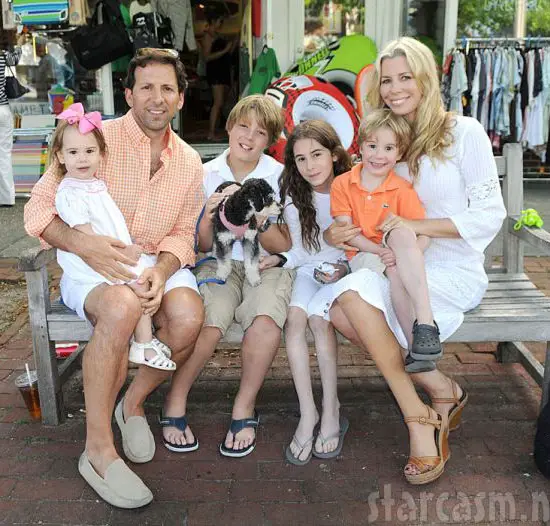 Caption: Reid and Aviva Drescher with their kids (from left) Sienna, Harrison, Veronica and Hudson shopping in Southampton Town of the Hamptons Suffolk County, New York - 16/06/2012
Source: alamy.com
She has 4 children. Her eldest son, Harrison is the only child of her first marriage while daughter Veronica is the only child from Reid's first marriage. They are aged 13 and 12 respectively. Reid and Aviva have 2 children together; Hudson aged 7 and Sienna aged 4 years old. So, as you can see, they have a very blended family.
Her Past Marriage and Divorce:
She was previously married to Harry Dubin. The couple had been divorced since 2005. Since then like Aviva, Harry also moved on and not very far as well, marrying Aviva's co-star, Sonja Morgan.
The reason for their divorce has not been revealed but according to the news that came out in 2012 about Harry Dubin not paying child support makes it sound like he was a deadbeat dad. He apparently hadn't paid Aviva child support of the entire year and also owed 80 thousand dollars in child support to Aviva from previous times.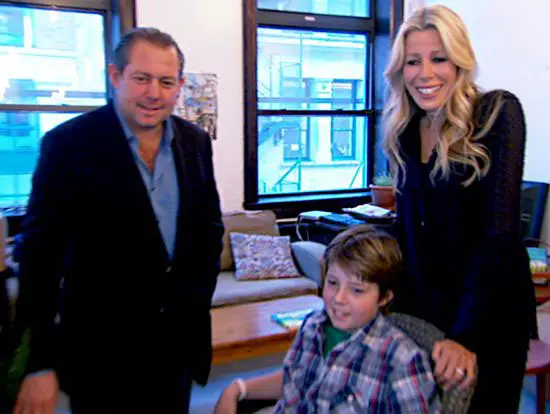 Caption: Harry Dubin and Aviva Drescher with their son, Harrison(2014)
Source: bravotv.com
Crisis in their Relationship:
Their relationship came at a very critical moment when on they participated in boot camp before she was fired from the show. A polygraph test was performed on Kathy where she was asked
"Will you give up reality TV for Reid?"-"Yes" she replied and "Deception" pointed out the polygraph administrator. The counselor of the program provides an opportunity for any other couples to ask the questions. Other members were participating in the camp, taking this opportunity target Aviva.
"Did you come to boot camp to work on your marriage?" asks Jacob Payne. She responds in a "Yes" and the polygraph administrator also replies "Deception" again
Spencer Pratt, a nemesis for Drescher family, strikes the cleaning blow asking, "Do you want to be with your ex-husband still?" Her answer was no, but the polygraph test was same as the last two times.
Caption: Episode 9, 'Deception Indicated' of the show 'Marriage Boot Camp.'
Though she insists that she does not have feelings for her ex, the polygraph results tell something else. This was a very critical situation moment in their lives that could have easily ended in divorce.
Aviva Drescher's Short Bio:
Aviva Drescher was born Aviva Teichner. She is of German decent, and her parents are George and Ingrid Teicher. The net worth of Aviva is an estimated amount of 20 million dollars. After The Real Housewives of New York City (TV Series), she was seen in Marriage Boot Camp: Reality Stars (TV Series) in 2015. The most recent update about her was on June 1, 2016, when she commented that the new season of 'RHONY' was "hard to watch."