Entertainment
Award Winning Actress, Laura Osnes, Married to Husband Nathan Johnson, Celebrated His Birthday in a Romantic Outing
To have a darling hot wife by your side on one's birthday is a delight! Such was a delight enjoyed by photographer Nathan Johnson. On the third of April, Nathan and his wife Laura headed out to have fun with each other, the occasion being Nathan's birthday. They seemed to have headed out of home to a place like Hawaii and the mood they were in was very romantic!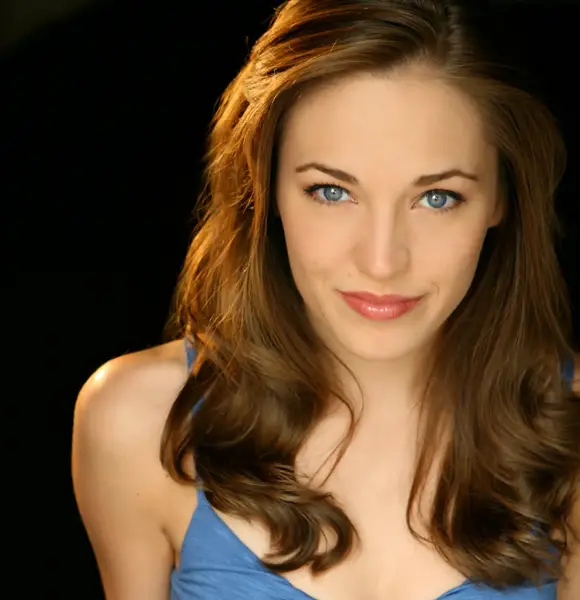 Wouldn't you be double delighted to celebrate your birthday if you have your loving wife by your side?
Photographer Nathan Johnson is the lucky one to enjoy such a delight. His beloved wife, an award-winning actress and singer Laura Osnes, a.k.a. "Broadway's favorite princess," certainly made the recent birthday memorable for Nathan.
You must have known Laura only as an award-winning Broadway actress, but after reading this, you'll be sure that she is romantic!
Caption: Laura Osnes sings the classic Rodgers and Hammerstein ballad "If I Loved You"
Laura standing tall with a height of 1.65 m and Nathan with a height of 2.13 m have been married for nine years now, and the fire in their relation is still burning strong.  It seems like they have figured out how to keep the romance alive.
Plus, they like to invest their time to be a part of each other's good days and make every moment the best one!
Birthday celebration in Hawaii!!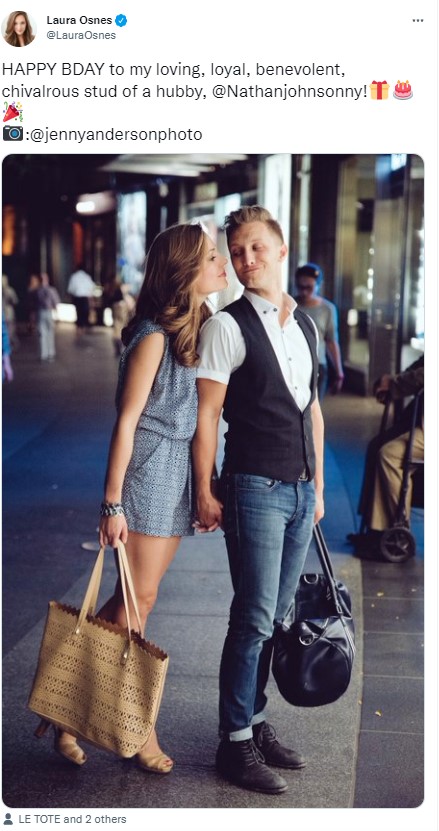 Look how affectionately she wished him on his birthday!  Oh well, they are so ready and well dressed up to go out. Do you know where they went?
They chose Hawaii for the celebration! Despite busy work and schedule, Laura and Nathan spent some quality time together.
Don't you think it is the love and support of these love birds that have kept them going? Laura's career demands a lot of hard work from her, and Nathan's photography demands commitment, but the couple has found a balance between work and personal life. 
Look here what we found!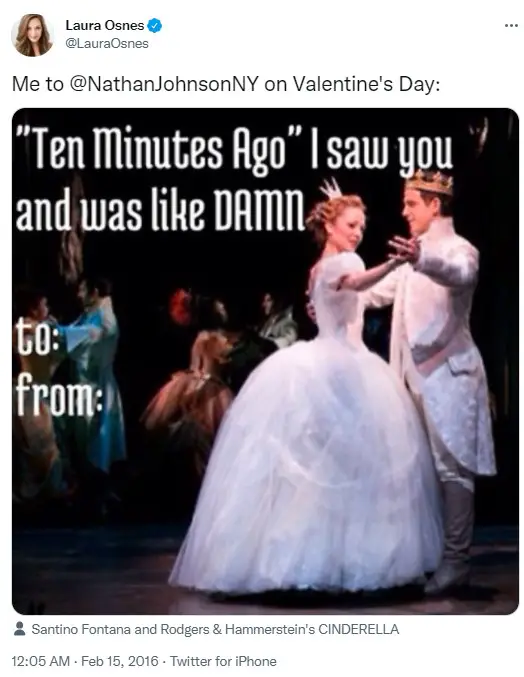 It's definitely a lifestyle, doing this show, and I'm not a master at it, I'm still learning how to balance. I feel like it's so important to have a life outside of the theatre. I'm so glad that I'm married and at night, I come home to Nate and we have our own life. We're connected to a church here in the city and, you know, we have a whole other community outside of the theatre community. Like I said earlier, it's important on those days off, even if you're working or doing some other event, Nate tries to come with me and we make a date night of it. It's like being intentional about making sure your priorities are in the right place and it's so easy to get sucked up into the schedule of the theatre or the fame aspect and that's not why I'm doing this. That's not why, there are bigger things in life than this, and that's why I'm so grateful to do what I love and what I've always wanted to do. It's a job, too, and just remembering the grand scheme of things, there's more to life than making it on Broadway or being in a Broadway show. I think it's just intentionality, that making sure you have a life outside of the theatre, too, so that actually going to work is the overly fun part of the day because you have other things that you enjoy doing.

Laura Osnes in an interview with stagedoordish.com in 2013 on how she keeps her life balanced
And when asked about her future plans, she responded with:
It's so hard to tell because seriously, six years ago, I never would have guessed that I would be where I am now. Who knows what another six years will bring? You know, I do really love New York. I don't know if it'll be the place where Nate and I end up having a family. It seems like raising kids in the city would be kind of hard. Maybe we'll be in New York another five years from now, in the city and maybe that would be a good time to transition into TV/film. I don't know if I'll move to L.A. or maybe outside of the city and commute in if I still have a job here. I think ideally, and we've talked about this, our dream would be bi-coastal, like keep a place in New York and maybe raise kids in California and then move as work dictates. It's hard, I mean, I love, I love theatre. This is what I've always wanted to do and I'm most happy and most alive when I'm onstage. I feel like even if we were to leave it for a time, I would always want to come back to it.
Perfect couple spotted!!
Laura talks about Husband and Christian Faith:
On 2015 Pioneer Day concert talked about her family celebrating her 8th year anniversary of their wedding and even went on to sing 'All The Things You Are' for her beloved husband.
Laura explained how she met her husband, Nathan in Minnesota while doing an ensemble of a production of Aladdin and because of a strange string of events, they had to substitute for the leads of the show as Aladdin and Jasmin as they had originally understudied the characters together. This event even lead to their first kiss and went on to spark their deep relationship and the couple have been dating since. A year later, they got engaged.
She confessed that their relationship has not always been smooth but insisted that her faith kept her true and was quoted saying,
I've had some challenges in my life that I feel like I've been able to come out of stronger. . . . I think a lot of that is due to my faith and the strength and the joy and the peace and the wisdom that I think only God can bring.
Caption: Laura Osnes sings All the things you are for her husband, Nate.
Laura Osnes' Short Bio:
Born on November 19, 1985, Laura Ann Osnes was raised in Eagan, Minnesota in a Christian family. She attended Eagan High School and the University of Wisconsin-Steven Point but dropped out after a year to pursue a career in acting.
In her decade-long acting includes her involvement in various acts and theater shows such as Grease, Encore! Pipe Dream, Rodgers and Hammerstein's Cinderella and much more. She got married to her husband Nathan on May 11, 2007, and currently live together in Manhattan. They haven't announced any plans for children yet.