Entertainment
Awesome Comedian David Baddiel: All You Need to Know About His Partner/Wife and Children
We always wonder if a comedian is as happy and funny in real life or are they just pretending it all to make a living out of it. This thing just reminded us of David Baddiel who has a similar case in his life. Let's take a sneak peek inside his personal life.
You might be wondering that David who is currently 52 years old must be a married man and is living with a wife but to everybody's surprise, he is not married, but he is not single either. David Baddiel is currently in a relationship with fellow comedian Morwenna Banks, and the couples are cohabitating.
Morwenna Banks was born on September 20, 1961 (age 54 years old), in England. She attended the Turo High School for Girls and later the University of Cambridge for her studies. She has mostly known for her role as mummy pig in the children's series called "Peppa Pig"(2004-2012) and is known as comedy actress ad writer.
David and his wife-like partner Morwenna are blessed with two children; a son Ezra and a daughter Dolly who are yet to become adults and are just under the age of 20. The couples are unmarried and yet they are living a happy life with a family of four. However, life is not always as good as it is for a moment.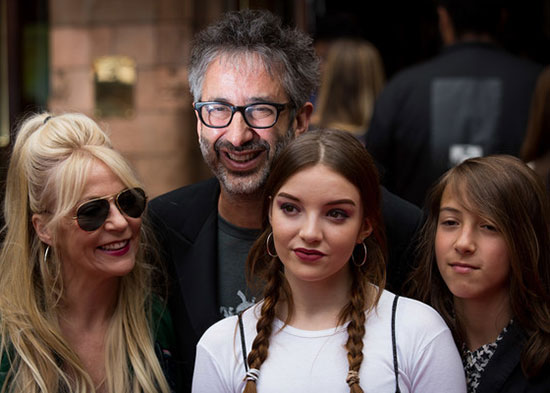 Caption: David Baddiel with Morwenna Banks and their two children at the press preview of Harry Potter & The Cursed Child on July 30, 2016, in London, England.
Source: zimbio.com
David's mother passed away last year from pneumonia, but that was not the only pain he had to go through as his father was suffering from an extreme form of dementia at the same time and David himself feared that he had a degenerative brain condition. To mirror.co.uk he said,
"My mum died really horribly, and my dad has dementia really badly. He has got Pick's disease, which is an extreme, Tourette's form of dementia."
He continued about himself,
"I've started already to forget names much more than I used to and although I think that is considered to sort-of be OK for someone of my age, I don't. Every time it happens, I think, 'OK, early onset. The other day a terrible thing happened... I can't even remember what it was I forgot now, but it was something that really was something I should have remembered, or know. I actually got an anxiety attack thinking about it afterwards. I do ­genuinely think I've got it."
He also revealed that he suffered from depression and spent 10 years in on and off therapy but later gave credit to his children for changing his life for good. He said,
"The only thing that has changed me as a person is having children. It has made me a better person – less selfish and more empathetic."
This shows how compassionate he is towards his children and family. We hope everything goes well with David, the person who makes us laugh despite having his own problems.
David Baddiel's Short Bio:
David Baddiel was born on May 28, 1964 (age 52 years old) in New York, United States. He attended the King's College, Cambridge where he graduated with a double first in English and later studied Ph.D. in English at the University College London but did not complete it.
Beside a comedian, he is also known as a novelist, writer, television producer, and actor. He is also known for "Baddiel & Skinner Unplanned" (2000), "Fantasy Football League" (1994), etc. This year he has appeared in many TV series like "The Many Faces of..."(since 2014), "Only Connect"(since 2015), "Artsnight", "Peston on Sunday" and movie "Alan Shearer's Euro 96: When Football Came Home."
Currently, he is all set for his tour 'David Baddiel My Family Not The Sitcom' that starts today until 15th October at Vaudeville, London. His net worth is currently not disclosed.