Entertainment
Awesome Rapper Sean Comb Split/Breakup With his Dancer Girlfriend, What about his Kids? Planning to Sell House?
A rapper, songwriter, entrepreneur, record producer, actor, and a ladies man, Sean John Combs aka Puff Daddy, Diddy, Puffy, P. Diddy, etc. is a name everybody knows, be it in hip-hop, Hollywood, business or the fashion world.
From his rap career and business to his family and girlfriends, his life is somewhat an open book since the beginning. So what's all the fuss that's going on about his dating life? Let's find out.
Diddy's Relationship With Cassie:
There are no secrets when it comes to Puffy's love life, all of the women he has dated till date are quite famous A-listers but let's not get into it all as it's a very long list. And recently (but not so recent) he's been seen out and about with the beautiful actress/singer Cassie. Cassie and Diddy have been dating for a long time (on the low-key), but they only admitted they were dating in 2012, five years after meeting each other.
Their on-again-off-again relationship is truly on of a kind. Back in august 2016, the news surfaced claiming that the hip-hop mogul and the actress reportedly split and the breakup even involved police.
But it's Diddy and Cassie we're talking about, if they can hide their relationship for so long, there's no doubt that they work it out. Only after two weeks after the news of their breakup emerged, it was again reported that the couple was back together and Diddy even threw a party celebrating Cassie's 30th birthday. Aren't they simply adorable?
Kids and Family Life:
Busy with business, tours, and his relationship, you might think he barely has time for his family, but to tell you the truth, Diddy is a family man. He is very fond of his children. He has five children, Chance, Christian, Justin, D'Lila and Jessie and an informal stepson, Quincy.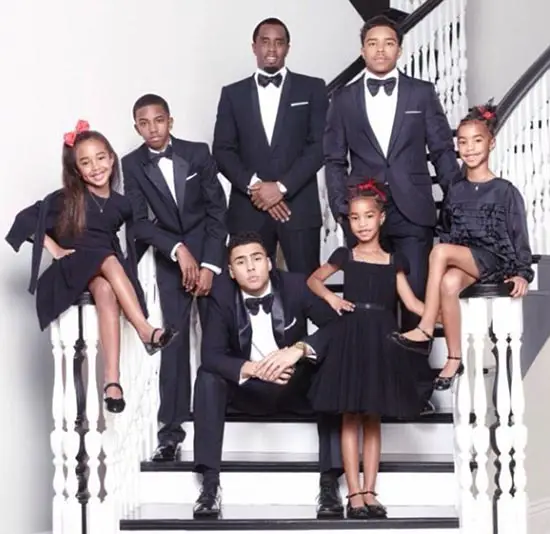 Caption: Diddy surrounded by his children, posing for a family Christmas Card.
Source: dailymail.co.uk
Though he never had a wife (hence, no divorce), he has a pretty good relationship with all his baby mamas, Misa Hylton-Brim (Justin's mother), Kimberly Porter (mother of Christian, D'Lila, Jessie, and Quincy) and Sarah Chapman (Chance's mother).
Net Worth and Property:
The 46-year-old rapper is not one of those rappers who raps about guns and violence and earns his fortune just through record sales and endorsements, he, in fact, is a proper businessman, leaving his background dancing career far behind. Today, Sean Combs is named by Forbes one of the richest rappers earning a whopping $62 million a year, making his net worth a jaw-dropping $735 million (that's a lot of zeros).
With money, comes luxury (universally known fact), and no one knows how to splurge cash better than Diddy. From his lavish White Parties, his 5 luxury Estates (one of the house was listed on market for $8.5 million back in 2015), a yacht and three luxury cars, he sure knows how to earn and spend his money in balance.