Entertainment
Baby Boy's Actress AJ Johnson: Neither Married Nor Dating Anyone, Searching For Perfect Husband?
Many actors are known as a one hit wonder in the acting industry. After a while, their fame dies down, and they remain secluded from the public eye like actress Adrienne-Joi Johnson. What is the 'Baby Boy' star up to now?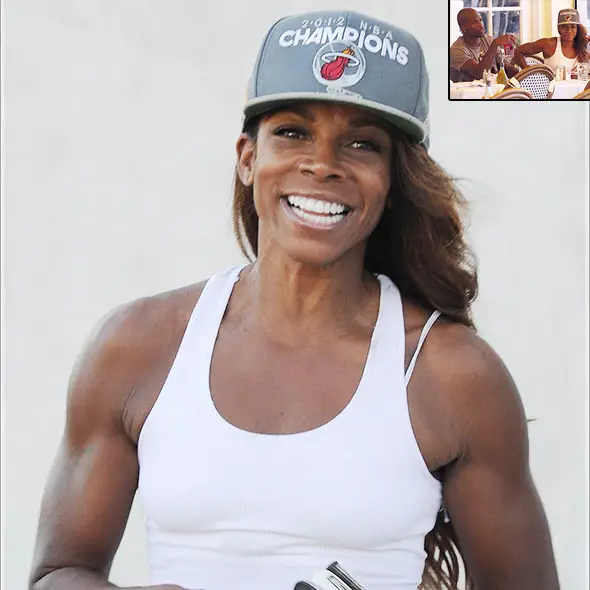 Many artists are dubbed "one-hit wonders" in the film industry. However, their notoriety lessens with time, and some, like Adrienne-Joi Johnson, want to keep things private.
Because of AJ Johnson's several public and tv appearances, many wonder about her personal life and if she has a specific someone in her life. 
Is She Dating Or Searching For The Perfect Man To Be Her Husband?
The American life coach prefers to keep her private affairs quiet, and we learn little about it, but we know that she is not married.
However, when she appeared on the Fox Soul talk show, Out Loud With Claudia Jordan, the American native discussed her love life and her tastes in men after bringing her job to Africa.
Johnson claims she met a Ghanaian man who was immediately interested in her. She described the man as dark chocolate, tall, and youthful, and she was certain she pictured marriage with him.
When probed about her encounter, she admitted that the guy and the men she had been used to seeing in America had very little in common. She explained, 
"This is what I'll say. I've learned that American men 'kick it.' African men court. African men commit. "That difference alone for me took me from 'kicking it' with somebody to feeling chosen."
Like the covert person she is, there are no threads for us to follow to see whether she is still out with the guy that approached her. But one thing was certain, unlike her previous relationships, Johnson believed that whatever they had was solid.
Other Past Relationships: Boyfriends and Dating!
Since the public has no idea who her partner is or what her love life is like, they can only guess and speculate. Similarly, she is said to have had one relationship with Chad Johnson.
On October 2, 2016, the two were seen on a lunch date in West Hollywood's Sunset Plaza. They ate their meals side by side in their casual attire while engaging in great conversation.

Around then, the NFL star was dealing with his career and had freshly separated from his now ex-wife Evelyn Lozada.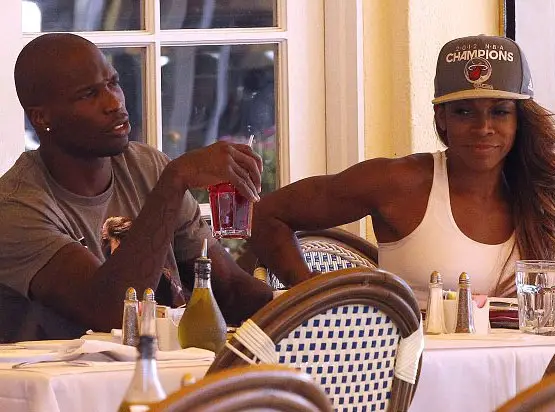 Caption: Chad Johnson was seen having lunch with actress A J Johnson in October 2016 (Source: fameflynet.biz)
Contrary to popular belief, there was nothing romantic about it. Even though it appeared that they had a strong connection, it may simply be sibling love, as the two had tweeted pictures and messages referring to one other as "brother and sister."
AJ's tweet referring to herself as Johnson's sister (Source- Twitter) 
On the other hand, her romance with her ex-boyfriend Michael Jai White is well-known and open to the world. Although the details of their relationship have not been revealed to the media, we can confirm that the two had dated in the past!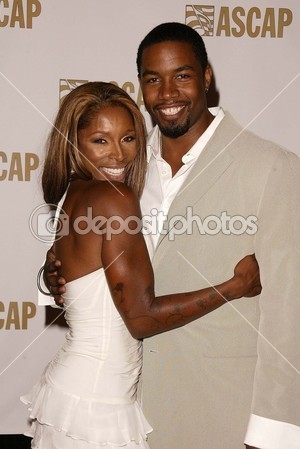 Caption: Actress AJ Johnson with her ex-boyfriend Michael on June 28, 2004, at the ASCAP Rhythm and Soul Music Awards, at Beverly Hills (Source: whosdatedwho.com)
Additional Information on AJ Johnson & Her Net Worth Details
Adrienne-Joi Johnson, often known as AJ Johnson, was born in Orange, New Jersey, on September 3, 1963. She graduated with honors from Spelman College in Atlanta, Georgia, connected with the all-male Morehouse College. While a coed at Spelman, she was Miss Morehouse.
Currently, the fitness trainer is concentrating on her profession as a health and fitness instructor. She is well-known for looking after celebrities and acting as their coach and trainer. Even at the age of 57, she maintains a strong physique. Johnson has also been named the American Cancer Society's spokesperson. 
With a long list of accomplishments under her belt, the American actress, choreographer, and fitness teacher surely has accumulated a net worth of over $500,000.