Entertainment
Baby Bliss! Actress Marisa Ramirez Welcomes A Daughter To The Family! Wondering Who The Father Is?
Pregnancy is a complicated matter. It is the period when one needs a lot of support and care but here is Marisa Ramirez taking the matter single-handedly. After all, she's going to be a single mother. Yes, she's given birth to a beautiful baby girl, and her decision to be a single mom is commendable.
However, if she had a man beside her to help with the baby, it would have been a different story. So, it's equally rational to wonder who the father.
Caption: A newly born baby- Violet Rae to Marisa on June 6, 2016.
Marisa's Journey of Pregnancy
Nine months is a long period, and during these nine months, the pregnant women have to undergo a lot of things. She has to be prepared physically as well as mentally. Marisa said that she also experienced anticipation and panic. Luckily, she didn't have to face any physical discomfort like morning sickness. Before giving birth to her daughter, her thoughts were like this- 
"I get to experience this anticipation and excitement of meeting a child that will change my world forever and who will bring us so much joy."
"Sometimes it definitely feels like a panic, but I know it's layered with excitement."
Now finally with the arrival of Violet- her baby, the anticipation must have come to an end.
Earlier this actress who plays NYPD Detective Maria Baez on the hit show "Blue Bloods" had decided to wait until the birth to find out the sex of the baby but she couldn't hold the suspense any longer, and in April she revealed that she is expecting a daughter.
With her in this journey, she was supported by the cast of Blue Bloods family.
'It gives me such a warm and fuzzy feeling knowing that my Blue Bloods family is there to help me transition into this new chapter of my life,' 
Her pregnancy was an unplanned thing, so she is found saying, 
 'This was a complete surprise.'
She further adds,
'Some mornings I wake up and forget I'm pregnant! It just seems like it was meant to be — a happy surprise.'
Who is the father of the baby?
The father of the child is unknown till date because Marisa has not spoken a word about it. So it can be said that the beans have not been spilled. The matter is a total mystery. Violet is her first child, but the father of the baby did not show any presence in her birth. Hence, when will it be revealed is a matter of secrecy. However, she was married to Nathan Lavezoli from 2002 to 2011. But with him she already underwent divorce.The reason behind their divorce is not revealed and now he is just an ex-husband.Currently, there is not any information to be found about her dating life or who her boyfriend is.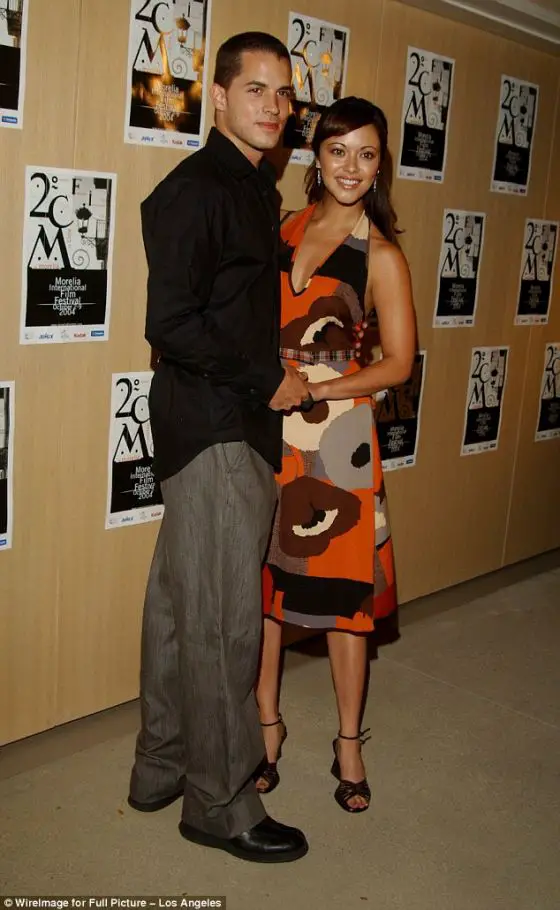 Caption: Marisa Ramirez with her ex-husband Nathan Lavezoli (2004)
Photo Credit:dailymail.co.uk
Short Bio of Marisa:
Marisa Ramirez was born on September 15, 1977. Her career began at age 13. She started to work as a commercial actress and a print model. She is 5'6" with the measurements having 35-24-36. She got her big break in July 2000 as a role of supermodel Gia Campbell on General Hospital and was nominated for ALMA and NAACP awards for the show.