Entertainment
Bad Bunny Finest Details! From Gay & Real Name To Girlfriend
The artist who came under the Spotlight in less than two years, Bad Bunny as known by the real name......is now one of the most popular Latino Rapper in the music industry. With his flashy and flamboyant fashion and his tweet about.....this artist got his sexuality questioned. But soon after posting a picture of himself on Instagram kissing..... .the artist showed the world taht all the rumors were false.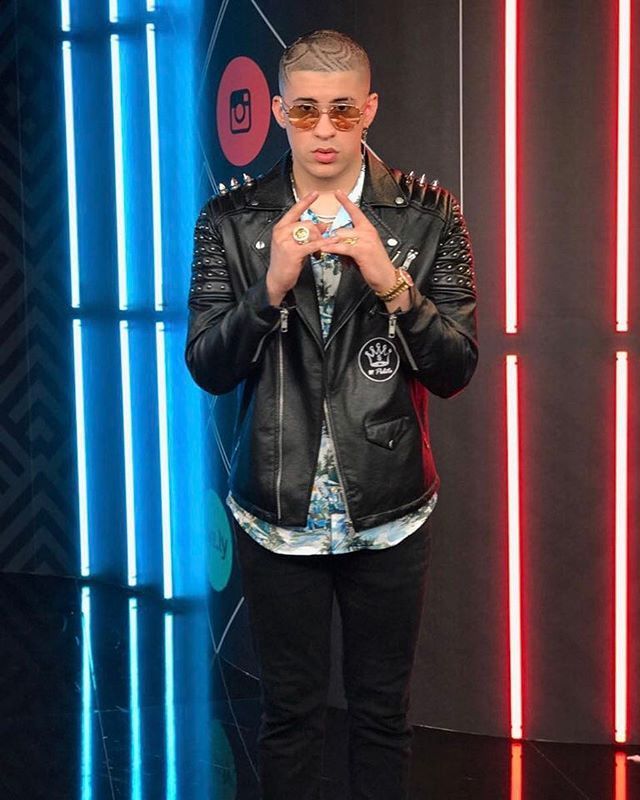 An early success only comes to few, others have to wait and work to their bones to reach such heights! 
Bad Bunny, the Spanish rapper, just happens to be top brass on the list of early succeeders. Emerging as a young rapper in the year 2006, the Puerto Rican singer has now been counted as one of the earliest influential rappers in history.
No wonder the fame has given the singer so much public attention that he has been constantly receiving many comments and admirations. But, not all his remarks has been on his side.
His flashy style couldn't stop the audience from questioning his sexuality and labeling him gay. Whilst the artist, on the other hand, has just been trying to push forward his masculinity through his music!   
Flamboyant Bad Bunny Suspected As Gay
Bad Bunny, the earliest mainstreamer of Latin trap music, has got the talents of a hitmaker, without any doubt.
Born with the real name, Benito Antonio Martínez Ocasio, the rapper took the stage name "Bad Bunny" and has ever since fueled the rap genre with his pure and relatable lyrics.
The son of Benito Martinez and Lysaurie Ocasio Declet, soon witnessed stardom with lots of praise on the way. But, among praises the 'I Like It" hitmaker also faced a torrent of sexual criticism on his recent days after tweeting an incident of masculinity crisis in his social media.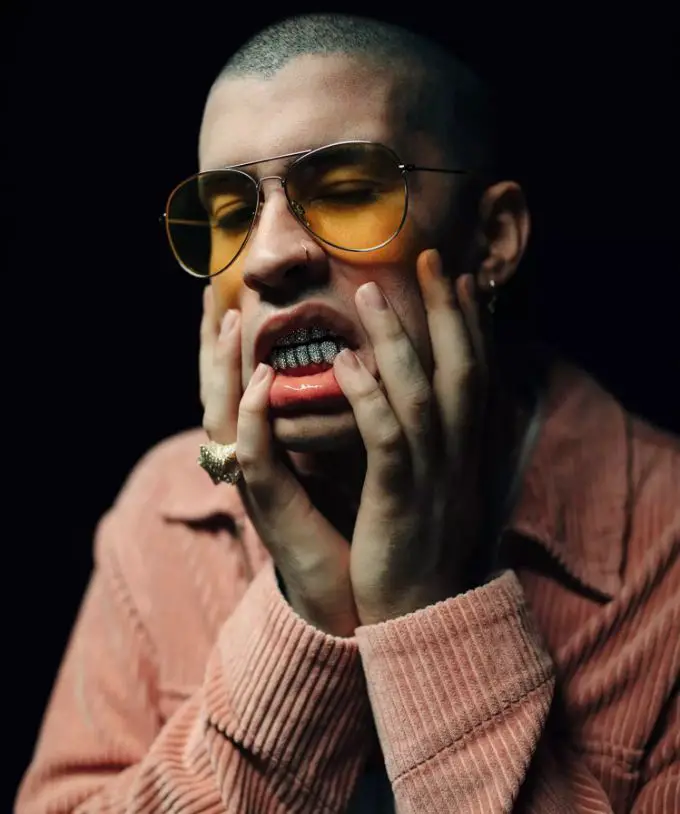 Bad Bunny showing off his flashy teeth and his flamboyant style (Photo: Rollingstone.com)
The Spanish rapper, who walked through a salon to freshen his lacquered and color his nail, was denied the service forsake of his gender.
"I just wanted to tell you all that I went to this sh**ty place to get my nails done (manicure + color) and they told me NO because I'm a MAN hahaha. I don't know what to think, but it seems very very very unfortunate haha. What year is it? F**king 1960? What do you call this?"
The artist got heaps of homophobic criticism for his tweet and many responders questioned his sexuality afterward calling him gay. Soon after that suspicions of the young rapper being gay swirled across the internet.
To fight against such hate, the singer has been addressing a new definition to masculinity with his fascinating self-presentation and influential lyrics.
Rapper Beats Down Gay Rumors: New Girlfriend In Sight
Bad Bunny's gay rumors were already taking its course and starting to boil up when the 24-year-old Cazzu came to rescue. On May 2018, the rapper bedazzled hundreds of audiences by posting a photo of him kissing the Argentine trap era Cazzu on the lip.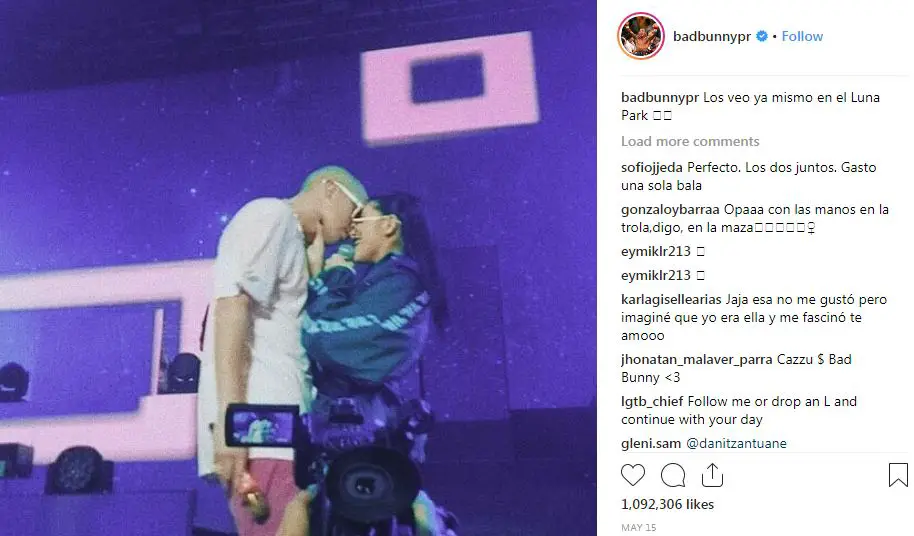 The rapper Instagramming a picture of sharing a kiss with Cazzu (Photo: Badbunny's Instagram)
The PDA even corrected Bad Bunny's dating rumors with Natti Natasha but for the Diles singer and Chapiadora's singer, Julieta Cazzuchelli (Cazzu), it was a start of their romance. 
The couple has been dating since then, sharing happy times together and posting their snuggles and giggles on Instagram. The pair looks perfect for each other in every way.
With a girlfriend and early fame on his side, the artist has just made it all possible at a young age.
At just 24 years of age, the rapper, who has gained a total net worth of $1.2 million, has been capturing all the publicity and love from his followers. With over 4 billion views on Youtube along his 15 singles on the Billboard's Hot Latin Songs Chart, he has gained his own significance with his own ways and style.