American Rapper Bali Baby is the next big thing in the American freestyle era. She specializes in easygoing, singsongy rhymes delivered like taunts. She is also the leader of the hip hop band called Playgirl that consists of her best friends.
She came to limelight after she produced the freestyle rap song, Designer in 2016.
Bio, Net Worth & Controversy
Baby Bali proclaims her date of birth to be 15 June 1997. She measures at the height of 5 feet 2 inches(1.5 meters) and her real name is Kaitlin Fletcher.
After establishing herself in the music industry, she is slowly climbing the ladder of success with her music and raps. Her mindset and character are impersonated through her songs and music, which makes her even more appealing and robust.
Till date, Bali has left no stone unturned in her rise to the music industry; releasing a new album Baylor Swift in 2018.
Bali accumulates an income of about $858 - $13.7K a year alone from her Youtube channel. Her net worth is also boosted with her numerous mixtapes and featured appearances in songs like Vintage ******, Swiper No Swiping, and Designer.
Similar Topic:-Ugly God Bio, Age, Girlfriend, Net Worth, Height
However, she is not far from the controversies. In 2017, she grabbed much attention when her video of fighting the rapper Asian Doll went viral. But, the rapper, concluding the debate, said that she did not have any animosity towards Asian Doll and the rivalry is driven mostly by their fans.
Dating Boyfriend Or Girlfriend?
Despite her popularity, it may come as a surprise that Bali is an openly bisexual person. She has always stayed strong and true to herself. During her teenage, Bali dated a boyfriend and had an attraction towards boys, but things changed slowly as she started hanging out with girls.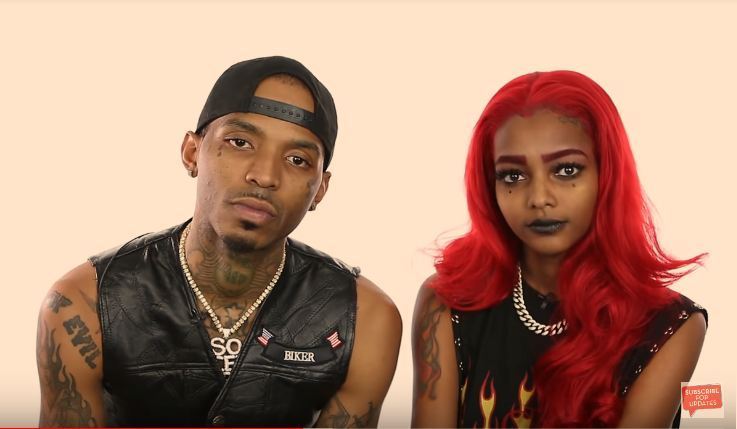 Bali Baby with boyfriend, Rockstar on DJ Smallz Eyes 2 interview in 2018 (Photo: YouTube)
At the age of 17, she had a girlfriend, and she realized she was more attracted to girls than boys.
As of now, the tides have changed again. In 2018, in an interview with DJ Smallz, Bali disclosed her relationship with Atlanta residing rapper, Rockstar Marqo. She opened up on her relationship and revealed that she had already met her partner's family.
Family & Now
Bali Baby is a daughter to proud parents and an inspiration for her sisters. She gives great credit to her mother for making her who she is today.
Also A Rapper:-Lud Foe Age, Net Worth, Parents, Girlfriend
Gushing about her mother via a tweet in 2017, Bali revealed that she was her foundation.
"My mom is my backbone fr, Idk what df id do without her."
She also added that her bossy attitude came from her mother because she was the breadwinner in the family. Now, like her mother, Bali is also a boss lady with her calm demeanor and taunting songs.