American Rapper Bali Baby is the next big thing in the...specializes in easygoing, singsongy rhymes that...credit to her mother for making her...was the breadwinner in the family...relationship with Atlanta residing...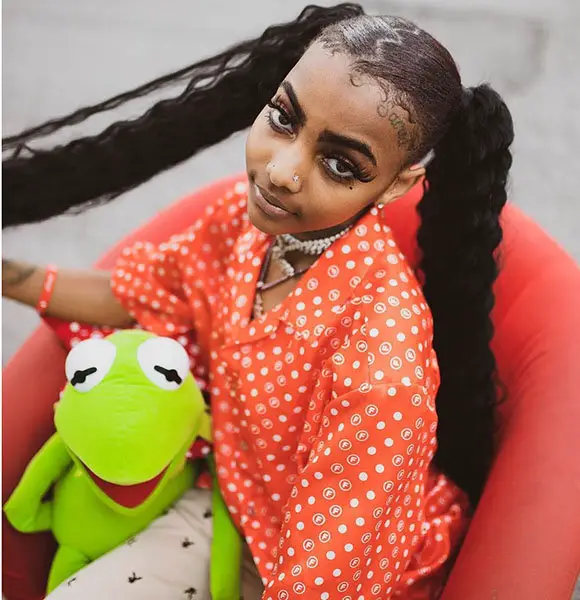 Bali Baby is an openly bisexual rapper that has been slowly making her mark up in the rap industry. Growing up freestyling and having fun, she garnered a lot of attention after her mixtape was released, namely; Brazy Bali vs. Bubbles Bali. She now enjoys life with her beautiful newborn and her boyfriend Rockstar Marqo, alongside making music.
Is She Lesbian? Who Is She Dating Now?
The speculations of the 'Designer' singer being lesbian surrounded her after she revealed that she was in a relationship with a girl at 17. However, her claims were never of her being a lesbian.
Bali has never found it essential to discuss her personal life with anyone; however, in 2018, she came forward and discussed being in a relationship with another rapper Rockstar Marqo which cleared the air about her sexuality and labeled the 24-year-old as a bisexual.
She has been open about her sexuality for a while now. A UK-based magazine, 'i-D,' celebrated her sexuality as one of the few openly gay female rappers.
The 24-year-old had yet another news to shock the internet; back in August, she posted a picture with a baby bump, implying that she was pregnant. Then, rocking beautiful red hair and diamonds all over her, she broke the news to the world with no caption at all. 
Baby Bali with her baby bump (Via: Instagram)
She and her boyfriend, for the past three years, Rockstar Marqo, were recently blessed with a wonderful child on December 2020. Sharing her birth video on Instagram in labor,  she captioned the video "Natural Birth Be Like."
Her Career So Far
Bali being a bisexual woman of color, is adamant on working with women from the industry. She feels that the industry is male-dominated, and she needs more females to work with.
She pushes more female rappers to be in the rap game, and she seems to inspire many of them. She shared an Instagram post looking for females to work with. In terms of Women Empowerment in the industry, she says,
I'd rather work with females first," she explains. "If I can find a cool female, I would definitely rather work with them than a cool male... I'm trying to give them a bigger platform (in an industry where) women are not people's first choice."
She also adds how being a queer rapper is challenging in an impartial and discriminative industry most of the time. And for her queer fans, she promises to speak out for them and appreciates the acceptance and the love. 
While her dedication to her art and what she stands by seems to be going well for her, she has garnered 306k followers on her Instagram account. 
She started her career back in 2016, where she recorded her first song, "Designer." Coming from a generation of social media and the internet, topping charts was the last thing the rapper needed to blow up. Nevertheless, her songs went on to be viral on SoundCloud and Youtube, which amassed many fans. 
Even though her songs are not topping charts, they can still be considered successful as the 24-year-old got exposure from various areas. Her first breakthrough, however, was with her mixtape named Balis Play 2, which became successful. 
The mixtape of hers paved the path to her success; she released other mixtapes such as 'Merry Bhirstmas' and 'Brazy Bal,' which got her viral on youtube.
She and her boyfriend, also the father of her child, have released a song collaborating together named "The Rockstars."
From being featured on Rolling stone, dazed, Billboard, MTV, the young and aspiring rapper doesn't seem to give up anytime soon.
And we hope she doesn't because the talent she has needs to be seen and heard by the masses. Finally, we wish the best for the rapper's future projects. The rapper now owns her own clothing store name PlayGear.
Sharing the success of her line on Instagram, she wrote,
"Where i started vs where i am at"
The picture goes on to show the growth of her brand. 
Bio, Net Worth & Controversy
Baby Bali proclaims her date of birth to be 15 June 1997. She measures 5 feet 2 inches(1.5 meters), and her real name is Kaitlin Fletcher.
After establishing herself in the music industry, she is slowly climbing the ladder of success with her music and raps. Her mindset and character are impersonated through her songs and music, making her even more appealing and robust.
Bali accumulates about $858 - $13.7K a year alone from her Youtube channel. Talking about her net worth, we are sure she has accumulated a six-figure worth of assets that have helped the singer live a well-off life.
Similar Topic:-Ugly God Bio, Age, Girlfriend, Net Worth, Height