Entertainment
Baseball Athelete Johny Damon Living in a Haunted House with his Family? Or Is it Just Mischief of his Children?
Johny Damon is a well-distinguished athlete in the world of Baseball. He has had a great career and played with a different number of renowned teams over the years. So, many of the baseball fans must know him properly from his professional life to personal but did you know something very peculiar about him?
Johny Damon might have ended his career as a baseball player but once a celebrity always a celebrity. He still has made multiple public appearances on TV and on one of them he and his wife shared haunting information of a paranormal presence in their family house. Is it true or just his children's mischief? Find out.
Haunted House: 
The haunted house of Johny came into the limelight when he appeared in the Television series Tanked on April 2016 for getting a beautiful aquarium on his house. 
So, like always the show went on hitting a few bumps, a few bumps being the 'Tanked' guys, Wayde King and Brett Raymer forgetting to inform Johny about drilling a big hole in their wall.
But the things turned from bad to weird when regarding drilling the brothers heard some banging noise from the upper floor. So, while the Tanked brothers are trying to figure out where the sound is coming from putting their ears on the walls the noise also attracts the owners of the house, and Johny's wife Michelle Mangan says, "It might be the ghost" which surprises the brothers as well.
Caption: Johnny Damon's Haunted House | Tanked on April 2016
Johny and his wife elaborate of a presence they feel over the house. However, there has only been one incident relating to the paranormal witnessed by Michelle's mother. 
As the couple took us to the room of the incidence, they pointed to the corner of the room where a sofa placed with a folded blanket on top.
They said demonstrating that the couch is hefty, but Michelle's mother had once seen the blanket being slowly pulled down until it fell and so when they removed the chair "which is hefty" to notice little hand prints on the wall and a big round scribbles like that of made by a child. The peculiar thing is that the couple is the first to live in the house ruling out the possibility of it being their children's mischief.
The Fun Room:
However, not all the parts of Johny's house was disturbingly weird. Especially the part which he and his family knew as 'The Fun Room.' This room composes of a bar and a bowling alley. The bowling alley covered with art and graffiti that are not just cool but also symbolize things like the names of the family members and their horoscope signs. Almost all the art in there was great except a big clown head at the end of the bowling area.
Caption: Johnny Damon's Fun Room on May 2016
The End Product:
Even though it may seem like the 'Tanked' brothers do a lot of demolition but in reality, they always deliver the expected outcome. With Johny, as well they completed their task giving a beautiful edition to his house, one representing his career and the other family. The first tank contained only aggressive fishes representing Johny's career traits while the other one not only contains peaceful species of fish that live in a family.
Caption: Double Tanks for Johnny Damon on May 2016
Outnumbered by children:
But it is only conventional to suspect his children; everybody does especially when you have five children. That is right; Johny is a father to 5 children all of which are daughters; Devon Rose 9, Danica 8, twins Dasha and Daliah 4, and Dreanna Michelle 8. 
Besides that he also has twins Jackson and Madelyn born in 1999 from his previous marriage to his high school sweetheart, Angela Vannice that ended with a divorce in 2002.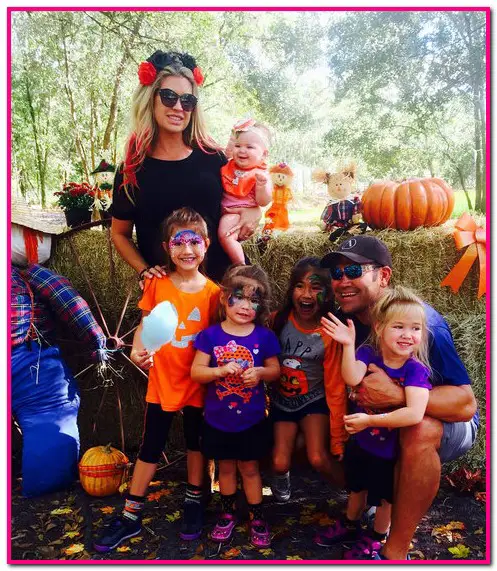 Caption: Johny Damon with his family posted on October 28, 2015.
Source: babyrazzi.com
Thus, you can say that Johny Damon is living a happy family life despite residing in a haunted house. The paranormal happenings are least harmful and cause not much disturbance. Even having no career in baseball he still has an incredible net worth of 60 million dollars.