Daughter is the most cherished gifts of the father. Fathers always attempt to protect and fulfill all the desire of their daughter. Today we are talking about an anchor, who is blessed with two beautiful daughters whom he loves more than anything.
An English journalist, Jeremy Vine, married Rachel Schofield, BBC News presenter, in East Devon in 2002. After five years, the couple got blessed with a cute daughter Martha and some years later with the second child, Anna. Martha is now twelve years old while Anna is eight. Jeremy and Rachael try their best to satisfy their children with all they desire for.
An Encounter with Daughters' Idol:
Two years ago when he was offered a chance to meet Taylor Swift, he took the daughters along to meet their idol. Yes, you got it right, Martha and Anna are big fans of Taylor since their childhood. Jeremy shared the moment when he and his wife learnt about their daughters' growing interest towards Taylor in Dailymail.com. He said,
My wife, Rachel, and our children were at home when the We Are Never . . . video came on for the first time. My daughters, nine and seven, stopped in their tracks. They loved the sheer cheek of it. I turned up the volume and laughed. They played it again and we danced.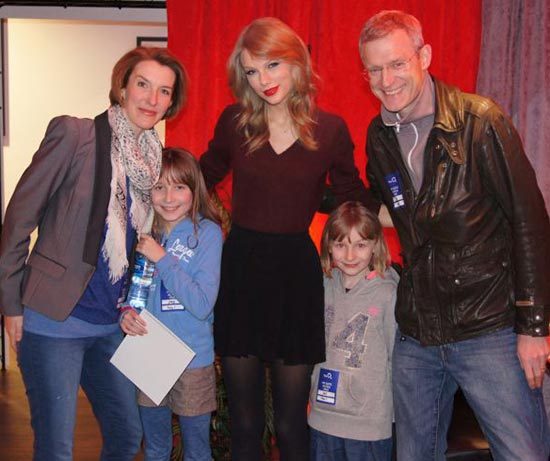 Caption: Jeremy Vine and his family with Taylor Swift.
Source: dailymail.com
Trying to be an Exemplary Father:
Jeremy wants his daughters to get inspired from him. He wants them to grow up learning and appreciating their daddy's activities. Being a non-dancer Jeremy competed in a dance based reality show named "Strictly Come Dancing" in 2015.
He confessed to daily mail that he did not compete on the show for publicity or entertainment but to emerge as a good dancer. He wants to teach them that any individual should not stop working his best regardless of what the results come. He said,
'I've got two young daughters, Martha and Anna, they are 11 and eight, and I said to them when I started this, I said I promise I will really, really work at getting better. I'm not just going to muck around here, I'm going to really be serious about it and try and learn to dance.
'The fact I am not the best is not a reason to give up and that is true of so much of life. Just because you can't win doesn't mean you stop working.'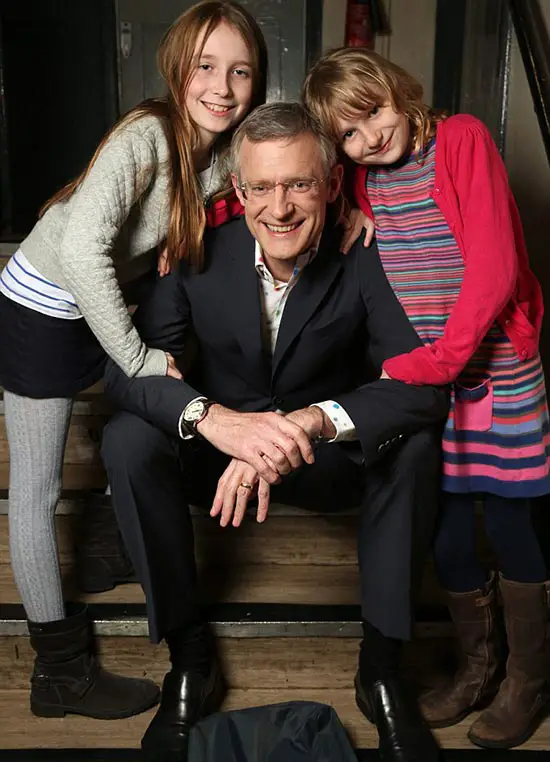 Caption: Jeremy Vine with daughters Martha and Anna.
Source: dailymail.com
Before Rachael, Jeremy was married to Janelle Vine, an American banker for seven years but the relation ended in 2000.
Jeremy's Short Bio:
Born on May 1965, Jeremy Guy Vine graduated with the 2:2 undergraduate degree in English from Durham University. Jeremy is best known as an anchor of his BBC2 program where he presents news, interviews, views, with live guest and popular music.
He is acclaimed for exclusive reporting from war-torn areas throughout Africa and his direct interview style. He became a regular reporter of BBC with the BBC Radio program Today.
He was awarded Speech Broadcaster of the year in 2011 Sony awards and Sony award for an interview of the same year. Jeremy is the highest salary earning hosts in BBC.