Entertainment
Beautiful Producer Julie Yaeger: Blissful Married Life With Her Actor Husband and Children
When you love someone, you can show the whole world about it but not actually tell it. Especially when you are a known figure, it ultimately becomes a matter of privacy when revealing certain things about their personal but we will be talking about Julie Yaeger who herself is not so famous but is associated with someone who is.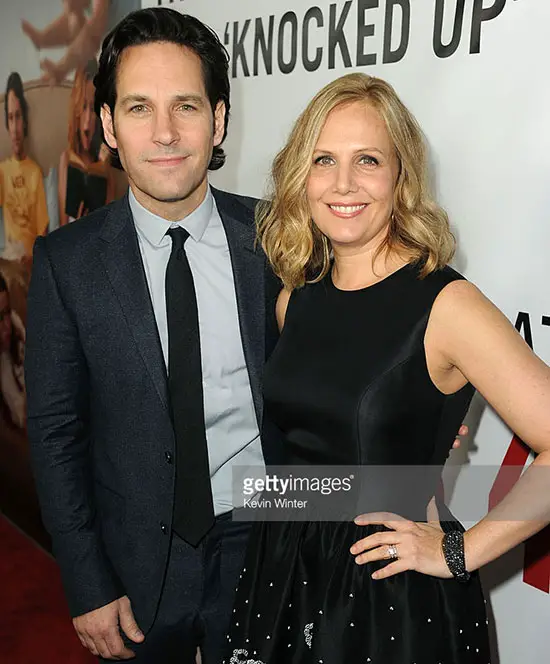 Caption: Julie Yaeger with husband Paul Rudd attending the premiere of Universal Pictures' 'This Is 40' at Grauman's on December 12, 2012.
Source: gettyimages.com
Julie Yaeger, who is a former publicist, married her longtime boyfriend, a famous actor, writer and a producer as well, Paul Rudd on February 23, 2003. The couple met in 1995 when she now husband Paul was promoting Clueless in New York. He stumbled onto Julie and eventually started living with her in her apartment, and as it happens, he did not leave.
In an interview with Elle Magazine in August of 2011, Paul said,
"My wife and I have been together for 16 years. My parents have married my whole life until my father passed away a few years ago."
When we saw what he had said, we regarded Julie as one of the luckiest married women because to get a husband with thinking like Paul; it sure is a blessing. The couple has two children. They have a son Jack Sullivan Rudd born in 2006 and a beautiful daughter Darby Rudd born in 2010.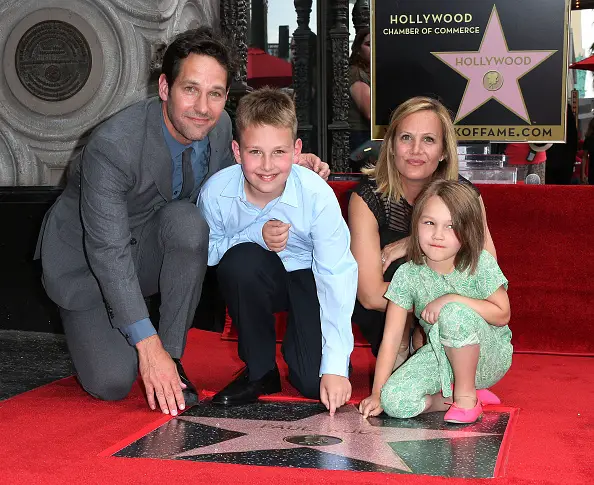 Caption: Julie Yaeger with husband Paul Rudd along with son Jack Sullivan Rudd and daughter Darby Rudd attending a ceremony honoring actor Paul Rudd with a Star on the Hollywood Walk of Fame on July 1, 2015, in Hollywood, California.
Source: boomsbeat.com
With all being said, the couples have maintained quite a low profiled relationship and family life. For Julie, it might be a little easy, but Paul keeping information from getting leaked seems like a fascinating thing to do for such a popular celebrity.
There does not seem to be any serious glitch going on between the couple because, Julie and Paul, both can be seen at many red carpet events and if there was some negativity between them, we do not think they would walk together just for the sake of media.
Even if Julie's husband has played roles in numerous movies, their kids saw his movie for the first time in 2015, when his movie Ant-Man released and he had hoped his kids would like the movie. According to eonline.com on Apr 25, 2015, he said about his children as,
"I hope [they'll like it]. I think they will. My kids have never seen any movie that I've ever done and they can watch this one and I'm a little, just, as a parent, weirded-out at that thought."
Julie and Paul Appear Together at the Sundance Film Festival:
While Julie and Paul don't appear publicly together, the couple took their chance to arrive at the Sundance Film Festival in a fashionable order. Both the couple were sporting that Fabulous Casual look with Yaeger Rudd wearing a black turtleneck sweater with white jeans and Paul Rudd styling with his denim jeans and a white button-down shirt and gray suit jacket.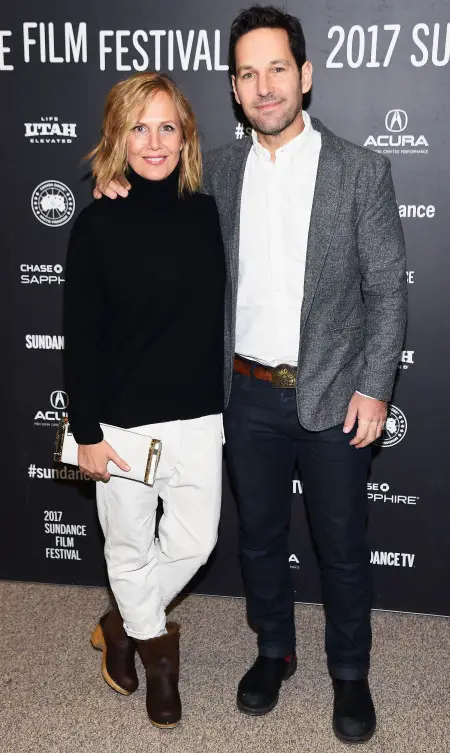 Caption: Paul Rudd and Julie Yaeger at the 2017 Sundance Film Festival for the red carpet of 'Fun Mom Dinner.'
Photo Credit: People.com
The couple arrived together for the premiere of the movie ' Fun Mom Dinner.'
Both the couple have been reported to have worked in the movie as Julie wrote the screenplay for the film while Paul worked as an executive director for the film.
Julie Yaeger's Short Bio:
Like we discussed earlier, Julie Yaeger is not a popular personality, and that has led to a blank sheet of information on her bio or any other information. She does not have a wiki page. However, a five years old post in Yahoo Answer states that Julie Yaeger was 37 years old then along with the reference of answer.com which means she must be 42 now.
Julie along with husband Paul Rudd and children manages her time between New York City's Greenwich Village and a house in upstate New York's countryside. Julie Yaeger recently wrote a screenplay for Alethea Jones's Los Angeles production which will also be Alethea's directional debut.