Entertainment
Beautiful Samantha Jade's Dating Rumors Sparkling With Her Onscreen Boyfriend!
She might be the winner of the show X-factor, but Samantha Jade is 'loser' in her own words when the matter is of finding love. No doubt Samantha is one of the hottest stars in the business but isn't quite lucky when it comes to males.
This beautiful diva is single since she broke up with producer Christian Nilsson following seven years of their relationship. But never say Never. It looks like there is a new horizon waiting for her.
Goodbye to romance but dilemma to find a new one!
Samantha Jade had been in a relationship with Swedish producer Christian Nilsson and had even moved in together in Perth after she won X-Factor. Jade had intentions of getting married to him and had even plans for kids. But it wasn't meant to be. On a statement she gave to dailytelegraph.com.au back in 2013 daily she said;
"I want two kids, a boy and a girl if possible," 
Jade was single in 2014 following her long relationship with Nilsson. She even admitted to daily mail in March of 2014 that she is a loser as she said;
'I'm such a loser. I have been asked out, which is different from the last time we spoke, thank God.
she added;
'Only by two or three people, not many...'
Jade was in a dilemma of the fact that whether to start a relationship or not. In the same interview, she said;
'I've never really been on a date because I was with my last boyfriend for so long, now I don't know what to do.
It looked like she had a deep influence in her life following her breakup and couldn't get over the fact.
Rumors or is she Finally Dating Someone?
Jade had been linked with American singer-songwriter Zachary Poor as both were seen together in April of 2014.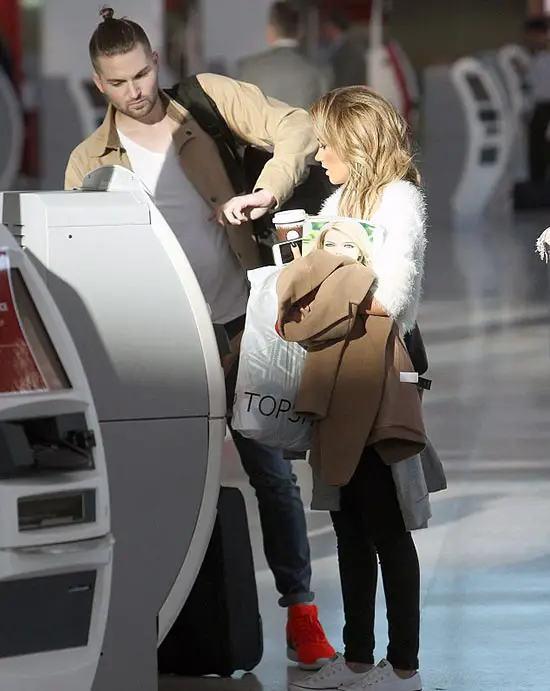 Caption: Samantha Jade and Zachary Poor spotted at Sydney Airport on 30th April 2014.
Source: INFphoto.com
Jade even wished Zac on her birthday through Instagram.
Samantha Jade openly admitted in 2013 to The Fix that she wish to have her dream guy following her break-up with Nilsson where she said;
"I would love to be taken to Paris by my dream guy with the shaved head," 
she further added;
 "I'd love for him to suggest we go on a shopping spree…and then he can carry my bags with his big arms. That's what they're there for!"
But it looks like she couldn't keep her words and that's the reason behind her rumors linking with Zac and Nic Westaway.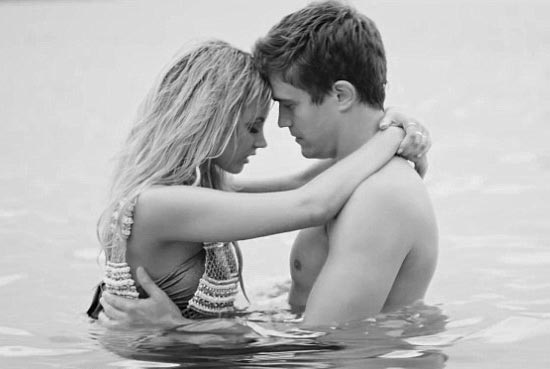 Caption: Samantha Jade and Nic Westaway in new music video 'Always.' posted on March 3, 2016.
Source: dailymail.co.uk
It looks like Samantha has found love following her new music video 'Always' this year. Samantha Jade, 28 is rumored to be dating actor Nic Westaway, 27, following their on-screen romance in the video.
The pair also plays as lovers in Australian soap Home and Away was seen romancing each other in the beachside frolic.
She told hosts Fitzy and Wippa in March of 2016 where she said;
"My character is a little bit crazy, but for good reason," "But there was no tongue, it is all acting. We had to take a few takes, and it happens a few times on the show."
she added.
"It finally looks like she has found someone and their romance in the video shows so. The only thing we can say is, go on Samantha."
Here is the music video where both are having fun and sharing an exotic chemistry. 
Caption: Samantha Jade and Nic Westaway's sizzling chemistry in a video 'Always.' posted on March 3, 2016.
Samantha Jade's Short Bio:
According to her wiki, Samantha Jade Gibbs was born on April 14, 1987, is a songwriter, actress, and an ARIA Award-winning Australian Singer. Jade won the fourth season of The X Factor Australia on November 20 of 2012, making her first female to win the series.
Her net worth is not disclosed officially, and she hasn't revealed it as well in any online portals but looking at her career so far she might have a hefty net worth through her profession.