Entertainment
Beautiful Singer-Songwriter Alannah Myles: Married, Husband, Boyfriend or Lesbian?
Alannah Myles is one of finest musician Canada has ever produced. Although it took a long time to make her mark in the music industry, in the end, Myles achieved great success in her musical career.
This Grammy winner is a pioneer in the field of music industry. Myles did have an on and off affairs and boyfriends, although she didn't utter a word about it. And so who were his boyfriend? Is she married?
Early Career:
Alannah Myles was born in a superior family to one of the pioneers of broadcasting William Byles. She was indeed determined to be one of the greats from her childhood days as she begun to play guitar by the age of 11 and write lyrics at the tender age of 15.
Myles started her professional career as a singer when she began to sing in Southern-Ontario clubs at 19. That was the time she changed her surname to Myles. Her role models included Joni Mitchell, Linda Ronstadt, and the Rolling Stones. She was blessed with a rock voice strong indeed and had a charismatic stage presence.
She signed her first record contract with Atlantic Records in 1987 with program director being Christopher Ward, her then boyfriend. Soon then she became a model and singer. She also appeared in an episode of "The Kids of Degrassi Street" in 1984.
Success in debut:
She was rejected by Canadian record companies firstly, but then Myles was given contact by Atlantic Records of New York in 1988. Moreover, she released her self-titled album in 1989 which was her debut album as well. Her debut album was a huge hit where it sold more than one million copies and that too only in Canada being the only debut Canadian to do it.
It also sold more than 6 million copies worldwide, which made it one of the most successful Canadian albums of all time. "Black Velvet" song was a No. 1 hit in many countries, including in US charts and courtesy to that Myles won a Grammy Award for Best Female Rock Vocal Performance. She also received Juno Awards in 1990 for Most Promising Female Vocalist and also included Single of the Year and Album of the Year.
Although Myles's second album, Rockinghorse (1992) wasn't as hit as the first one, it was a double platinum in Canada. The album had listed the No. 1 hit "Song Instead of a Kiss" which earned her Juno nominations for Single, Female Vocalist, and Album of the Year, as well as it made Grammy nomination for Best Female Rock Vocal Performance.
Boyfriend and Dating or Lesbian?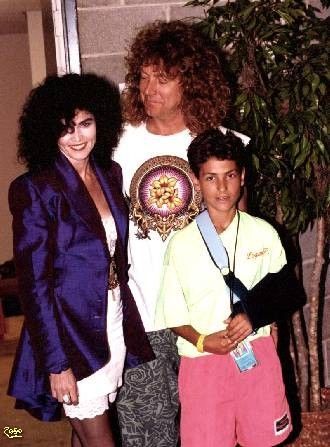 Caption: Alannah Myles and Robert plant in a picture together.
Source: famousfix.com
Is She Married? Husband?
It is no secret that Alannah Myles dated a music arranger Robert Plant back in days. Both of them dated each other in 1990. Alas, they were only as a girlfriend and boyfriend but were never as a husband and wife.
There are no shreds of evidence of her being a lesbian. She is not married as her website says:
"Alannah was and will always be married to her music."
Alannah Myles (born December 25, 1958) is a Canadian singer as well as songwriter. In 2009, she released a new version of her worldwide hit single "Black Velvet." She has no dates scheduled for the concert at the moment; her website notifies that she is available for gigs. Myles net worth is $5 million dollars.