Entertainment
Being Openly Gay, Seimone Augustus Married in 2015 with her Lesbian Girlfriend: Also her Career and Salary
Either through her off-court exposure as openly gay or her stellar show of basketball caliber at court, Seimone Augustus, an American Basketball player with Minnesota Lynx and U.S national team, has always entertained herself with a remarkable share of the limelight.
She has come a long way from being dubbed "The Next Michael Jordan" as a high school student to building up a legacy of hers in WNBA fraternity.
Let's have a glimpse at her meteoric rise of the basketball career.
Making of the Current Basketball Sensation: Seimone Augustus
The renowned guard and forward hails from Baton Rouge, Lousiana having born as the daughter of Seymore and Kim Augustus on April 30, 1984. Standing on 6 feet, she was already a star in her Capitol High School when she was featured on the cover of Sports Illustrated for women under the heading: Is she the next Michael Jordan?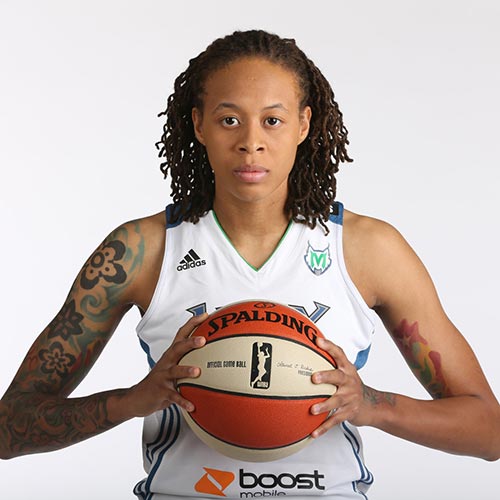 Caption: Augustus in Sports' Illustrated cover.
Source: wikimedia.com
During her stay at Capitol, she was named a WBCA All-American and MVP of the 2002 WBCA High School All-America Game.
Caption: Know more about Seimone Augustus!
Her collegiate career was even more successful as she made a significant impact on the LSU Lady Tigers who retired her jersey number 33 to make her the first female athlete to earn it in School history. At the end of her 140 appearances for LSU, she has accumulated 140 points averaging 19.3 points per game.
The accomplishments at college earned her a no.1 draft by the Minnesota Lynx in 2006 and would go on to win the Rookie of the year. On the contrary, her team fails to accompany her success ending up with the league's worst record.
Caption: An interview of Seimone Augustus!
Brief encounters with injury and medical issues threaten to hinder her career, but she came back stronger with MVP performance after a year and half of setback to lead the Lynx to the 2011 WNBA Championship. The six-time WNBA All-Star would add another two titles to the team in 2013 and 2015 respectively.
She was also dragged into a kissing controversy when Mercury's Diana Taurasi apparently kissed The Lynx's Augustus in cheek during Western Conference Finals game.
During off seasons, Augustus has played around the globe, including Russian Dynamo Moscow and Turkish Galatasaray.
Augustus is the significant constituent of her national squad and has pulled off her role impressively in their course to two Olympic (2008, 2012) and a World Championship triumph.
Knowing about Simone's Married Life and Wife:
You must be pretty aware of how Augustus doesn't hesitate to mention about her lesbian status and is one of few bold LGBT athlete to do so. And she has taken it to whole new level after marrying her long-time girlfriend and an aspiring actress LaTaya Varner in 2015.
The two had been dating together since they meet in a Minneapolis club in 2006. Following Augustus' proposal with the ring in Miami in 2010, they have been engaged until they decided to tie the final knot.
In a coastal themed ceremony held in Hawaii in September 2015, Seimone exchanged lies with his wife surrounded by some 15 guests in a traditional fashion.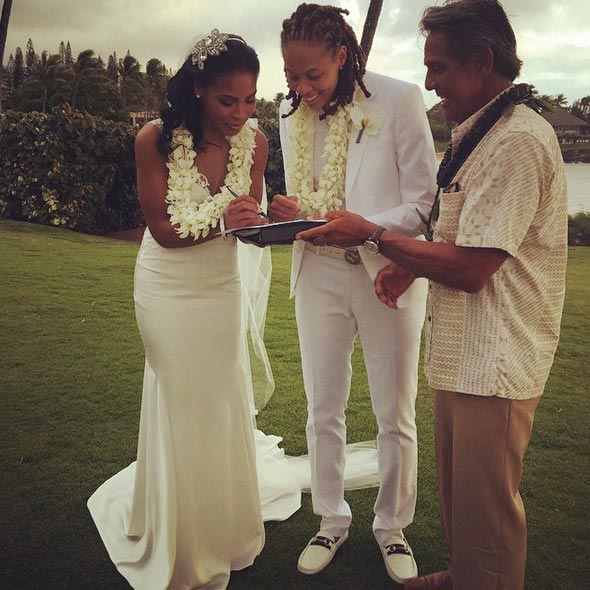 Caption: Simeone and Varner at their wedding.
Source: timeinc.net
She feels her relationship is as normal as everyone's, "My relationship is just as normal as anyone else's. I go about my day the same way anyone else would -in the same way, a heterosexual couple would go about their day. I wake up in the morning. I tell my wife I love her. I go to work. I come home. We cook dinner together. This is normal. As any husband would love his wife, or any wife would love her husband -that's the same way I love LaTaya."
Having lost her uterus to fibroids in 2010, she is left with a gestational surrogate as the only alternative to giving birth. However, she dreams of being a mother someday.
What is her Net Worth and Salary?
The thirty-two-year-old has accumulated whopping net worth of $2430000, thanks to the annual salary of $ 270000 and other lucrative endorsements.
100th Game for USA Basketball Team and Misery:
What a moment it was meant to be. Lynx star Seimone Augustus celebrated 100th game for USA Basketball with team's 105-62 victory over China. She scored 10 points on 5-for-7 shooting and also assisted five times as the U.S. made the constant lead and cross-court pass against China. She played for the USA in Rio Olympics and on another hand there was flooding in her hometown of Baton Rouge, La., which forced her parents to evacuate. Well, Augustus was crying in the game.
"I'm sorry," she said. "I'm trying to control my emotions."
"My parents actually had to be boated out yesterday," she said. "They're safe. Everybody's safe."
Weights on Lady Tigers!
After a nightmare and injury-riddled campaign in 2016, the LSU Lady Tigers appear to be heading towards a NCAA Tournament appearance in 2017. The Lady Tigers are 20-11 overall in March of 2017 and flip-flopping their horrific mark of 10-21 from a year ago.
Well, that's vast improvement till date, and it still isn't approaching the glory years spearheaded just yet by former Capitol High School as well as current WNBA star Seimone Augustus. During Seimone Augustus' days as a Lady Tiger in 2002-03 seasons through 2005-06, LSU was 121-19 overall and 48-8 against SEC opponents. It also including a perfect 14-0 conference mark during team's 2004-05 campaign.
LSU Lady Tigers reached the Elite 8 during Seimone Augustus' freshman year before LSU soared to three back to back Final Four appearances to close out Augustus's collegiate career.
Moreover, Augustus recently paid a visit with the WAFB-TV Sports team in Hammond, Louisiana during the girls' high school state championships. She also shared her thoughts on the current state of LSU women's basketball and where the Lady Tigers are heading.
Seimone Augustus's Short Bio:
Seimone Delicia Augustus (born April 30, 1984) is an American professional women's basketball player who plays for the Minnesota Lynx of the Women's National Basketball Association (WNBA), Dynamo Kursk from Russian Premier League and the U.S. national team.
Augustus has won three WNBA with Lynx and also has earned MVP honors with Lynx, first being in 2011 WNBA Championship. In early days, Augustus played for Capitol High School in Baton Rouge, Louisiana, where she was named a WBCA All-American.
In 2006, Augustus was drafted No. 1 overall in WNBA Draft by the Minnesota Lynx. She would later win three titles with Lynx. Augustus is a member of U.S. women's basketball team in Rio Olympics previously winning gold in 2008 and 2012 Olympics.