Entertainment
How Old is Bella Robertson? The One with The Sibling Squad
Siblings share a unique bond with each other; teasing, irritating and fighting with one another while growing up would become a beautiful memory to cherish forever. 
An American child actress, Bella Robertson knows the feeling well as she is blessed with a delightful family of four siblings. 
Although some of her siblings are adopted, they share an amazing relationship. 
So, if you want to know more about them, then keep on reading as this short wiki-like bio is dedicated to the budding actress and her siblings!
Everything You Want To Know About Bella Robertson:
An American child actress, Bella Robertson was born on September 16, 2002, in West Monroe, Louisiana of the United States. 
The youngest daughter of famous TV stars, Willie and Korie Robertson, who is now 15-years-old, took her first step in the world of acting through 'Duck Dynasty' at the age of 9.
The famous American reality series, 'Duck Dynasty,' is all about the Robertson family starting from Bella's grandfather Phil, her grand-uncle Si, her father, Willie, and her two uncles, Jase and Jep, including others. 
The series was aired till eleven seasons, which was the series of 130 episodes aired from March 21, 2012, to its one-hour series finale episode "End of an Era" on March 29, 2017.
The series featuring the Robertson family was a massive hit, and on March 29, 2014, Bella including her parents and siblings was spotted together in the 'Nickelodeon Kids Choice Awards.'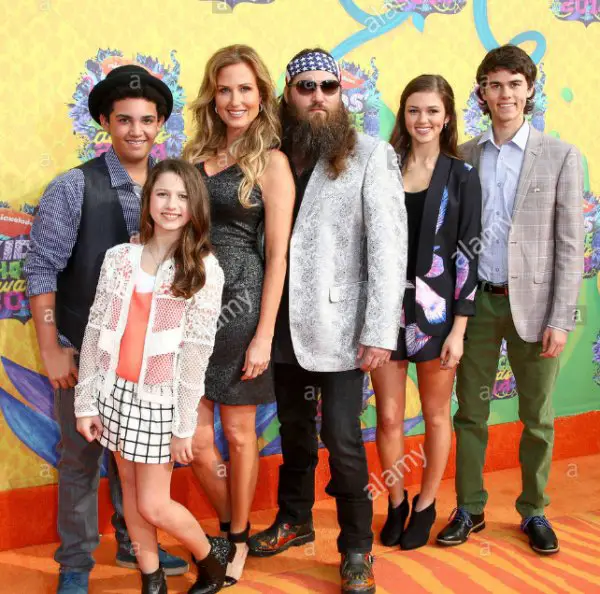 Caption: Bella Robertson pictured at Nickelodeon Kids Choice Award with her family on March 29, 2014.
Photo Credit:  Alamy
Bella's appearance in 'Sauvignon Beard,' one of the episodes of 'Duck Dynasty,' got her a lot of appreciation and she even landed a secondary role in the year 2016. 
She portrayed the character of 'Anna' in the inspirational biographical film 'I'm Not Ashamed' that was released on October 21 of the same year.
Besides her professional career, Bella belongs to quite an interesting family as she has four siblings and eight cousins. 
Among her siblings, Will and Rebecca are adopted whereas John and Sadie are her biological brother and sister; while her cousins are Mia Robertson, Cole Robertson, Reed Robertson, River Robertson, Merritt Robertson, Priscilla Robertson, Jules Augustus Robertson and Lily Robertson.
Bella's eldest sister, Rebecca Lo, is a foster daughter of her parents and has been living with them since Rebecca came as an exchange student from Taiwan. 
Her older brother, Willie Jr., was also adopted when he was five weeks old. The siblings even created a Duck dynasty family album back in 2012 that showed their bond with each other.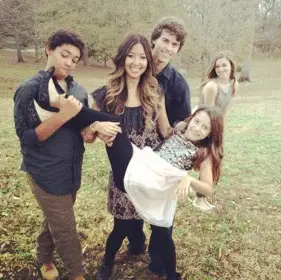 Caption: Bella being carried by her siblings while posing for a picture.
Photo Credit: starcasm.net
When Willie, who has a net worth of $20 million, was asked if he would be open about adopting another child, he said,
"Sure. There are plenty of kids who need homes. That's why we're all here. We have adopted children and we have natural children … and there's no difference between them."
The Adoption Gala in Washington, D.C awarded the Robertson parents, Willie and Korie. Further, Korie turned her emotions into words and shared her feeling for their son Will as, 
"From the moment we found out about [Will], he was ours. I swear, I had labor pains the night before I went and picked him up at the foster home he was living at. He's our child, just like our biological children."
In January 2016, Korie posted a family picture on Instagram, which raised curiosities among the fans, as there was a new member added to the frame. 
Although the family didn't disclose the name, Korie did mention that they were all thrilled to have a new member to their family.
Bella, who has reached the appreciable height of success, shares a great bond with her family members, and the young star certainly proves that the connection between the hearts is enough to become a family!