Entertainment
Ben J. Pierce Coming Out Gay In Style At Young Age; Has Large Family Now
Confidence is not a destination; it's a journey!
Indeed, well said by American YouTuber Ben J. Pierce, who is on his journey to be confident on his gay sexuality while flaunting his personality out in the social media with style.
Ben, also known as Benny, is famous for his make up tutorials and is one of the icons of the LGBT family already at the young age of 17. If, you want to get acquainted with his journey from being a stressed child to a proud gay activist, follow us in!
Finding Interest In Make Up
Ben, who celebrates his birthday every 20th February, first found his love for women's clothe and makeup at a very young age when his toddler sister made him and his brother played the dress up game with her.
Though his brother hated the idea, Ben secretly liked the game. Afterward, when Ben got into acting and had to wear makeup, he fell in love with makeup and started experimenting with his sister's and mother's makeup accessories.
He used to lock himself in the room and feel comfortable while putting on the concealers and foundations.
Later, when he did the makeup on a daily basis and started going out with those on, many of his friends bullied him and made rude comments. He has even talked about the issue in his video, Why Boys CAN'T Wear Makeup.
In the video that was uploaded on 11 January 2016, Ben states that clothing and makeup had to do nothing with being a girl or a boy. He says,
Clothing and makeup have no gender and even if they did, gender expression is not something to be held within a binary system
Ben also talked about his make up videos in the interview with Popsugar in April 2016. There he revealed that he was his bully since his childhood as he became hard on himself to fulfill other expectations.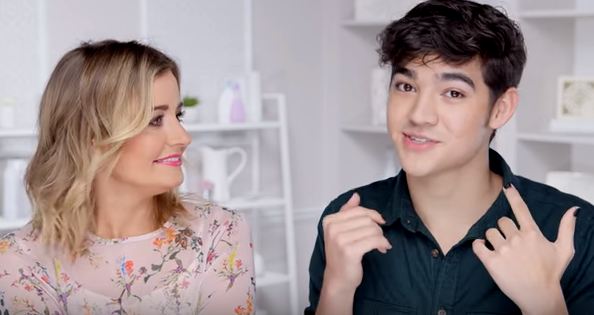 Ben J. Pierce during the interview with Popsugar on 13 April 2016 (Photo: Youtube)
He admitted that he is still nervous when he goes out with makeup and is working to be confident with all the things. Lastly Ben asked his fans to surround themselves with good people to have positivity and encouraged them not to worry about things that don't matter.
With his confidence grown with the supporters he amassed from his make up videos, Ben finally admitted to being not straight and became a voice to millions of people like him.
Coming Out As A Gay
Texas-born-Ben wrote an essay about coming out as a gay for the first time and published it in the Popsugar magazine on 3 June 2017. In the documentary, Ben shared all his insecurities of being a gay person writing that he was always scared by other people's possible perception.
He detailed that the gay influencers on the internet became his saving grace as they encouraged him to come out and made him feel that he was not alone. He wrote that the positive comments and the support that came after he first released his music video, Little Game, related to people who were not straight, inspired him to speak out for the people like him.
Ben admitted being proud and grateful to be himself while he feels LGBT community as home.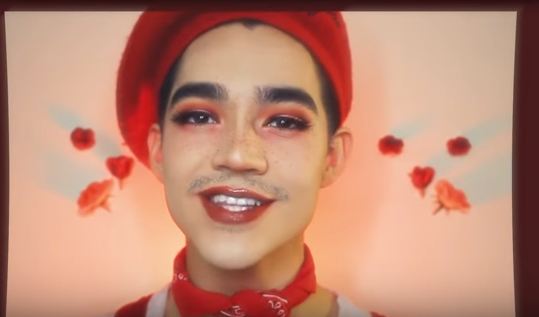 Ben J. Pierce with his Naughty List Red Makeup on 19 December 2017 (Photo: Youtube)
Ben also took his coming out news on 6 June 2017 via a youtube video that he titled as Sincerely, an internet gay boy (coming out). There Ben revealed that he has finally discovered himself to be a gay and said that he is genuinely in love with his soft part that he once thought was rejected.
With more than 200 K subscribers on YouTube, Ben has indeed been an inspiration to so many people and is on his way to inspire more. And possibly, due to his sheer determination of being an icon, Ben is miles away from having a boyfriend or being tangled in any relationship.
He has not been romantically linked with any person till date and appears to be single for the current time.