Entertainment
Benjamin Flores Jr. Rising To Immense Heights! Meet The Young Actor's Parents
Benjamin Flores Jr. Rising To Immense Heights! Meet The Young Actor's Parents The American actress, as well as rapper Benjamin Flores Jr, gained immense popularity at a very tender age.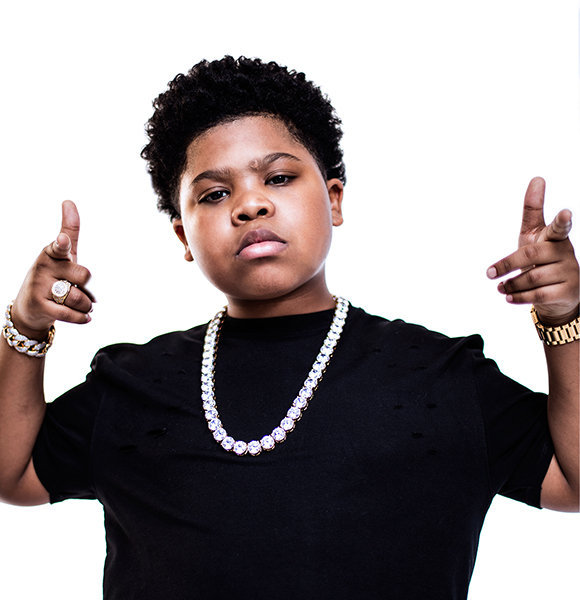 Everyone is ambitious towards being a widely renowned person and raising one's stardom. However, it is really eye-catching when a child who rarely speaks a word gains immense popularity.
The American actress, as well as rapper Benjamin Flores Jr., gained immense popularity at a very tender age.
Let 's put some energy to focus on his height of stardom along with his family detail.
Benjamin Flores Jr., Accumulating Public Esteem
When Benjamin Flores Jr. who is also known was Lil'P-Nut first started rapping, his father didn't emphasize on his rapping skills. But, when people started appreciating and complimenting Benjamin's skills, his father decided to enroll Benjamin in the 'New Daisy Theatre Talent Show.' Later on, Lil P-Nut turned out as a winner of 'New Daisy Theatre Talent Show' at the age of 5. Becoming a winner of that show was his ignition for his career in the musical realm.
Two years later, Benjamin's performance on 'The Ellen DeGeneres Show' helped him to be exposed through local news channel broadcast. Furthermore, in the same year, Lil' P-Nut sang 'You Might Be the One for Me,' an original love rap which made the audience wild.
 'You Might Be the One for Me' by Benjamin Flores Jr. (Published on Sep 8, 2010)
Despite Benjamin's musical journey, he stepped ahead in an acting realm as his hip-hop videos were widely disseminated on YouTube.
Then after, Lil P-Nut made his debut in big screen as Atticus, the rapping penguin in 'Happy Feet Two,' which grossed over $150 million worldwide. Apart from that, he also appeared in an episode of the TBS sitcom 'Are We There Yet?'. By the age of 8, Benjamin had already left his mark in the realm of the entertainment world.
Moreover, he rose to stardom after portraying Louie Preston in the Nickelodeon shows 'The Haunted Hathaways' from 2013 to 2015. Apart from this, he also got involved in projects like 'Ride Along,' 'Santa Hunters,' 'One Crazy Cruise' and 'Henry Danger.'
Benjamin carved his stardom at the very young age with his skills and dedication towards rapping and acting. However, there is also another quality which worked as a catalyst while carving his career. He has a charming and mature personality because of which he can easily mingle with every category of people. 
He is a paradigm for every child as he has achieved massive popularity at such a tender age.
Benjamin Flores Jr. was born in Memphis, Tennessee, the United States on July 23, 2002, to the parents Benjamin Flores Sr. and Tyisha Hampton. Lil P-Nut who stands at the height of 152.4 cm has one sibling named Melissa. Currently, he resides in Burbank, California along with his parents. He and his older sister, Melissa has always been homeschooled and completed his middle school education in May 2016.
As  Benjamin is involved in music and acting industry, he probably owes an adequate amount of finance. However, he remains veiled regarding his net worth.