Entertainment
Beth Moore's Balanced Family with Her Husband of Four Decades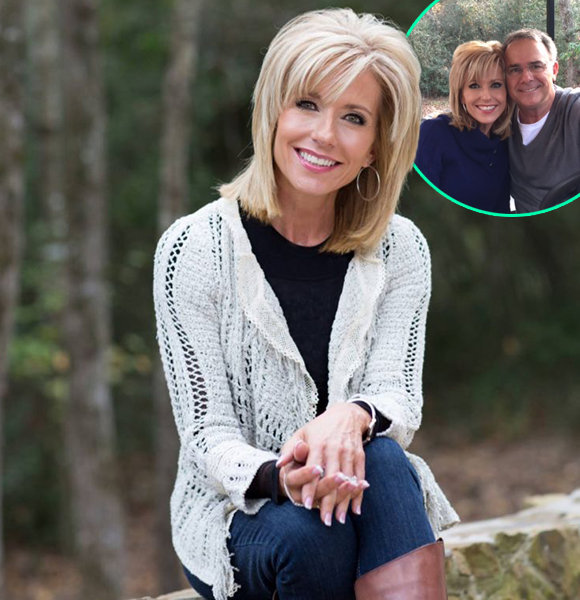 American Evangelist Beth Moore is the founder of a Bible-based organization for women known as Living Proof Ministries in Houston, Texas.
Along with this, she has also written numerous books and Bible studies.
With her organization, she has spread the faith of God to over fifty states with live conferences. Well, on her path to god, she is not alone, for her whole family accompanies her on the way to god; husband and daughters. 
In addition to it, Beth Moore's children are also following their parents' footsteps taking legacy to the generations.
Beth Moore Preaching with Her Husband & Kids
Beth was born as Wanda Elizabeth Green was born as the fourth child of five children to a father, a retired army major, and a homemaker mother, on 16 June 1957.  
Beth graduated with a degree in political science from Southwest Texas State University and later received an honorary doctorate in humanities from Howard Payne University. 
From the young age of 18, she dedicated her whole life to serving and preaching the god.
And it's while preaching that she also got to meet her soul mate, Keith Moore.
By the age of 21, she got married to her husband Keith Moore in 1978. Soon after their marriage, the husband and wife welcomed the two beautiful bliss of god named Amanda and Melissa.
The whole family is committed to preaching about god. The husband-wife duo has served 40 years of their marriage to God.
Talking about her husband with christianitytoday.com in April 2018, she recalled,
"My husband has zero tolerance for pretense, self-righteousness, or self-promotion. In the early days of our marriage, he called out every hint he saw with complete disgust."
Similar to the other normal couple, the two servers of god, Beth, and Keith, enjoy spending their vacation traveling, hiking, drinking coffee on the back porch, making each other laugh, eating Mexican food, walking their dogs, and being grandparents.
Children Following Parents' Footsteps
Since the couple has been married for the last forty years, the fleas of the dispute and divorce have not been questioned in their life.
Beth took to Twitter in April 2018 with a long message which depicts her opinion on divorce.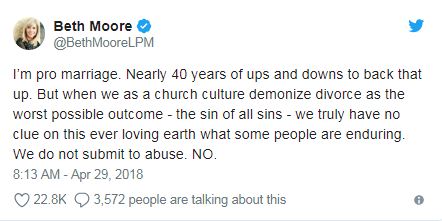 Beth Moore talks about marriage and divorce (Photo: Beth's Twitter)
The couple's two grown daughters, Amanda and Melissa, are also involved with Living Proof Ministries.
Their daughter, Amanda, serves on the board of directors, whereas Melissa works as the full-time co-teacher and research assistant and sometimes also works as a co-writer for the organization.
Similar to their parents, their daughter also worked for the god. Melissa graduated from Wheaton College with a Master's degree in Biblical Exegesis.
Beth served HFBC for more than 25 years and was also regarded as her home until her son-in-law Curtis Jones launched Bayou City Fellowship in September 2011.
And both husband and wife, Beth and Keith, are joyful members of Bayou City Fellowship in Houston, where their son-in-law is a head pastor
Beth, who is quiet about her salary, has also appeared on the television program Life Today with James and Betty Robinson as the preacher of God and teaches Bible study.
Along with this, she began a radio ministry called Living Proof in 2004.
Well, the New York Times bestselling author Beth, who is yet to reveal her net worth, leads her life following the path of god.