Entertainment
WNBA Star Elena Delle Donne: Coming Out To Stunning Wedding With Amanda; Salary & Stats - All Details!
Elena Delle Donne was always destined to be a great basketball player as she is proving today. The 2015 WNBA MVP is tall, strong and skillful. Considered the most versatile woman in WNBA by her 7-time All-Star, Cappie Pondexter, Elena was the best Free Throw Shooter in 2015 (both WNBA and NBA). So, what does the future hold for this 6 ft. 5 inches WNBA All-Star?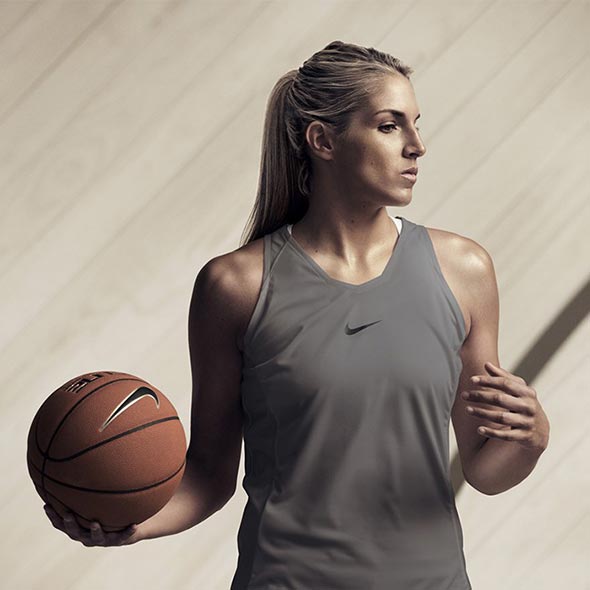 American professional basketball player for the Washington Mystics of the Women's National Basketball Association (WNBA), Elena Delle Donne, has found love and is happily married to the person she holds close to her heart.
Elena, who was previously surrounded by boyfriend rumors, has shut all the rumors as she came out of the closet revealing her sexuality. 
Indeed, Elena has finally accepted and revealed her bisexuality and has come forth with her girlfriend-turned-wife. As of now, after a romantic engagement, Elena is happily married.
Proposal One Cannot Reject
Olympian Elena Delle Donne, who had a standout career at the University of Delaware with her amazing stats, is a focused, steely-eyed beast on the basketball court, but while with her lover she is the soft-hearted person with soothing eyes.
Elena has been romantically involved with the love of her life, Amanda Clifton, for almost five years now. Elena was first introduced to Amanda back in June 2013 through her best friend, Meghan McLean, during her rookie season with WNBA team Chicago Sky.
The pair shared the mutual feeling since the moment they met. The couple even shared mutual interests which made their relationship stronger. According to Amanda, she fell in love when she and Elena were spending time together in Elena's home and Amada had to leave during the weekend to see her family.
During that time, Amanda could not make her way out of the house as she wanted to be there with Elena for a little longer. The exact moment she realized she had fallen in love with Amanda and is willing to spend the rest of her lives with her.
As they were dating, Elena was planning to propose Amanda but her surprise Amanda first popped the question back in June 2016. Prior to their engagement, they both remained utterly silent regarding their relationship.
Elena, who has the maximum salary in the neighborhood of $107,000 per year, had most wonderful proposal from Amanda which she could not say no to. Elena was presented with a ring which was hanged on the collar of her pet dog and Amanda got down on one knee and asked her to marry her.
It turns out, Elena was planning her own scheme for the proposal which she flawlessly executed a few weeks later. Elena had planned an intimate eight-course dinner at home with their favorite foods. At the end of the meal, Elena brought out their pet dog Rasta, donning a wedding veil along with a sign that read as "Marry me?"
Well, after their engagement Amanda and Elena both revealed their relationship publicly and were eagerly looking forward to exchanging the marriage vows. 
Wedding Moments
After a flawless engagement plan, the brides-to-be were looking forward to planning their big day together. Both the girls were pulling time off their schedules to share some moments while planning their wedding. 
Both Elena and Amanda worked tirelessly with Brooklyn, New York-based wedding planner Jove Meyer to plan their personalized wedding which was centered around friends, family and giving to the community. Turns out both the pair asked their guests to donate as their wedding presents.
After much work, the couple finally exchanged their wedding vows on 3 November 2017. The pair had the wedding ceremony held at Hempstead House in Sands Point, New York. Their wedding was also announced as the 2017 Dream Wedding Couple.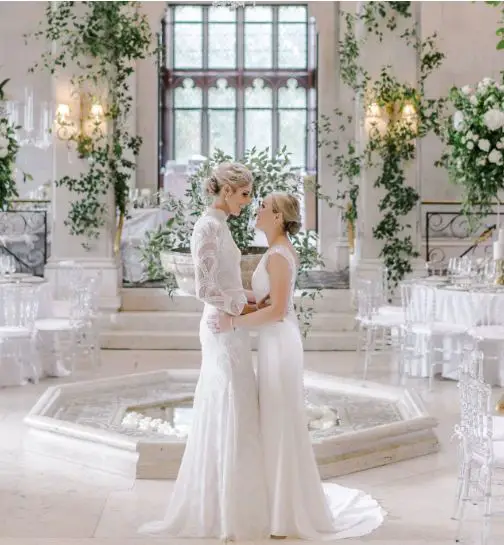 Elena Delle Donne with wife Amanda Clifton on wedding day on 3 November 2017. (Photo: washingtonpost.com)
Well, indeed, the pair had their dream wedding surrounded by their designated guests, family, and close friends. In March 2018, Elena Delle Donne, who was recently named WNBA Eastern Conference Player of the Week, talked about her partner and dating to The Players' Tribune while releasing her new books.