Entertainment
Beverly Johnson is Now Dating! A Perfect Partner After Divorce with Husbands
Marriage is a small word which comprises almost all the emotions, be it love, respect, trust, understanding, friendship, or loyalty. This bond takes a strong commitment to hold onto it. However, it doesn't guarantee you will be unitedly forever.
The above statement perfectly justifies the supermodel Beverly Johnson, who called it quits with her husband and has moved on to another partner again.
But has the new man been the perfect match for Beverly Johnson? Keep on reading to find that out!
A Perfect Partner After Divorce!
After plenty of wobbly relationships, Beverly Johnson, one of the first African-American fashion models, has finally found her perfect match with the Chairman and CEO of Whitestone Capital group, Brian Maillian.
During an interview with AARP magazine in 2014, Beverly Johnson opened up about her new partner Brian Maillian, saying:
The intimate feelings you had when you were younger can still be had if you're interested in love. My partner, Brian Maillian, is about my age; that's unusual because I usually dated younger men. It's wonderful to have a companion at the same place in life as me.
Later in July 2015, Beverly Johnson was spotted with her fiance Brian Maillian and his family at Ritz Carlton Marina Del Rey. Beverly Johnson later shared an image with Brian and his family on Twitter.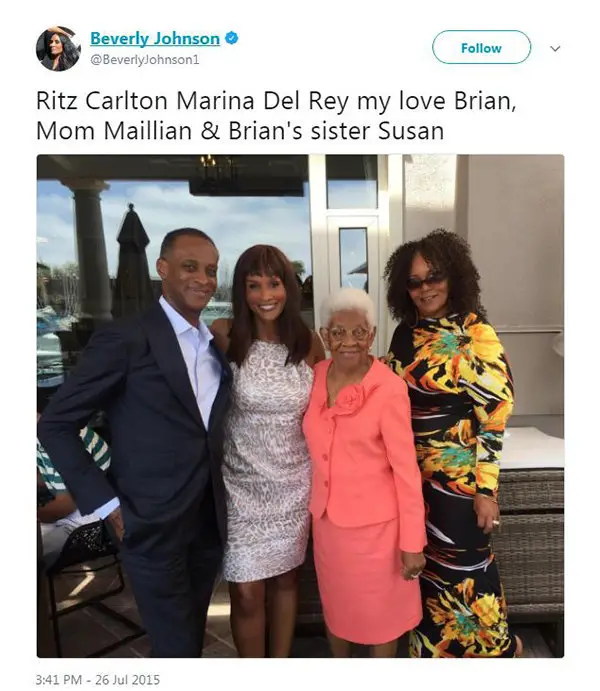 Caption: Beverly Johnson and Brian Maillian with his family.
Photo Credit: Twitter
After a year in November 2016, Beverly Johnson Louisiana tweeted a picture of Brian Maillian and his grandmother.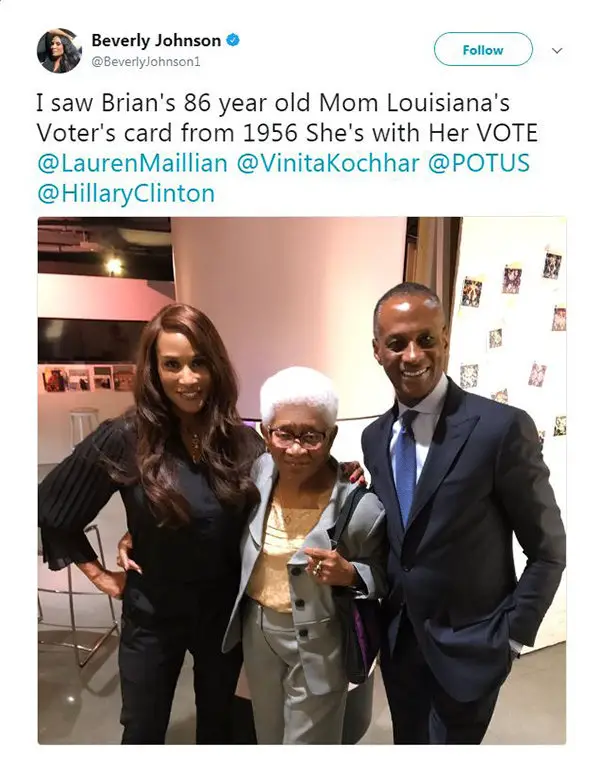 Caption: Beverly Johnson(left) and Brian Maillian(right) with his grandmother Louisiana(middle)
Photo Credit: Twitter
With Beverly Johnson's tweets, it seems she maintains a healthy relationship with Brian Maillian's family as well.
Subsequently, after a couple of months in March 2017, Beverly Johnson took it to Instagram, hinting slightly that her relationship with Brian Maillian might go a long way.
Again on 2017's Valentines Day, Beverly Johnson uploaded a picture with Brian Maillian, expressing her love for her beau.
The couple is yet to confirm their plans to getting married, but looking at the images Beverly shares, it is assured that Beverly Johnson has finally found the perfect match for her after a long time!
Before Brian Maillian, she dated many men, including Billy Potter, Danny Sims, Chris Noth, Chuck Norris, Dustin Hoffman, Mike Tyson, Arthur Ashe, Jackie Jackson, Benny Medina and Flavor Flav.
However, Beverly Johnson got married to very few. Her first marriage was registered in 1971 with her then boyfriend Billy Potter, but their association lasted for only a couple of years,i.e., till 1973. 
Nearly after three years of divorce, Beverly Johnson got married to her second husband, the famous music producer Danny Sims in 1977. The duos Beverly Johnson and Danny Sims conceived a daughter, Anansa Sims before separating in 1979. 
When the couple's divorce was finalized, Beverly Johnson lost custody of Anansa and felt restricted from seeing her daughter. However, in 1992, Anansa Sims decided to live with her mother, Beverly Johnson, and she has been staying with her mother till this date.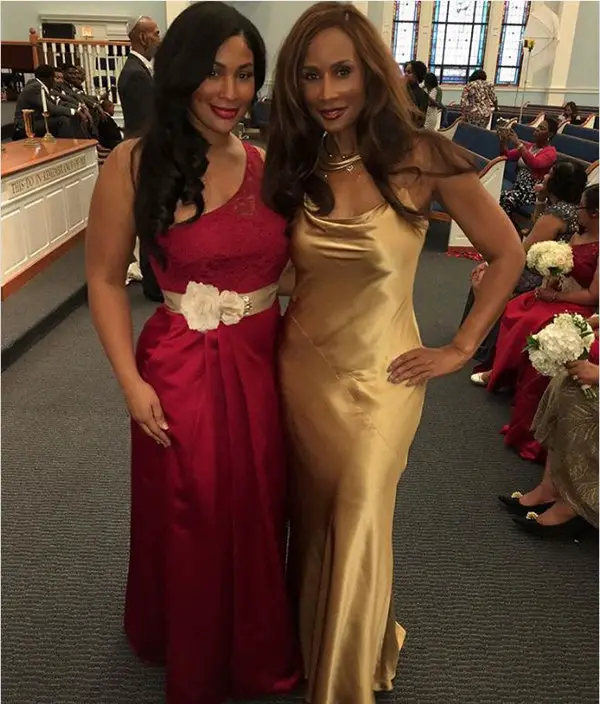 Caption: Anansa Sims(left) and Beverly Johnson(right)
Photo Credit: bossip.com
After so many peaks and valleys in her life, Beverly Johnson seems pretty much happy now with Brian Maillian, who might be her perfect partner!