Entertainment
Bill Pullman Keeps it Strong With Wife and Children! A Man Perfectly Balancing Work and Family
American actor Bill Pullman is someone who has been perfectly balancing the two most important fronts of his life, professional and the personal life.
Bill shares an impeccable love bond with his family, which includes his wife and three children, while on the other hand, his professionalism is at its best and gets reflected in his career till date. Today, let us address these fractions of Bill's life and shed more limelight on them.
The Adorable Family Life of Bill Pullman: His Wife & Children:
Bill Pullman is married to his wife Tamara Hurwitz since the 3rd of January 1987, and the love between them has been getting stronger and better with time. The couple is also blessed with their three adorable children; daughter Maesa Pullman (28), and sons, Jack (27) and Lewis Pullman (24), to bolster their love.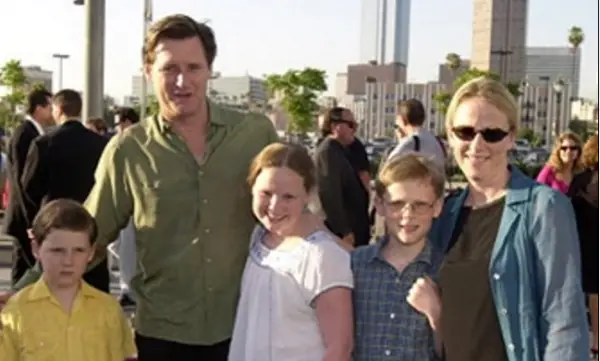 Caption: Bill Pullman and his family including his wife and kids.
Photo Credit: gettyimages.com
The relationship he shares with his family has been hidden from the spotlight, but in an interview in 2011, he shared some details about them.
Speaking of the pros and cons of being an empty nester, he said,
The best part of becoming an empty nester is a certain kind of freedom. For instance, we will be able to travel in the fall, when we used to be tied to the school schedule. The worst part is I'll miss making lunch for Lewis. The kids always prepared their own lunches, but the last few years, I got soft and packed Lewis's lunch every day. I liked the ritual, and having a connection to him midday.
Also, speaking of his favorite dad moments, he shared,
the destabilizing ones when things aren't going well. I like those crisis moments — if you're on top of it and don't get pulled under by panic and fear, it's a very bonding thing.
He then added,
The secret to a happy marriage is being able to share a perspective about what we want to do — and also supporting each other.
He continued,
Our typical Saturday night involves getting as much culture as we can — dance concerts, theater, music. And on Sunday morning, it's the farmers' market for Tamara. I love to prune. I have a physical need to do things.
Bill then concluded,
My wife is always amazed that I wake up as soon as it gets light. [As kids,] we all worked on a dairy farm in the summer, so I've always done it.
It's loud and clear from what he stated about his family that they share a profound connection and love with one another. They definitely are family goals!
Moreover, referring to the above statements, you might also have figured out, Bill worked on dairy farms when he was young.
His parents James and Johanna bought a $1,000 tree farm close to their home in 1953; the same year Pullman's parents conceived him.
They spent their summers on the ranch, where the young and youthful Pullman figured out how to plant trees and function on a dairy farm.
A Short Wiki-Like Bio of Bill Pullman:
Born in Hornell, New York on December 17, 1953, William James "Bill" Pullman is a 63-year-old American actor. He is best perceived for his work on successful projects like "Ruthless People," "While You Were Sleeping," "Spaceballs," "Casper," "Independence Day" and "Lost Highway."
As a reward for his triumphant career, he has a top-notch looking finances; backed up by a dazzling net worth of $18 million.
Additionally, some sources revealed about the actor's death being circulated to few people. Fortunately enough, it was just a hoax, and Pullman is still alive and kicking. However, it's loathsome how people could use serious issues like 'death' for grabbing attention.
Stay with us for the emerging updates on Bill Pullman!