Entertainment
Bill Raftery And His Wife's Relationship Is Something Beautiful; A Man Who Always Makes Time For Family
The love and support of the family are what drives a person to achieve greater heights in his life, and that is why a person's family is the thing that matters most to him.
Sharing a similar thought is the popular analyst Bill Raftery, who is not only well recognized in his career, but is equally known to be a perfect family man who has been managing ample time for his family including his wife and children.
Let's take a closer look and see what the analyst puts up to in his family life!
Family Man Bill Raftery Always Is There For His Family: A Perfect Family Man:
American basketball analyst Bill Raftery, who is also known as a former college basketball coach, needs no second introduction when it comes to this amazing sports as he has made a name for himself in the great game; be it via his work as an analyst or his work as a coach. 
Back in 2015, he got the opportunity to call his first Final Four for TBS and CBS, and he was 73 when he got the chance to do such. Bill expressed,
"When you don't expect something and it happens, I think fortunate is the word. You hang around long enough, someone says, 'Let's give that donkey a shot.' "
It showed the entire world that he is not backing down from his work anytime soon and this shows how dedicated he is towards his work. But when someone has dedicated his life towards his work, he tends to leave his family and give them less time.
But this is something which Bill has handled well, as he has always been giving his family ample time. Bill is married to Joan, and the couple has been blessed with a married life of 48 years now.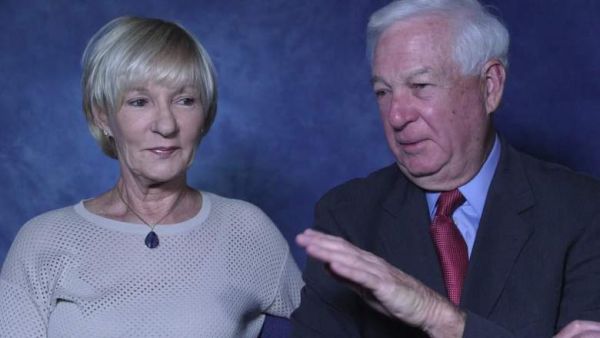 Caption: Bill Raferty who has been married to his wife Joan for close to 5 decades always had time for his family.
Photo Credit: heavy.com
Everybody might be thinking how Bill managed ample time for his family and what better way to know that from his wife, Joan, right?
Back in April this year, Joan shared how the man always had time for his family and how he always was there for the kids and her.
"He always made time for us and always made us part of his time,"
She added,
"He would take the kids to the gym on Saturdays, they would go to his camps. And it's true about the beach. He hates getting sandy. He used to put towels down all the way to his spot."
But their relationship also has witnessed some lows in the past, as reportedly, the two broke up for two years while they were dating each other only to get back together.
Raferty reasoned for the break-up and said,
"She finally realized I was a nitwit and we broke up," 
Joan then added,
"I didn't think it would work. He called me; he hadn't changed, but for some reason I still loved him. So we got married and the rest is history."
The rest indeed is a history, as they have been living a blessed married life and equally gratifying family life till date.
His family consists of his wife Joan, with whom he has been married for close to 50 years, four kids- three daughters named Kelli, Christi, and Suzi and only son, Billy.
The two old yet loving couple also has two grandchildren, Will and Alex.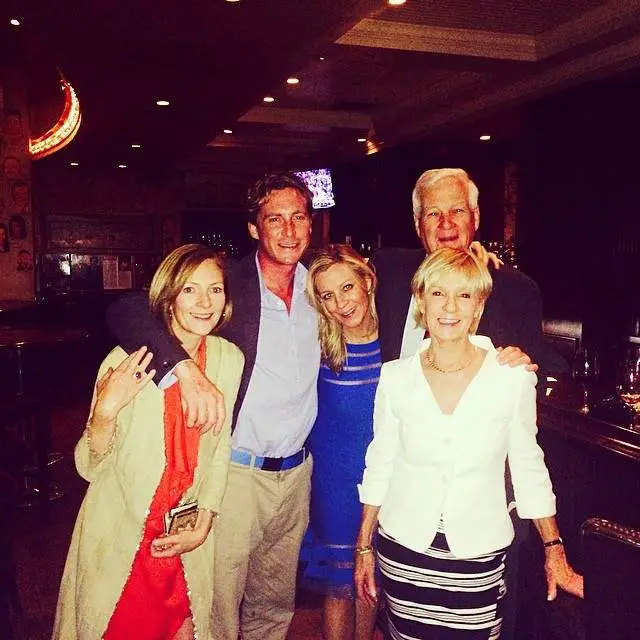 Caption: Bill Raferty with his wife Joana and kids, Kelli, Christi, and Billy.
Photo Credit: heavy.com
More You'd Like To Know About Bill Raferty:
Born on April 19, 1943, in Orange, New Jersey, United States, Bill Raferty is a passionate American former basketball coach and analyst, who has coached the team of Fairleigh Dickson University from 1963 to 1968.
He was hired by the Seton Hall University in 1970, where he stayed until 1981 before switching to broadcasting.
Some of his famous sayings and quotes like "Keep your head down," and "Mind your business and do the best job you can" have been the mantras of his success in his career and also that has inspired plenty of men associated with him.
As the gem he has proved to be in this field, he is undoubtedly enjoying a hefty salary and has accumulated a splendid net worth; however, Bill prefers keeping his net worth behind the curtains, probably for some security concerns.
Stay with us for the emerging updates on Bill Raferty!