Entertainment
Blabbering Stephen A. Smith Trapped in Yet Another Controversy: Anonymous Married Life, Girlfriend Rumors. Wife?
Stephen A Smith and controversies are two sides of the coin. In gist, one comes with another. He has admitted he has a big mouth and rightly so. His latest is that with Ayesha Curry, wife of Stephen Curry. What's the fuzz? More to follow: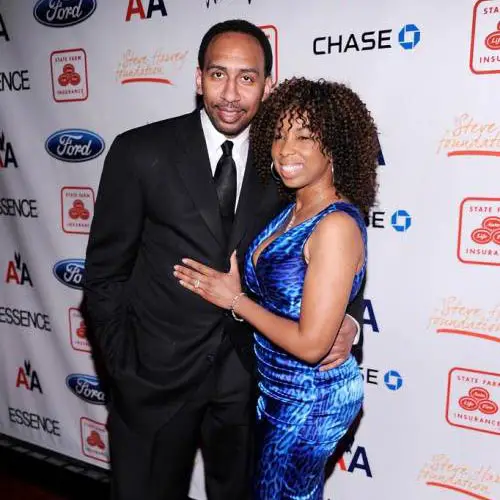 Quick Information
Relationship Status

Single

Eye Color

Black

Hair Color

Black

Hair

Short

Height/ How Tall? 6 ft 1 in (1.85 m)
College

Winston-Salem

High School

Thomas A. Edison

Net Worth

$14 million

Dating/Affair

N/A

Gay

No

Date of Birth Oct 14, 1967
Sister/s

4

Brother/s

1

Mother

Janet Smith

Ethnicity/Race

African-American

Zodiac Sign

Libra

Birth Name

Stephen Anthony Smith

Profession

Sports Television Personality

Nationality

American
Stephen A Smith and controversies are two sides of the coin. In gist, one comes with another. He has admitted he has a big mouth and rightly so. His latest is that with Ayesha Curry, wife of Stephen Curry. What's the fuzz?
ESPN's Stephen A Smith had presented some thoughts about Ayesha Curry's decision to tweet that NBA's totally rigged after her husband, Warriors guard Stephen Curry, fouled during Golden State's loss to Cavaliers on NBA Finale. Smith's thoughts on this matter are rigorous and harsh to Ayesha.
"If that was Savannah, LeBron's wife. If that were Gloria, LeBron's mother. What would we be saying?" Smith asked on Friday's episode of First Take. "LeBron James has a mom and has a wife, has kids, great guy, and an even greater ambassador of the game of basketball than Steph Curry because he's done it over the test of time. Wonderful, beautiful father. And I've got news for you: As beautiful as everyone wants to say Ayesha Curry is, and she is, Savannah is something special. I'm here to tell you something right now. Ain't a man alive, particularly a black man, that's going to look at LeBron James's wife and not say that that woman ain't gorgeous? She's wonderful inside and out. She sits there, she doesn't bring any attention to herself. She never tweets and goes out there and calls out the league and stuff like that. And nobody—nobody—is more scrutinized than her husband. But yet, she thinks about how she represents him, and as a result, she doesn't do that."
Smith spoke on for another minute before concluding, "If this were Savannah, acting like this, do you know how much heat LeBron James may have taken? I just want people to think about that and I'll leave it at that.
The discussion was dumb enough, but Smith added another point comparing Ayesha to Savannah Brinson, LeBron's wife.
Ayesha wasn't the girl to stay quiet; she twitted him asking why he compared Ayesha to Savannah.
"@stephenasmith why are you putting two women against each other like that? You're the one that's out of pocket."
Smith wasn't done mansplaining how to be a good NBA star's wife on and off social media.For this part, Smith should most probably take his advice himself and also consider his thought that action you do reflects the actions of organization you work in, and also it is not cool to bring limelight to yourself. 
Now about his personal life, he likes to keep secrets. His personal life has been a secret for many years. He maintains a low profile about his personal life and has never uttered a word about his married life. And there's no question of his sons and daughter either. He hasn't divorce anyone as well. He might be searching for that girl who represents him as mentioned in his words earlier.
And maybe that who doesn't bring attention to herself.At this time we are not sure who Smith is dating or who is his girlfriend, but in 2011, he was spotted with a lady friend at the 2nd annual Steve Harvey Foundation Gala at Cipriani, Wall Street in New York City. Girlfriend, who knows?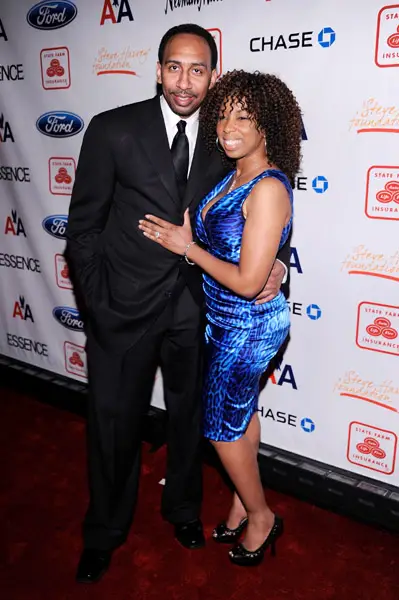 Caption: Stephen A Smith with a lady friend in 2011
Source: bossip.com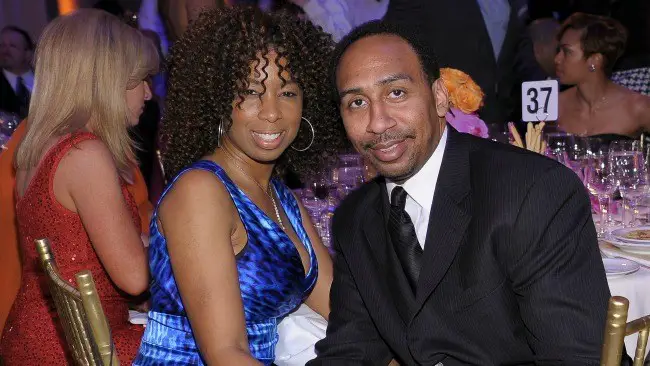 Caption: Smith and his friend in 2nd annual Steve Harvey Foundation Gala at Cipriani, Wall Street in New York City
Source: bossip.com
War of Words with Redskins!
Four wins in four games, Redskins are definitely on a roll, but only two days after their win against Eagles, ESPN's Stephen A. Smith criticized Redskins defensive linemen Chris Baker on "First Take" for his behavior and Smith said it was an indication of "loser's mentality." This led to a Twitter war between Smith and several of team's leaders.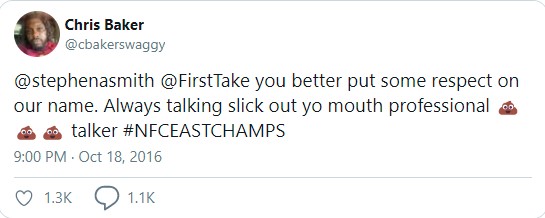 Baker added:

Then came aggression from Smith:

"It's not a big deal," Smith said to ESPN.
 "I said what I said, and I meant it, but it's not a big deal. It's not like Chris Baker sat up there and ran around the stadium like they had just won a championship or something. I saw something that I wasn't feeling; we're in this business where we give commentary on whatever's on our mind, at that particular moment that was on my mind and I said what I said. I still stand by it.
I still meant every word of it. You are the NFC East champions. I gave you a round of applause. You happy with that? I wouldn't be, not with the talent they have. That's all I'm saying; it's not the end of the world." Smith added.
Hits back at critics:
It has happened again! Stephen A. Smith returned to doing what his critics often use to malign his illustrated career, i.e. screaming.
Considering the popularity of ESPN's mid-day as well as debate-style show and Smith's long-standing career in the industry, it's safe to say for now; Smith won't be going anywhere.
It has angered viewers and also was part of a manifesto by Jeff Pearlman, a sports journalist and author saddened by the state of ESPN. Jeff wrote on his website:
 "Our zest for a well-reported story has been overtaken for the mindless carnival barkings of hacks like Stephen A. and Skip Bayless,"
Shortly after Jeff Pearlman's public shots at Smith, a response was in order from Smith.
"I just saw what @jeffpearlman had to say about me. Can't wait to respond on my radio show in a few"
But again, Jeff replied in a typical fashion.

Stephen A. Smith responded on 4th May 2017 during his talk radio show, per The Washington Post.
"Your numbers are wrong, Mr. Pearlman, but that's beside the point.The real issue at hand is, what you're bringing into question are my qualifications."
Moreover, he added:
But if I were to be that lowlife, at least I would have the decency to recognize someone's credentials. I used to be a journalist? ... I came up in this industry at a time where you had to be a journalist. You had to break stories. You had to break news to elevate your career to get to a certain point and a certain level in this business, before you even had the license to give your opinion, especially if you were a black man.
Smith Concluded,
Mr. Pearlman's not black, maybe that's why he doesn't understand where I'm coming from. Maybe that's why he's so quick to talk about what I have deserved. I gave y'all my resume. ... My credentials speak for themselves. I'm so sick and tired of people coming at me."
Stephen A. Smith started his career at ESPN in 2005.
Stephen Anthony Smith is a TV star personal, sports journalist, radio host and a talk show host on ESPN. This highly talented and intelligent Star is a veteran by his personality and has shown glimpses in the world of filmography.Smith started from print media career with the Winston-Salem Journal, the Greensboro News, and Record and the New York Daily News.  
Smith worked as the host of a weekday noon radio program WEPN in New York City, United States of America on April 11, 2005. Smith also started his career as the television host on now-defunct cable network CNN/SI in 1999. Smith is currently an analyst as well as talk show host on ESPN and ESPN First Take and best known for provocative analysis.