Entertainment
Blake Bortles Married? Checked Last Time - Was Dating Model Girlfriend
Some celebrity showcases their married life, while some likes to keep mum on their personal life. The American football quarterback, Blake Bortles is one who prefers silence whenever the talks are about his own dating affairs.
Well, the silence does not mean there's nothing hidden behind-the-scenes, which might also be true in Blake Bortles' life.
So, why don't we find the truth behind the silence of the quarterback, Blake Bortles down below!
Is Blake Bortles Married?
Getting married is special for everyone. In case of the 25 years old quarterback, Blake Bortles is still waiting for that special moment when he would get married to his dream girl.
Maybe Blake has not found his special one, or he is waiting for the perfect time and place to get married. Well, Blake has left his fans to wonder and has not dropped clues or hints that will lead to the possibility of his married life.
Further, he hasn't been spotted with a girl who could be conjectured as his possible girlfriend thus, mystery hovers his romantic life. Everything boils down to the quarterback, Blake himself and until he comes up with the information himself, claiming anything would be wrong.
However, Blake has a dating affair in the past, and he dated a model, Lindsey Duke. The duo tried to keep their romance a secret and their dating timeline is unclear, however, it is known that Lindsey Duke was Blake's high school sweetheart.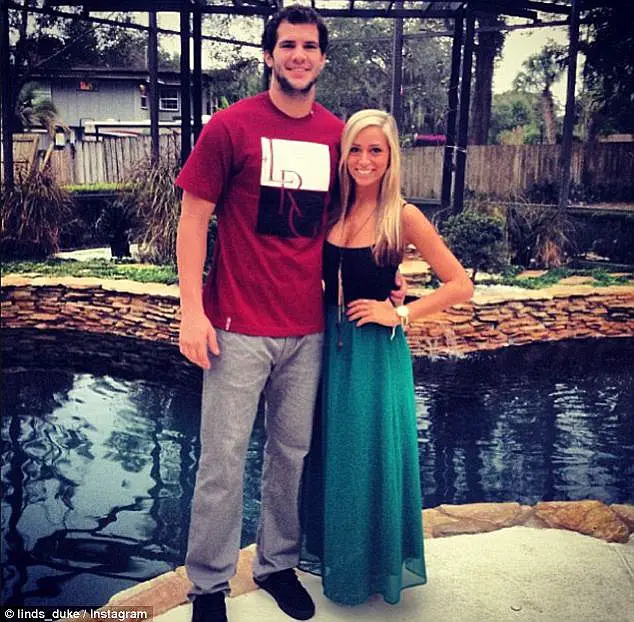 Blake Bortles, his former girlfriend Lindsey Duke (Dailymail.com)
Furthermore, Blake mentioned about his romance with Lindsey in an interview on the Dan Patrick Show in February 2014.
On the show, Blake shared that even his NFL team members were interested in meeting his lady love, and even revealed the questions which he is asked with as,
"Nothing was really that bad. I got a couple girlfriend questions. If I had one, some awkward … if we come to town will she be there for dinner and stuff like that."
Blake also shared that his teammates were excited to know how he would react to Lindsey being more famous and said,
"They knew going into the meeting and I think that was kind of the angle to see how I react to that,"
Relationships are delicate, and it could fall apart if not handle with care. Similarly, Blake and Lindsey went separate ways in the year 2014 without making much noise.
Aside from his romance, Blake was in the headlines for his recent achievement. He has signed a four year $20,654,810 contract with the Jacksonville Jaguars in May 2017 which includes a $13,341,680 signing bonus, $20,654,810 guaranteed, and an average annual salary of $5,163,703.
The contract also guaranteed Blake's 2018 salary of $19.053 million if he is on the Jaguars' roster next March.