Entertainment
Blake Griffin - The Dating Affair Of The Young Athlete Who Has The Most Desired Woman As His Girlfriend
Los Angeles Clippers' Power Forward, Blake Griffin needs no second introduction given the fact that he has dunked his way past glory in his successful career as a professional basketball player. But apart from his professional track record, he is equally known for his dating affair; which a lot throughout this world are envious of.
So today, let us keep his life as a basketball player aside and talk about how Griffin has been enjoying his dating affair.
Blake Griffin Has One Of The Most Desired Women In The World As His Girlfriend: 
It is no surprise that Blake Griffin is a man who a lot of women fancy and are interested in. But to break those hearts, he is already taken and that too by one of the most sensual and desired women in the world right now; Kendall Jenner. Blake and Kendall indeed make the hottest couples in the world as of this date. 
They have only been together since this August, but it does not look like the relationship is just in its inception, as the two are already proving to be a role model for those, who are looking up for a stable love relationship in their lives.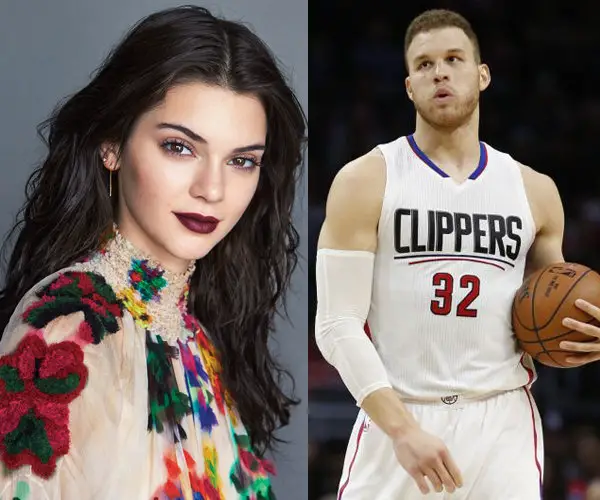 Caption: Blake Griffin and Kendall Jenner have been getting serious about their relationship in a short period of time.
Photo Credit: liverampup.com
The two were seen together during Kendalls' sister Kim Kardashian West's baby shower, as Kim is expecting her third child. After attending the baby shower, the two then went out on a Sushi date in Beverly Hills, and the essence present between them showed how loved up they are with one another. 
An onlooker explained how the two looked with one another,
"Kendall was in a great mood, She and Blake hung out, but they also mingled separately."
Another source added,
"Kendall is very happy with Blake. They started out more like friends, and then it was very casual. But it seems more serious lately. When they are not together, they keep in touch over the phone. Her family has accepted Blake. They are spending time getting to know him."
Despite the Clippers' executives telling Blake that Kendall was not allowed into the Clippers' locker room fearing that it will hamper the pro basketballer's performance; Kendall was seen cheering Blake on during one of his games for the Clippers earlier this month in Staples Center, LA.
A source explained,
"He's not telling anyone yet whether they're actually together, but Clippers bosses have told him that regardless, she's not welcome to crash their locker room and distract everyone with the Kardashian circus, They saw what happened to [former Clipper] Lamar Odom when he was with Khloe [Kardashian] and they are not having that from their marquee player."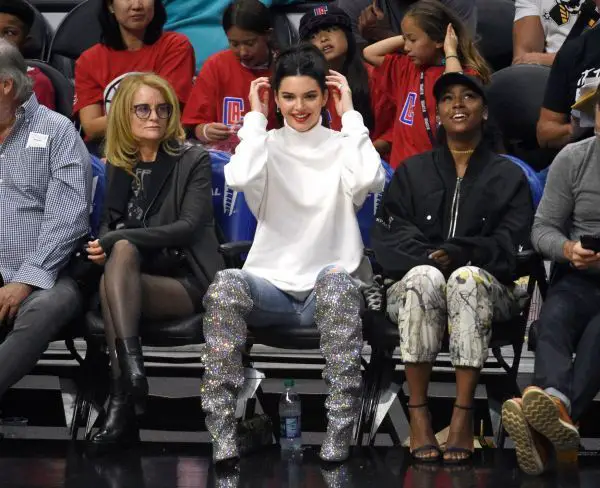 Caption: Kendall Jenner was seen cheering Blake Griffin on during his game at Staples Center in LA, Nov 2017.
Photo Credit: people.com
Good to know that they are going strong with their companionship.
Did you know, Kendall was once rumored to be in a romantic connection with Anwar Hadid, who was recently spotted holding hands with his new girlfriend, Nicola Peltz?
Blake was also in a committed relationship with his former fiance and former college basketball player, Brynn Cameron before the two split from one another during July this year.
The two are still parents to two children, a son named Ford, and a daughter named Finley.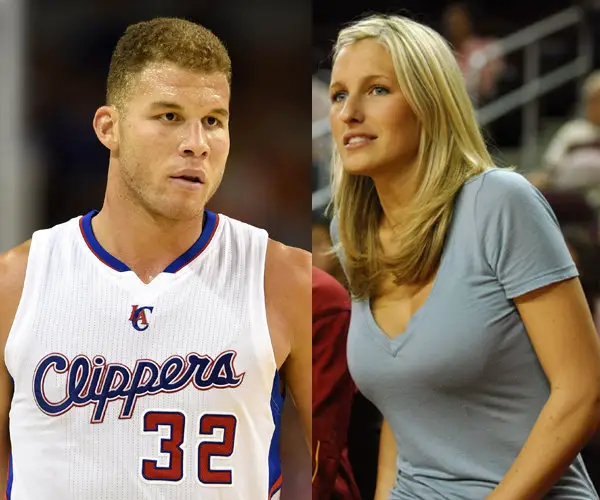 Caption: Blake Griffin and his former fiance Brynn Cameron have two children together.
Photo Credit: liverampup.com
But despite the fact that they could not last in their relationship and ended things up before they could share a husband-wife relationship, they two are on good terms. A source explained,
 "Blake and Brynn broke up in July, They ended things on good terms and they are still friends while raising their son and daughter.
Good to know that they have maintained a friendly connection with one another, such that they could give ample love to their kids!
Keep visiting for the emerging updates on the couple!